Flying can be one of the most expensive parts of traveling. Depending on where you're going, a flight could run you anywhere from a couple hundred to a couple thousand dollars. And that doesn't even include the cost of getting to and from the airport or checking luggage.
But while flying can be expensive, it doesn't have to be if you know the right strategies. That's why in this article we're going to look at how you can get the cheapest flights every time you travel.
Follow these steps, and you'll have more money left over to spend on fun things (like the world's best gelato).
1. Use Frequent Flyer Miles
By far the best way to fly for cheap is to earn frequent flyer miles. You can use these miles to get free (or very cheap) flights to anywhere in the world.
There are lots of misconceptions about frequent flyer miles, but the worst is that you can only earn frequent flyer miles through taking flights.
While this is a legitimate way to earn miles, it's not the best approach if you're looking to get cheap flights ASAP. Instead, we recommend you get a travel rewards credit card that lets you redeem your points for flights.
With the best travel credit cards offering sign-up bonuses in the tens of thousands of points, plus the opportunity to earn points from your everyday spending, the right card can get you cheap flights in no time.
So which card should you get? This all depends on your travel goals, but we generally recommend people start with either the Chase Sapphire Reserve or Chase Sapphire Preferred.
Both of these cards let you earn Chase Ultimate Rewards points, which you can then transfer to almost any airline. And both have high sign-up bonuses, meaning you can quickly earn enough points to pay for several domestic flights or one long-haul international flight.
You can learn more about each of these cards in our detailed reviews:
If you're looking to fly mainly in the United States, then we also recommend picking up a Southwest Airlines credit card. These cards have sign-up bonuses high enough to take you on several domestic flights (or that dream trip to the Caribbean).
Want to learn more about how to earn and use frequent flyer miles? Check out these guides:
2. Search Google Flights
There are lots of flight search engines out there, all of which claim to show you the best deals. But I don't waste my time with most of them, as they're often full of sketchy deals or even straight-up scams.
When I'm trying to find the best deal on a flight, I always start with Google Flights. The information is reliable, up-to-date, and fairly comprehensive. Plus, I can compare how the price will change if I fly on different dates.
To see Google Flights in action, let's say I'm looking for a flight from Philadelphia to Split, Croatia (one of my favorite cities in the world). All I have to do is enter the names of the cities and my departure/return dates:

Once I've entered that info, Google Flights will show me the best deals for my selected dates: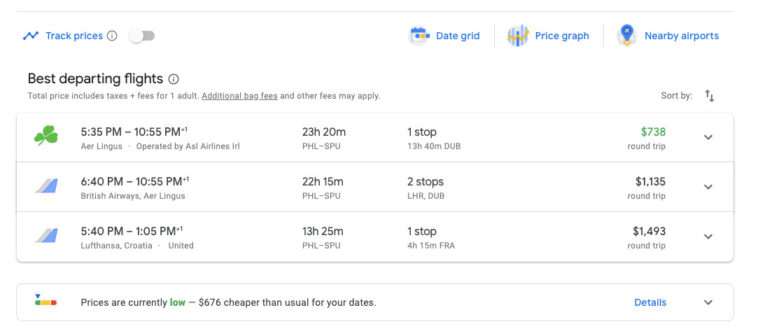 If I see a deal I like, I can click the arrow next to it to learn more: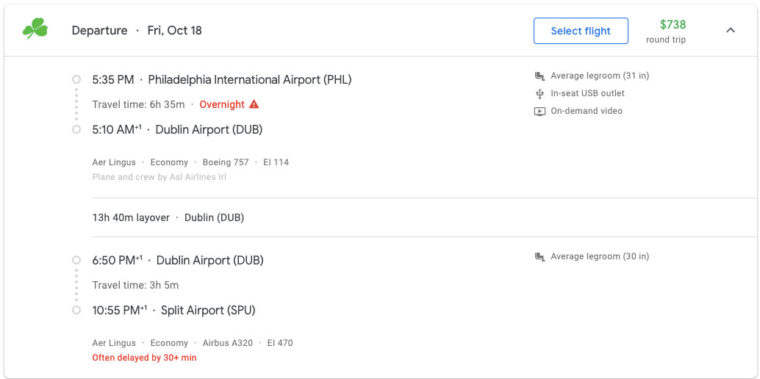 To find the best possible deal, I recommend you click on the calendar icon and see how changing your departure and return dates can alter the price:

You can even see the prices right within the calendar: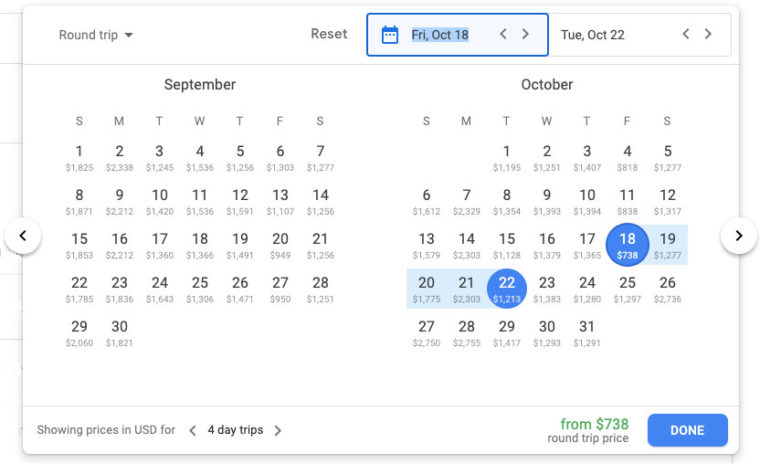 Finally, you can also use Google Flights to check prices from nearby airports. In some cases, flying to an airport in a nearby city and then taking a train, bus, or even another flight to your final destination can be much cheaper than flying directly to the city you want to visit.
For instance, let's say I'm flying from Philadelphia to Paris. By default, Google will choose Charles de Gaulle as the destination airport. This is the closest airport to Paris, but that doesn't mean it's the cheapest.
To see if there's a better deal at another airport near Paris, click the "Nearby Airports" button:

From there, you'll be able to see the lowest prices for airports near your destination: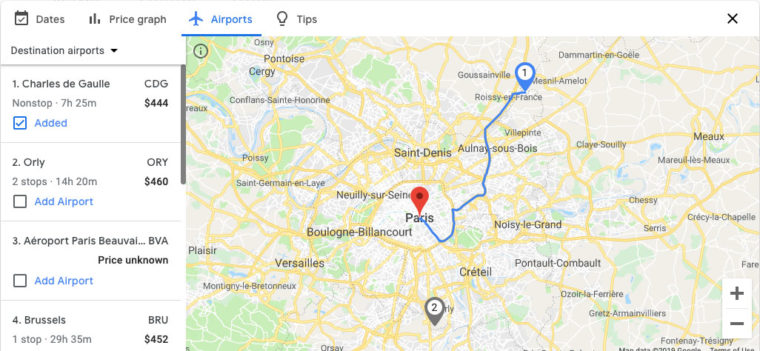 In this case, Charles de Gaulle (Google's default) is the cheapest, but you shouldn't assume that will always be the case.
Likewise, you can sometimes get a better deal if you depart from an airport near (but not in) your home city:
For instance, I like to fly out of Philadelphia, but I can also fly out of any of the New York airports or even Baltimore or Washington, DC if the price is right.
So instead of searching JFK to Paris, getting the price, searching Newark to Paris, getting the price, searching Philadelphia to Paris, getting the price, etc., Google Flights lets you do it all at once.
All you have to do is click the "Nearby Airports" button:

Then, click "Destination airports":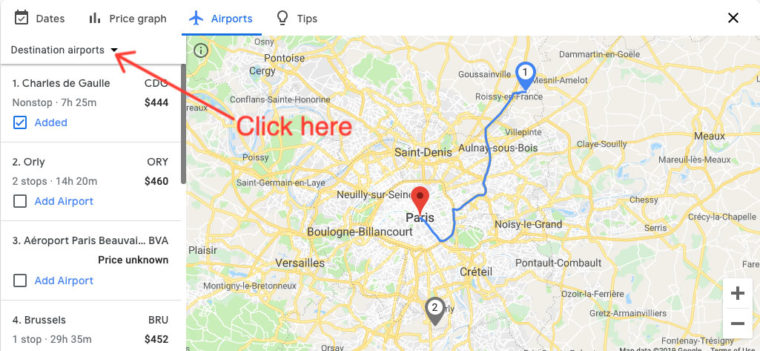 And select "Origin airports" from the menu that appears: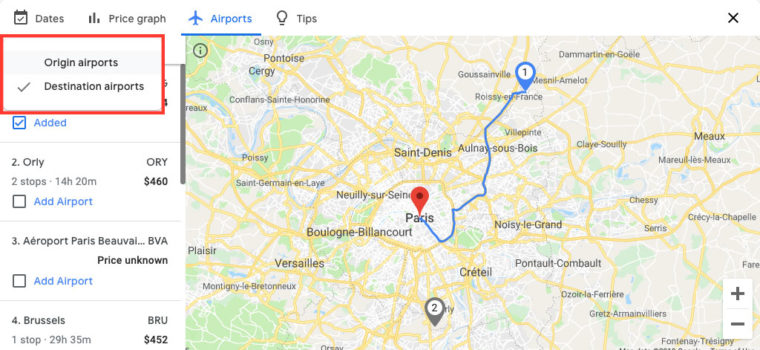 You'll now be able to see flights from airports near your departure city. In this case, it looks like I could save around $150 by departing from one of the airports in the NYC area instead of flying out of Philly: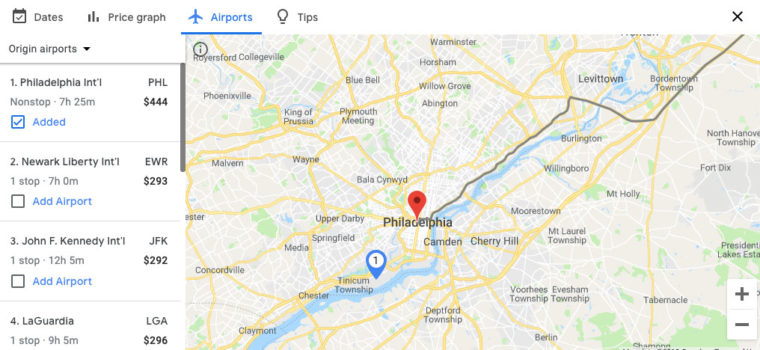 Being flexible with which airport you fly in and out of can potentially save hundreds of dollars, so you should always check. Since Google Flights makes it so easy, you have no reason not to.
3. Look for Mistake Fares
Frequent flyer miles are the #1 way we score cheap flights, but mistake fares take a close second place.
With mistake fares, we've flown to Italy for $125, Madrid for $225, Bali for $250, and South Africa for $300. I've written about what they are, where to find them, and how to book them before, so you'll want to read that to catch up.
Before booking any flights, always check to see if there is a mistake fare available.
Odds are, the mistake fare won't be the exact itinerary you want. But even if it isn't, it may still work.
For example, let's say you want to fly from New York to Rome, which would normally cost $800. However, there's no mistake fare available for that route.
If you find a mistake fare from New York to Milan that costs $125, unless you have absolutely no flexibility, grab the mistake fare and then take a $50 train ride down to Rome.
4. Search Budget Airline Sites
Google Flights is great for getting the cheapest flight in many cases. However, Google Flights does lack some crucial flight information: budget airline prices.
That's right — Google Flights doesn't include flights from many budget airlines. Southwest, for instance, doesn't list its prices on Google Flights.
Therefore, I recommend that you check budget airline sites directly before you make a booking decision. If you're flying in the U.S., this means checking Southwest. And if you're flying in Europe, be sure to consult Ryanair and EasyJet.
Don't miss out on the best flight deal just because you only looked at Google Flights; always check the budget airline sites. For more information on how to save with budget airlines, check out this guide.
5. Check Skiplagged
Skiplagged has received a lot of publicity because United Airlines sued its founder for revealing the "hidden city trick."
In reality, savvy travelers have used the hidden city trick for a while now. While the airlines don't like it, it's their system that allows it to happen, and there is nothing illegal about it.
Hidden cities work like this:
Let's say I want to fly from Milwaukee to Detroit. A direct flight from Milwaukee to Detroit costs $407. However, a flight from Milwaukee to St. Louis with a layover in Detroit costs $104.
Instead of booking the expensive, $407 direct flight, I'd book the cheaper ticket. When I land in Detroit for the layover, I'll get off the plane. By booking to St. Louis but not using the second half of the ticket, I just saved $303.
If you book a ticket using this "trick" be mindful of two things:
Don't check bags because they'll end up at the final destination (St. Louis) and you won't!
If you miss a leg of your itinerary — which you'll be doing by skipping the last segment — the rest of the ticket will be canceled.
So make sure you skip the last leg of a trip, and not in the middle of a round-trip ticket.
Or, just book a one-way ticket so you don't have to worry.
6. Book at the Right Time
The same airline ticket can vary in price by hundreds of dollars depending on when you book it. Therefore, it's crucial to book at the right time if you want to get the best deal.
In general, booking farther in advance is better.
To use an extreme example, your flight will cost way more if you book it a week before than if you book it a couple of months in advance. This is because people who book at the last minute tend to be business travelers who aren't paying for their own tickets.
Meanwhile, people who book farther in advance tend to be vacationers or other leisure travelers looking for the best deal. Airlines know this, and so they offer lower prices to people who book farther in advance.
Having said that, you shouldn't book too far in advance. Booking a flight six months in advance, for instance, will certainly get you a better deal than booking at the last minute. But it likely won't be the lowest possible price.
So when is the best time to book a flight?
It depends on where you're traveling. Luckily, the good folks at CheapAir have studied this question extensively. You can read the full study for domestic flights here and the study for international flights here, but here's a summary:
For domestic (U.S.) flights, the best time to book is between 3 weeks to 4 months in advance. The same is more or less true for flights from the U.S. to Canada.
For flights from the U.S. to Mexico and Central America, it's best to book anywhere from 2 weeks to 6 months in advance.
For flights from the U.S. to the Caribbean, book anywhere from 1 month to 11 months in advance for the best deal.
For flights from the U.S. to South America, you should book between 5 weeks and 11 months in advance for the cheapest flight.
For flights from the U.S. to the South Pacific (Australia, New Zealand, Tahiti, etc.), book between 1 month to 7 months in advance.
For flights from the U.S. to Europe, book between 1.5 months to 8 months in advance.
For flights from the U.S. to Africa and the Middle East, book between 97 days to 287 days in advance.
Note that the above ranges are the best times to book on average. Festivals, holidays, and economic factors (such as a spike in oil prices) can drive the prices up.
7. Fly During the Off-Season
If you're flying to a popular tourist or vacation destination, you'll pay more during certain times of the year. To avoid these inflated prices, try to fly during the off-season if you can.
For instance, flights to Hawaii tend to be cheapest between September and October and mid-April through May. Flights to Europe will tend to be cheaper in winter (unless you're traveling to a popular ski destination).
More generally, flights will be cheaper when most people aren't traveling. Since many people take time off in the summer, around the winter holidays, and when their kids are on spring break, flights will tend to be more expensive during these times.
8. Be Comfortable with Strange Itineraries
Remember the example flight from Philadelphia to Split that we looked at above? You may have noticed that while this flight is the cheapest, it includes a 13 hour, 40-minute layover in Dublin before continuing on to Split. Here's the itinerary again in case you missed it: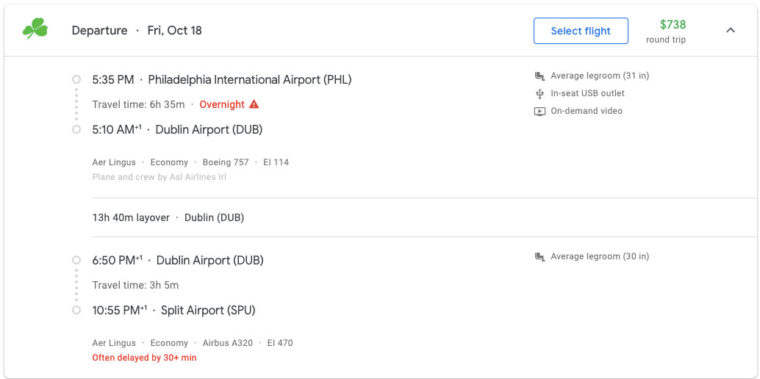 This is a prime example of how the cheapest flights often come at the cost of convenience or time.
If you're willing to endure a long layover or a strange series of connecting flights, you can get some of the cheapest flight deals out there. You'll have to decide if the extra hassle is worth it, but it may well be if price is your most important consideration.
9. Pack Light
To compete with budget carriers, airlines such as Delta, United, and American now offer "basic economy" fares. These are the lowest prices these airlines offer, but these low prices come with some caveats.
In particular, they restrict the amount of baggage you can bring without paying extra fees. At the most extreme, United only allows you to bring one personal item; a carry-on item incurs additional fees.
And if you're flying a budget airline such as Frontier or Spirit, this personal item-only policy is standard practice (unless you want to pay additional fees). The same is true of European budget airlines such as EasyJet and Ryanair.
So if you want to get the lowest fares you can on certain airlines, it's in your best interest to pack light. Luckily, we have an entire guide on how to travel with only carry-on luggage (or even just a backpack under your seat). Check out our ultimate packing list to learn more.
10. Use a Flight Deals App
Our last tip for getting cheap flights is to use a flight deals app. This is a great strategy to use if you just want to stay updated on flight deals but don't have a specific destination in mind.
We were dissatisfied with the other flight deals apps on the market, so we created our own. It's called Jetto, and it sends you a notification every time it finds a great flight deal from your preferred airport. You can learn more about Jetto here.
Flying Doesn't Have to Be Expensive
Your flight doesn't have to be the most expensive part of your trip. Now that you've read this guide, you have the knowledge you need to get crazy cheap deals on flights every time you travel.
Looking for other ways to save on your next trip? Check out our guide to getting free accommodation with housesitting.