Budget airlines can be a traveler's best friend – or worst nightmare.  But writing them off because you don't understand them is a major, major mistake.
Here is our step by step guide to finding and booking budget airlines – and saving yourself a TON of money in the process.
1.  Find the Budget Airlines That Fly to Your Destinations.
One of the most difficult things about budget airlines is knowing they exist. There are two easy ways to figure this out:
1.  Go to the Low Cost Airlines on Wikipedia. This list has every low cost airline, for every country in the world, broken up by continent.  Find the airlines that fly to the area you want to travel to, then check their Wikipedia page for all their destinations. Alternatively, you can also visit their individual websites to check destinations and pricing.
2. If you know where you're flying out of (i.e. Chiang Mai), type the name of that airport into Wikipedia and see a list of all the airlines that fly in and out of that location.
Some of the most common budget airlines:
USA – Frontier Airlines, Spirit Airways
Europe – EasyJet, Ryan Air
Asia – AirAsia, Malindo Air, Firefly
Australia – JetStar
2.  Check the Fees
Now that you have a list of budget airlines that will work for you, start comparing the prices. One of the reasons budget airlines are cheaper is because they charge fees for certain things.
Every budget airline will clearly state these fees and often dedicate a page on their website itemizing each fee.
Be sure to check the fees and add it into the total cost of your flight to weigh whether the flight is actually the cheapest option.
The most common additional fees include:
Meals
Checked Baggage
Chosing your seat
Credit card processiong fee (This is the only one they won't usually mention until the end)
Expert tip:  Be aware that checking your bag at the gate will cost about twice as much as purchasing the checked bag beforehand online.  So if you know you're going to check a bag, buy it in advance.  Or, you could travel in just a carryon.
3.  Visit ITA Matrix to Compare Prices
Now that you know the exact price of flying on the low cost carrier, check ITA Matrix to compare the prices for the regular airlines.
Now that you have a good idea of what it will cost for a budget airline vs. a normal airline, you can choose the option that is best for you.
If the low cost carrier is substantially cheaper, AWESOME!  You have just travel hacked yourself a better flight.
If the costs are similar than consider if the small savings are worth the extra inconveniences.
Now that you know how to find tickets with budget airlines, there are a few more things you should know when flying with these carriers.
Miscellaneous Tips
1. Budget airlines often fly into alternate airports
Make sure to double and triple check the name of the airport that your budget airline is flying into. Oftentimes, these airlines fly into a separate terminal or even a different, usually smaller, airport.
Make sure that you plan accordingly, especially if you have another flight to catch with a different airline.
2. A tip for getting your tickets even cheaper
You can drastically reduce the cost of your ticket by flying through a hub airport. First check the main hub (headquarters) for the budget airline. For example, Air Asia's hub is Kuala Lumpur, Malaysia. If you route your flights through KL then you can usually save quite a bit of cash.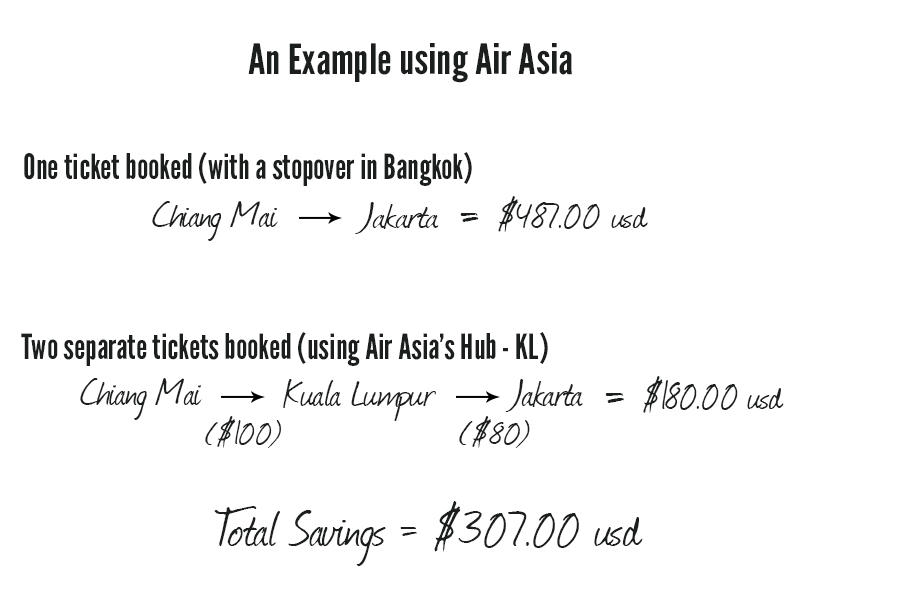 Note: If you do enact this strategy, be aware that you are purchasing two separate tickets. This means you will have to exit the airport via customs, pick up any bags you may have checked and check in again at that airport. Leave plenty of time to get through customs, and through security again.  However, usually these small inconveniences are well worth the savings!
3. The best time to book budget airline tickets
Budget airlines often run sales. If a sale is running when you are searching for tickets then jump on it while you can!
Other budget airlines work on a tiered structure (such as SkyMark in Japan). These airlines will open their flights 60 days (or more) before the flight and the cheapest tickets go first.
In most cases, we have noticed that the sooner you book tickets on low cost carriers the better. However, sometimes you can luck out even at the last minute so it is always worth checking.
Final Thoughts
You might be wondering if all this extra work is really worth it?
After 40+ flights on budget airlines, we would say, unequivocally, YES!
Budget airlines are not nearly as bad as people make them out to be, and you can save TON of money by following this guideline when booking your next flight.
Have you traveled on a budget airline before?  What was your experience?  Let us know in the comments below!