To date, I've traveled to over 50 countries for under $100. My wife and I have flown to the World Cup in Rio for $5 (total, not each). And I've flown business class from Tokyo to New York for less than the cost of a tank of gas.
The secret to my exceedingly cheap flights? It's not because I have connections in the airline industry or am some kind of secret agent. No, the answer is simple: frequent flyer miles.
Earning frequent flyer miles isn't complex, and it doesn't require you to spend thousands of dollars on flights. All it requires is an understanding of how the system works, and how to use it to your advantage.
In this guide, I'll take you through everything I know about frequent flyer miles. I'll start with an explanation of how they work, show you how to earn them without setting foot on a plane, and then show you how to use your miles to book any flight you want.
How Frequent Flyer Miles Work
The term "frequent flyer miles" is misleading. To start, it implies that you have to "fly frequently" to earn them. And "miles" makes it sound like the number of miles you have is the distance you can travel.
Both of these ideas are incorrect. While you can earn frequent flyer miles by taking flights, it's the least efficient way to do so (I'll show you some much more effective ways in the next section).
And in terms of "miles," the number of miles you have has nothing to do with the distance you can travel. Instead, it has to do with the airline's rules about how you can use points (which we'll get to in a bit).
But how do frequent flyer miles work? How can you use them effectively? It all starts with understanding a key concept: airline alliances.
What Are Airline Alliances?
We tend to think of airlines as separate businesses in fierce competition with each other. While there certainly is competition, major airlines have decided that it's in their best interests to collaborate in certain situations.
In particular, it's useful if airlines can partner to offer their customers routes that would otherwise be impossible. Think long international trips with multiple connections, or flights to remote locations. This is where we get airline alliances.
Here are the three major airline alliances, along with some notable airlines that belong to each:
Star Alliance – United, Air Canada, Singapore, Thai, Lufthansa (27 airlines total)
OneWorld – American Airlines, British Airways, Air Berlin, Cathay Pacific, Qantas, Japan Airlines (14 airlines total)
SkyTeam – Delta, Korean, Air France, KLM (20 airlines total)
Airline Alliances Are the Key to Cheap Flights
Cool, you might say, but why should I care? You should care because airline alliances are the key to maximizing your airline miles and points.
Many people think that you can only use airline miles for flights on the airlines where you earned them. For instance, if you have American Airlines AAdvantage miles, you can only use them to book American Airlines flights.
This is incorrect. While you can use miles to book flights on the airline where you earned them, you can also use your miles to book flights on any other airline in the same alliance.
For instance, you could use your AAdvantage miles to book flights on British Airways, Cathay Pacific, and Qantas (to name just a few).
This massively expands the places you can travel using miles, letting you create multi-stop itineraries that can take you anywhere in the world.
But just how many miles do you need to book a flight? Let's take a closer look.
How Many Miles Do You Need?
We already established that the number of airline miles you earn has nothing to do with how many actual miles you can travel. So how do you know how many miles you need for a trip?
The precise number of miles you'll need depends on the rules the airline sets. Most airlines use a "zone-based" system to determine how many miles a flight costs. For example, round-trip flights from North America to Europe will cost 60K miles, whether it's from NYC to London or Los Angeles to Istanbul.
Unfortunately, airlines are not especially transparent about how they calculate this information. After all, they want to make it difficult to use your miles so that you'll just pay them cash instead. Luckily for you, there is a tool that can tell you how many miles you need for any flight: milez.biz.
Use Milez.biz to Calculate How Many Miles You Need
Milez.biz has a sketchy name and a clunky interface, but it's extremely useful. For instance, let's say I want to fly from Philadelphia to Budapest. To figure out how many miles I'd need, I'll first need to go to "Miles Calculator".
From there, I'll enter my origin airport and destination airport. In this case, that'll be Philadelphia International Airport (PHL) and Budapest International Airport (BUD). I can also specify a frequent flyer program, or leave that field blank to search all frequent flyer programs. In this case, I'll just leave it blank.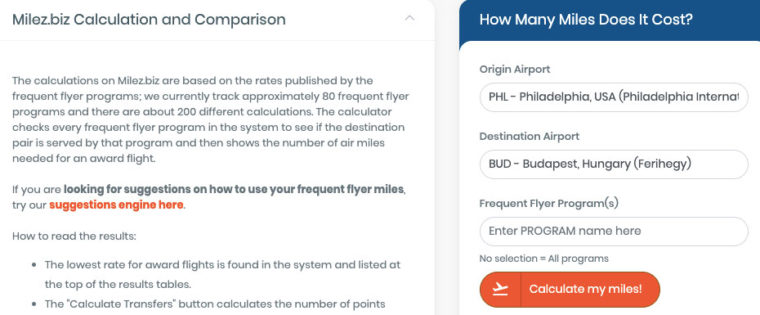 Now, I'll hit "Calculate my miles!" to see the results: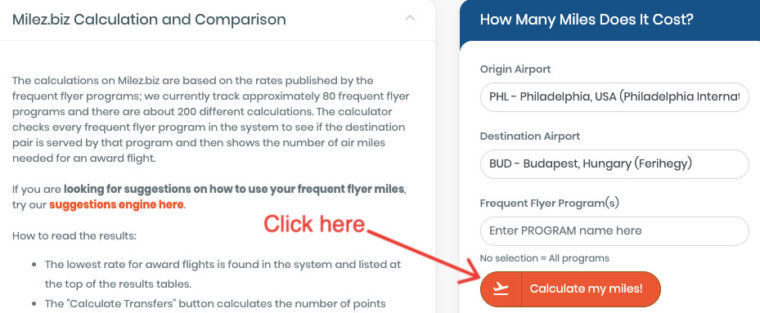 At the top of the page, you'll see the best rate for the frequent flyer program you selected. In this case, the best deal is to use 32,500 points on Iberia Plus (which is in partnership with British Airways).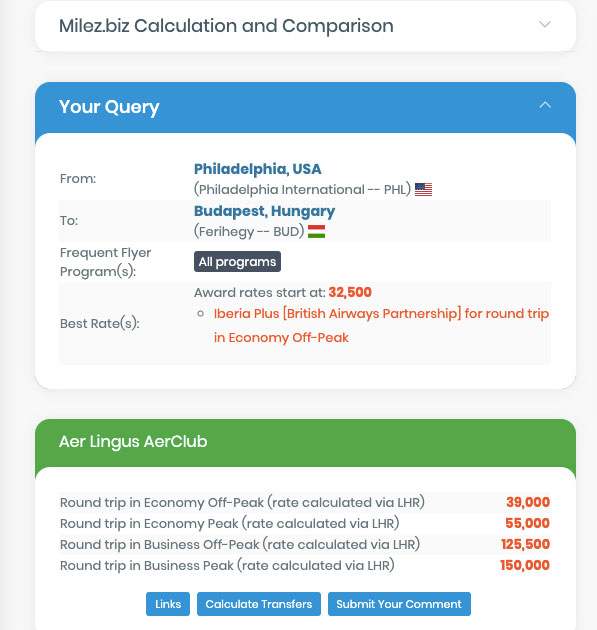 Now, this still leaves us with a bit of work to do in terms of figuring out what points we'll need to transfer and how we'll book the flight. But we'll get to that info later. For now, let's move on to the best ways to earn frequent flyer miles.
How to Earn Frequent Flyer Miles (Without Taking Flights)
Airlines want you to think that taking flights is the only way to earn miles. They even put "frequent flyer" in the name. While taking flights certainly can earn you miles, it's an inefficient strategy.
A typical flight might earn you a few hundred points (or thousand if you're flying internationally). To get enough points for a free flight, you'd have to fly dozens of times per year. Not only is this impractical, but it's also expensive.
Luckily, there are better ways to earn frequent flyer miles. If you use these methods, you can quickly accumulate tens of thousands of miles, enough to book any flight you can dream of. Let's take a closer look at each of these methods:
1. Credit Card Sign-Ups
The quickest way to earn frequent flyer miles is to sign up for the right credit card. To incentivize people to get their cards, credit card companies will offer large bonuses in the form of points or miles. To get these bonuses, you need to spend a minimum amount of money on the credit card (typically within the first 3 months of opening it).
This is where many people screw up. They see the high bonus, get the card, and then use it to buy thousands of dollars of things they don't need. Don't make this mistake! You have the play the game correctly.
Never get a credit card unless you can afford to responsibly meet the minimum spend. That is, the minimum spend is an amount you already spend anyway.
For instance, let's say you sign up for a credit card that offers you 50,000 points in exchange for spending $3,000 in 3 months.
More than likely, you already spend this much in the course of buying groceries, paying for utilities, etc. So all you need to do is use your new credit card to make your regular purchases.
In addition to making sure you can meet the minimum spend, keep these other factors in mind when choosing a credit card to earn points:
Only pick cards with high sign-up bonuses (between 25K and 100K points)
Be aware of the annual fee — Many credit cards charge an annual fee. Be sure that the points you earn are worth more than this fee.
Know the perks — Many travel credit cards offer benefits such as free bags, lounge passes, and upgraded airline status (which can often offset the annual fee).
Know what kind of points you're earning — Some kinds of points are more valuable than others. We'll cover this more in a later section.
Curious about which credit card you should choose? Check out our list of the best travel credit cards.
2. Shopping Portals
Shopping portals are the second method we recommend for quickly earning airline miles and points.
A shopping portal is a special page from a credit card company with links to different merchants. When you shop through this page, you can earn lots of additional miles/points. This can range anywhere from 2 points to 70 points per $1 spent.
To find the best shopping portals, use Evreward. It lets you quickly find the portals for different airlines and credit card issuers, and it also highlights the best deals for the current month.

As with credit card sign-ups, be sure to shop responsibly. Only buy things you were already planning to buy. For instance, you can use the shopping portals to buy holiday gifts or do back to school shopping.
The Best Airline Miles to Earn
Knowing how to earn miles and points is great, but which ones should you earn? There are dozens of rewards programs out there, but some are vastly more useful than others.
In reality, there's no such thing as the "best" rewards program. It all depends on where you want to go and what airline you want to use. But in general, here are our top five rewards programs:
1. Chase Ultimate Rewards
Chase Ultimate Rewards points are some of the most valuable rewards points out there.
Unlike airline miles, they aren't associated with a specific airline. However, you can transfer them to a wide variety of airline partners, including United and Southwest. You can also use them for other things such as hotel stays or even online shopping.
In addition to being very useful, Chase Ultimate Rewards points are also easy to earn using the following credit cards:
2. Marriott Bonvoy
Up next, we have Marriot Bonvoy points. As the name implies, these points are associated with Marriott hotels and resorts; you can earn them using Marriott credit cards.
Like Chase Ultimate Rewards, these points are very flexible. You can transfer them to 40 different airlines, including American Airlines, United, Southwest, British Airways, and Frontier. You can also use them to book stays at Marriott properties around the world.
While we love these points for how flexible they are, they do have one serious drawback. In most cases, they only transfer at a ratio of 3:1 (plus a 5K point bonus for every 60K points you transfer). So, for instance, if you transfer 60K Bonvoy points to American Airlines, you'll only get 25K AAdvantage miles to use for flights.
3. United MileagePlus
Moving away from rewards points to actual airline miles, we have United MileagePlus. Since United is part of Star Alliance (the largest of the airline alliances), you have lots of options for using your United miles.
Plus, these miles are very easy to earn since you can transfer Chase Ultimate Rewards points to United at a 1:1 ratio. This means that 50K Ultimate Rewards points equal to 50K MileagePlus miles.
In addition to that, United doesn't charge fuel surcharges, which can make international flights a lot cheaper. And United.com makes it easy to search for and book most flights.
4. Southwest Rapid Rewards
This list wouldn't be complete without our favorite domestic budget airline: Southwest.
Southwest Rapid Rewards is an excellent program for flying domestically on the cheap. Rapid Rewards points have no blackout dates, making them great for booking that winter getaway to the Caribbean. And Southwest is very flexible about canceling flights, even if it's a last-minute cancellation.
Furthermore, Rapid Rewards points are easy to earn using one of the many Southwest credit cards or through transferring Chase Ultimate Rewards points. The only con of Southwest is that their international flights are very limited. They'll get you to the Caribbean, Mexico, Hawaii, or basically anywhere in the U.S. But you'll need to turn to a different airline for most international destinations.
5. American Airlines AAdvantage
Our final airline miles pick is the AAdvantage program from American Airlines.
Since American Airlines is part of the large OneWorld alliance, you have a lot of flexibility in where you can fly with these points. Plus, American Airlines makes it easy to book one-way tickets with points, and the points are easy to earn through American Airlines credit cards or transfers from Marriott Bonvoy.
However, American Airlines does have some serious cons. To start, many of the British Airways flights you can book through American have fuel surcharges, which can defeat the whole purpose of booking with miles. Additionally, it's getting much harder to find flights that you can book with AAdvantage miles.
How to Use Frequent Flyer Miles to Book Any Flight
Now that you've earned some miles, the next step is to use them to book a flight. Unfortunately, the airlines don't always make this easy. But if you follow the procedure below, you'll be able to use your points to book any flight you want.
The exact process you use will depend on which airline alliance you're trying to book with. Therefore, I've broken up the process by alliance.
How to Book Flights Through Star Alliance
Let's say you've consulted milez.biz and discovered that a Star Alliance member offers the best deal on the flight you want to take. How do you find and book the flight?
When searching for Star Alliance flights, the best place to start is United.com. If you're doing a simple itinerary (such as NYC to Paris), then it's just a matter of putting in your dates and cities, finding the flight, and paying for it with your points. You can do this entire process online, and it will only take a few minutes.
However, things get trickier when you're planning a more complicated itinerary that involves partner airlines and multiple stops. For instance, you won't be able to book NYC > London > Paris > Madrid > NYC through the United website, even if all the flights in question are through Star Alliance airlines.
But don't despair! You can still book such an itinerary with your points; it just requires a bit more work.
Here's the procedure for booking multi-stop itineraries:
Search for each "segment" of the trip on United.com and make note of the details such as the airlines, flight numbers, times, dates, and class.
Once you have all the flight information written down, call United at 1-800-864-8331 to book the trip.
Always get the airline to waive the phone booking fee if you can. Usually, all it takes is explaining that you tried to book the ticket online but were unable. Being polite also goes a long way.
How to Book Flights Through OneWorld
To book a flight through OneWorld, the procedure is fairly similar to Star Alliance.
Start your flight search on aa.com. If you're booking an American Airlines flight, then this will be all you need. You can find and book the flight right from the American Airlines website.
In addition to American Airlines flights, aa.com will also show you flights from the following OneWorld member airlines:
Air Berlin
British Airways
Qantas
Finnair
Royal Jordanian
But wait. Doesn't OneWorld include 14 airlines? It does, but aa.com only shows a few of them. So if you're booking a flight to Asia, the Middle East, or Africa, you'll need to go to Qantas.com to find the flight you want.
When it's time to book your flight, here's the procedure to follow:
Search aa.com or Qantas.com and make note of the airlines, flight numbers, times, dates, and class.
Assuming you can't book online, call American Airlines at 800-433-7300 to book the flight.
Ask the rep to waive the phone booking fee. Explain that you tried to book the flight online but couldn't. And always be polite.
Avoid Booking SkyTeam Flights
What about booking flights on airlines that are part of the SkyTeam alliance?
In general, I don't recommend booking flights through SkyTeam alliance members. Members of this alliance make it difficult to book using miles. Plus, you can reach almost all of their destinations using airlines that are part of Star Alliance or OneWorld.
The only situation where it could make sense to book with a SkyTeam member airline is if you live near a SkyTeam hub. In the United States, this will be Atlanta (which is Delta's hub).
Frequent Flyer Miles FAQ
If you're new to frequent flyer miles, you probably have a lot of questions. So here are answers to some of the most common questions we get about earning and using frequent flyer miles:
Do frequent flyer miles give me a completely free ticket?
As wonderful as that would be, no. You'll still have to pay any taxes and fees the airline charges.
Normally, these won't be that much, though some airlines (such as British Airways) are notorious for charging fees in the hundreds of dollars for certain flights. Avoid these like the plague; they defeat the whole purpose of booking with frequent flyer miles.
Does the number of miles I have equal the distance I can travel?
No, it does not. This is a very common misconception. I thought the same thing when I started using frequent flyer miles. But just because you have 50,000 airline miles, that doesn't mean you can travel 50,000 actual miles.
If you're curious how far your miles can take you, enter the amount into the calculator on milez.biz.
Can I use frequent flyer miles to book one-way flights?
In most cases, yes. All the major U.S. carriers (Delta, Southwest, United, and American) allow you to book one-way flights using points. But you should always check the airline's policies to be sure.
Can I combine frequent flyer miles from different airlines?
No. If you have 50,000 American Airlines miles and 50,000 United miles, you cannot combine them to make 100,000 miles. Each airline's miles must always be kept separate.
Can I use my miles to book a ticket for someone else?
Absolutely! Just be sure to put their name on the ticket.
Is it worth it to buy airline miles?
Generally, no. You can buy miles, but they are priced at a point that will make the award flight cost more than you would pay for the flight with cash.
The only time I recommend buying airline miles is when you need to top up your balance to get those last few miles towards your award flight. Otherwise, you're just spending more money than you're saving!
When is the best time to book a flight with frequent flyer miles?
There isn't a hard and fast rule, but there are two general time frames to keep in mind. We call these the "330-day rule" and the "6-week rule."
Airlines usually release the first tickets for a flight 330 days in advance. If you're trying to book tickets to a very popular event or during a busy time of year, then this is when you should book. Examples include The Olympics, The World Cup, and summertime in Europe.
If you're willing to wait a bit longer (or you decide to take a spontaneous trip), airlines generally release another batch of seats 6 weeks before the flight. By this point, most people who have paid for a flight with cash have already booked. So the airlines release the remaining seats for people who want to book using miles. After all, the airline always prefers to have a full flight, even if some of those passengers aren't paying full price.
Do frequent flyer miles expire?
Yes, but only if your account has been inactive for a long time (generally 18-24 months). As long as you continue to earn or use miles from an account, your miles won't expire.
Can I transfer frequent flyer miles to/from someone else's account?
If the miles are from the same airline, then yes, you can transfer (or share) them between accounts. However, most airlines will charge you a substantial fee to do this. For example, American Airlines charges $10 for every 1,000 miles plus a $30 fee for each transfer. This is almost always a terrible value for your money and miles!
There are a few airlines that let you "pool" your miles together and have a household account, as long as you everyone lives under the same roof. An example of this is British Airways, which you can read more about here.
Using Frequent Flyer Miles Recap
I know this was a long guide, so here's a quick summary of how to use frequent flyer miles:
Search milez.biz to find out how many points you need for a flight.
Use a rewards credit card or shopping portal to earn the required number of miles/points.
The best miles/points to earn are Chase Ultimate Rewards, Marriott Bonvoy, United MileagePlus, Southwest Rapid Rewards, and American Airlines AAdvantage.
To book Star Alliance flights, go to aa.com and search for your route. You may have to call American Airlines (800-433-7300) if you're booking a complicated itinerary or making a booking on a partner airline.
To book OneWorld flights, go to United.com and search for your route. If you're looking for flights to the Middle East, Africa, or Asia, search Qantas.com. You may need to call United (1-800-864-8331) to book complicated itineraries or flights on partner airlines.
Always ask to waive the phone booking fee.
Congrats! You now have the information you need to travel anywhere in the world for cheap. I'm super excited to see where frequent flyer miles take you.
Want to learn more about how to travel cheaply? Check out these resources: