British Airways has a bad reputation in the travel hacking community. Sure, they fly to a large number of destinations, and they have an extensive frequent flyer program.
However, they're notorious for charging fuel surcharges in the hundreds of dollars. For this reason, you might think it's better to just avoid British Airways altogether.
This would be a mistake. While British Airways miles (known as "Avios") can be obnoxious to use, they do offer great value on certain trips.
So in this guide, we're going to take a look at how the British Airways Avios program works. We'll discuss what Avios points are, as well as how to earn and use Avios points for maximum value.
What Are British Airways Avios Points?
Like most airlines, British Airways has a frequent flyer program. Known as the Executive Club, this program lets you earn frequent flyer miles (Avios points) that you can redeem for flights, car rentals, hotel stays, and vacation packages.
In this way, Avios are just like any other form of frequent flyer miles such as Southwest Rapid Rewards or United MileagePlus. So what makes them special?
The main difference between Avios and most other frequent flyer programs is that the points use a "distance-based award chart." If you're new to frequent flyer miles, this can sound intimidating, but it's really pretty simple.
Most frequent flyer programs use a "zone-based award chart." This means that flights within particular zones cost a set amount of miles/points, regardless of the distance.
For instance, a one-way flight in the main cabin on American Airlines will cost 12,500 points anywhere in the contiguous U.S. and Canada, regardless of the distance. Whether you're going from New York to Philadelphia or Miami to Seattle, it's a flat 12,500 points.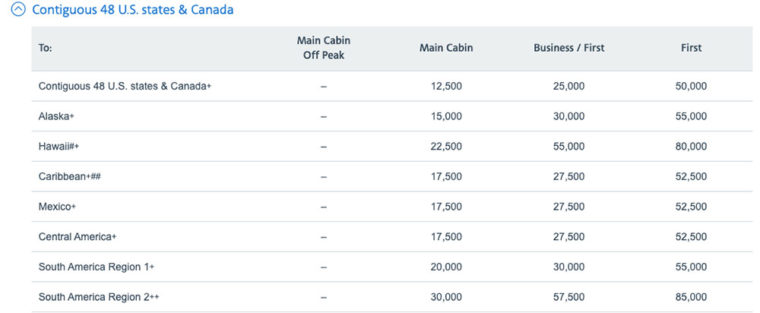 British Airways, in contrast, uses a distance-based award chart. This means that the number of points you'll need for a flight is based on the distance the flight travels. For instance, all-economy flights with a distance between 651 and 1,150 miles cost 9,000 Avios. But if you go up to 1,151 miles, the cost jumps to 11,000 Avios.
Here's a chart of the system courtesy of the FlyerTalk forum: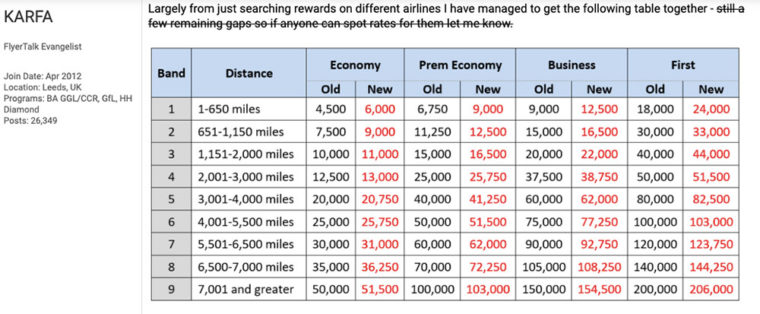 You don't need to memorize this chart, but understanding how the system works is helpful when you're searching for flights and attempting to get the best value for your Avios.
But how do you earn Avios to begin with? Let's take a closer look.
How to Earn Avios Points
The most obvious way to earn Avios points is to take flights with British Airways. As with any frequent flyer program, however, this is the least efficient way to earn points. You'd have to spend thousands of dollars on flights before you'd have enough points to redeem for a free flight. Therefore, we recommend other methods if you want to earn Avios quickly.
The very best way to get Avios is to transfer points from one of British Airways' partners. In particular, the following programs will be useful because they let you transfer points at a 1:1 ratio:
But how do you earn points for these programs in the first place? The simplest way is to open a travel rewards credit card.
For instance, a card like the Chase Sapphire Reserve will let you earn Chase Ultimate Rewards points. You can then transfer these points to your Executive Club account and use them to book flights through British Airways. The same is true for Amex Platinum and Marriott Bonvoy.
But how should you use your newfound Avios points? Keep reading to find out.
Best Ways to Use Avios Points
You have a lot of options for redeeming Avios. You can use them for British Airways flights, Iberia Airlines flights, American Airlines flights, and a variety of other partners that participate in the OneWorld airline alliance.
The most obvious way to use Avios is for flights on British Airways. But not so fast!
Using your Avios for British Airways flights rarely offers good value. This is because of the high fuel surcharges that British Airways imposes on many of their routes (particularly transatlantic flights). These surcharges can be hundreds of dollars, and you'll have to pay them even if you use points to book the flight.
So if you shouldn't use Avios for British Airways, what are they good for? The secret to getting value out of Avios is to book flights on partner airlines.
In particular, you can get great value booking flights on American Airlines when flying domestic business class. You can also get great deals booking flights from the West Coast to Hawaii on both American Airlines and Alaska Airlines.
And if you do want to use your Avios to go to Europe, you'll be glad to hear that British Airways has partnered with Irish airline Aer Lingus. You can often get great deals on Aer Lingus flights to Europe from the East Coast, and you won't have to pay the crazy fuel surcharges of British Airways.
Finally, if you're looking to travel further afield, you can use your Avios to book a flight to Tokyo on Japan Airlines (JAL). You won't pay any surcharges, and you'll get a premium flight experience.
How to Use British Airways Avios to Book Flights
Once you've decided on a route, it's time to book your flight. This process requires a few steps that will vary based on the flight you're trying to book.
In almost all cases, however, the first step is to transfer points to your Executive Club account. If you don't already have an Executive Club account, you can sign up here (it's free).
From there, you'll need to follow the steps to transfer your points. This is just a matter of signing into the relevant account and then transferring the points to your Executive Club account.
After the points are in your Executive Club account, you'll need to book your flight. In some cases, you can book the flight directly through the British Airways website. For instance, you can see and book American Airlines flights directly within the British Airways site.
In many cases, however, you'll need to take a few extra steps to book. For instance, the British Airways website doesn't display flights on Alaska Airlines and Aer Lingus. You can still book flights on these airlines with Avios, but you'll need to follow these steps:
Search the Aer Lingus or Alaska Airlines website to find the flights you want.
Make note of the airline name, flight number(s), times, dates, and class.
Call British Airways at 1-800-452-1201 to book your flight. Always ask the rep to waive the phone booking fee. Tell them you tried to book online but couldn't.
Finally, note that even if you're booking a flight on American Airlines, you may have to call British Airways if you need a complicated itinerary with multiple stops.
Bottom Line: Are British Airways Avios Worth It?
It's completely possible to get a lot of value out of Avios points if you know how to use them. However, the process isn't as simple as many other airlines and frequent flyer programs.
Overall, then, we think that the Avios program is worth it if you're booking particular routes (or have accumulated a bunch of Avios for some reason). The ability to transfer points from programs like Chase Ultimate Rewards is appealing, especially since it lets you book American Airlines flights without having to earn AAdvantage miles (which can be tricky to get without an American Airlines credit card).
Generally, however, we don't recommend the Avios program if you're new to travel hacking. The high fuel surcharges on actual British Airways flights and the difficulty of using the British Airways website make the program less appealing than competitors such as United.
Therefore, we only recommend transferring points to an Avios account if you're trying to book a route that United (or another Star Alliance member) doesn't already offer at a good price.
Want to learn more about the best frequent flyer programs to join? Check out our comprehensive guide to earning and using frequent flyer miles.