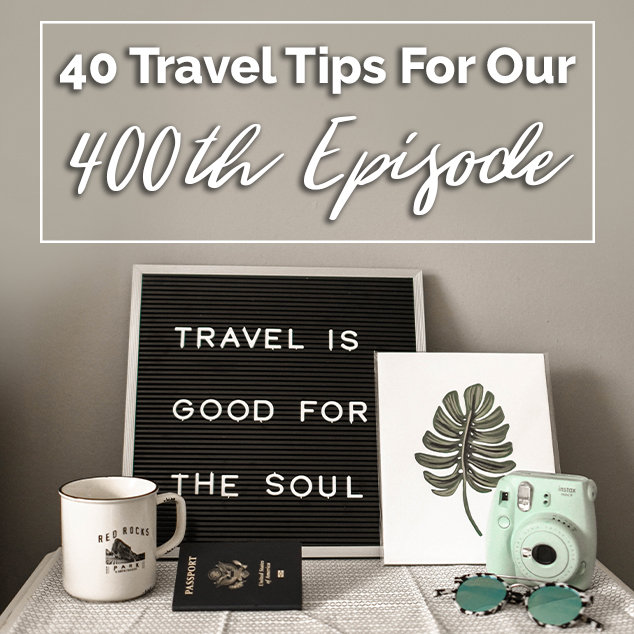 We have made it to our 400th episode and today we welcome the entire EPOP team to join us in giving our top 40 (plus) travel tips. Today we have on the show Vanessa, Mackenzie, Ransom, Lily, Kaycee, and of course, my wonderful wife and constant travel companion Heather and we are diving into the travel tips and tricks we have all accumulated over our decades of travel experience.
Like always it started at 40 (for our 400th episode) but who knows what number it actually ended up with.
Sit back, relax, and enjoy our 400th episode with this crazy, funny, and awesome team that we have here at Extra Pack of Peanuts and thank you for being with us through these 400 episodes. We couldn't have done it without you the listeners!
Today's episode has been sponsored by our friends at Tortuga Backpacks!
Click here to download the episode directly.
Which tip did you like the most? Which place did you go to and it didn't live up to your expectations? Let us know @PackofPeanuts!
Check out the entire library of EPoP Travel Podcasts on Apple Podcasts. Do you have travel questions for Trav about travel or travel hacking? Tweet us @packofpeanuts or Instagram with #askepop to @extrapackofpeanuts, or even on facebook! Anywhere you can find us!
In This Episode
Important Links
Want More?
Leave a Review!
iTunes reviews are one of THE most important factors for podcasts. If you enjoy the show please take a second to leave the show a review on iTunes!