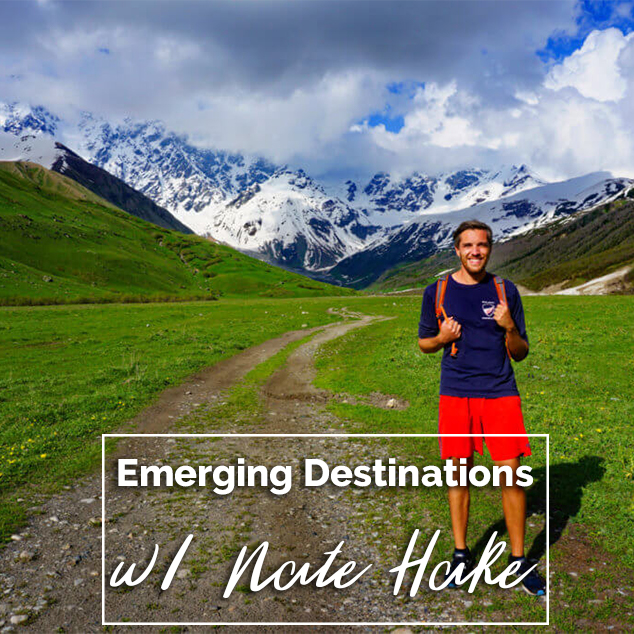 Nate Hake is a recovering lawyer who after 5 years and $250,000 of debt, got fed up and decided to travel the world instead.
He spent his first year fast traveling through 43 countries & 6 continents but has switched to digital nomad slow travel to allow him to work on his travel blog Travel Lemming and burgeoning software company.
His love of the country of Georgia & being a sucker for emerging destinations has made us instant kindred spirits and I really enjoyed getting into what makes a place an emerging destination, what is life truly like after years on the road, and tips on how to travel more (hint: credit card miles FTW).
Our Frequent Flyer Bootcamp has opened its doors and you can get it for $300 off PLUS 4 free bonuses but only until December 21st at 9 pm EST!
Today's episode has been sponsored by our friends at Tortuga Backpacks & the amazing guys over at Bluffworks!
Click here to download the episode directly.
Which emerging destinations are on your 2019 travel list? Let us know @ExtraPackofPeanuts!
Check out the entire library of EPoP Travel Podcasts on iTunes.
Do you have travel questions for Trav about travel or travel hacking? Tweet us @packofpeanuts or Instagram with #askepop to @extrapackofpeanuts, or even on Facebook! Anywhere you can find us!
In This Episode
Important Links
Want More?
Leave a Review!
iTunes reviews are one of THE most important factors for podcasts. If you enjoy the show please take a second to leave the show a review on iTunes!