If you've never heard of round the world tickets, you may be missing out. Round the world tickets (also known as an "around the world ticket" or just "RTW") allows you to fly to many destinations in one trip, often more cheaply than buying tickets individually.
But is buying an RTW ticket worth it? And how the heck do you buy one, anyway? In this guide, we'll show you everything you need to know. We'll cover what RTW tickets are, how they work, and whether or not you should buy one for your next trip.
What Are Around the World Tickets?
As the name implies, an RTW ticket is one that can take you around the world. The specific details vary based on which ticket you buy, but each ticket will include stops in specific cities on specific dates.
For instance, let's say you want to fly around the globe, starting in NYC, stopping in London, dipping through Central and Eastern Europe, and finishing up in Hong Kong before landing back in NYC.
You could book all of these flights individually, but it would be both expensive and complicated. This is why RTW tickets exist. They allow you to book all your flights at once for a flat price that's generally cheaper than booking flights individually.
The only rule is that you have to start and end in the same country. Beyond that, you could book an RTW ticket that crosses multiple countries or even continents.
But just how much cheaper can around the world tickets be? Let's take a closer look.
Looking for more ways to get cheap flights? Check out this guide.
How Much Do Around the World Tickets Cost?
As with the price of all things travel-related, it depends. The price of your RTW ticket will generally depend on the following things:
Where you're traveling
When you're traveling
How far in advance you book
The airline class you choose
For instance, let's look at a popular RTW ticket from AirTreks (our favorite company for booking RTW tickets). This trip is called "The Grand Escape." Here's the itinerary:
New York City
Milan
Dubai
Johannesburg
Mahé (Seychelles)
Mumbai
Bangkok
New York City
According to AirTreks, the price for this ticket ranges from $2,599 to $3,459.
Why the variation? As we mentioned above, the price of an RTW ticket will vary based on when you're traveling and when you book. If you travel during a popular vacation season, then prices will tend to go up. If you travel during the off-season, on the other hand, prices will be lower.
There's also airline class to consider. One thing to know about RTW tickets is that they do not include budget airlines, so you don't have to worry about absurdly cramped seats.
Still, the base price for most RTW tickets will assume you're traveling in economy. If you want extra legroom or champagne, then prepare to pay extra just as you would with any other flight.
Should You Buy an Around the World Ticket?
So, is buying an RTW ticket right for you? Once again, it depends. RTW tickets can save you a lot of money, but they aren't ideal for every person. Generally, RTW tickets work well if you:
Have set travel dates and don't plan to change them
Know you want to visit specific cities
Don't mind booking flights with a third-party company
On the other hand, you should avoid RTW tickets if you:
Want flexibility in your travel dates
Don't have a set itinerary
Want to book directly with the airline
Based on these guidelines, then, RTW tickets are great for these kinds of travelers:
Families looking to take an extended vacation
Adventure travelers with specific destinations in mind
Couples or singles looking for a getaway
The following travelers, however, would do better to avoid RTW tickets in most cases:
Business travelers
Backpackers with no set schedule
Digital nomads
Where to Buy Around the World Tickets
So how do you go about buying one of these magical RTW tickets? There are several options, though some are easier to use than others.
1. Directly Through the Airline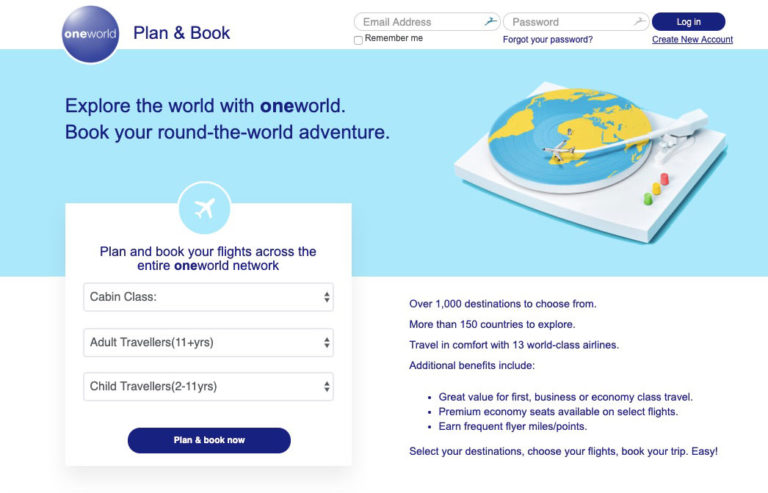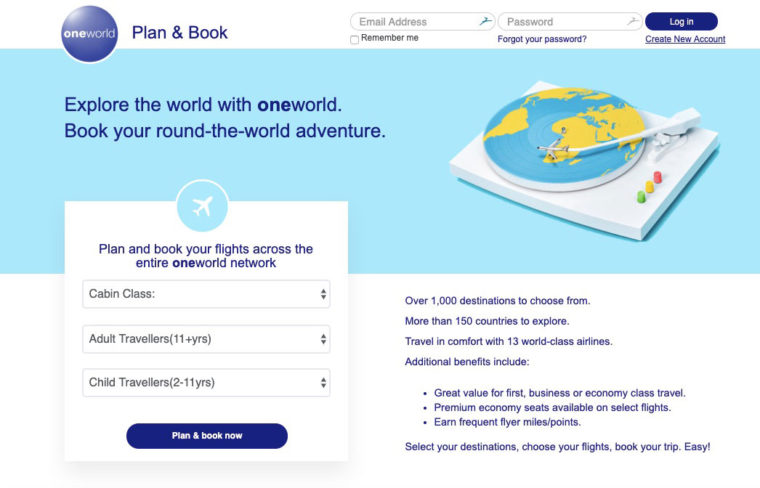 We don't recommend this method, but it is possible to book RTW tickets directly through a specific airline.
Well, more precisely, you can book RTW tickets through a specific airline alliance. Most major airlines have agreements with other airlines that allow them to operate itineraries in countries where they don't actually have planes.
The most prominent airline alliances are Star Alliance, Oneworld, and SkyTeam. There are others, but they're so small and regional that they aren't relevant to booking an RTW ticket.
When you book a ticket through one of these alliances, you'll need to provide your start dates, end dates, and stops. Sounds simple enough, right?
Unfortunately, the details get messy. Each alliance has rules about how long you can stop in a given city, how many total miles you can travel, and what regions you can travel to.
While you can negotiate all of this information yourself, the online tools these alliances offer are less than intuitive.
Because of this, we recommend booking with a third-party company instead. Not only will it make the process much easier, but it can often get you a better deal compared to booking with the airline.
So what company do we recommend for booking RTW tickets? Keep reading to find out:
2. AirTreks
AirTreks is, without a doubt, our favorite place to book RTW tickets. They make the process much easier (and often cheaper) than booking through an airline alliance.
When you book with AirTreks, you have a couple of different options. If you aren't sure where you want to go, you can browse one of their pre-set itineraries. These are trips created by real travelers, and they can be a great way to get some inspiration.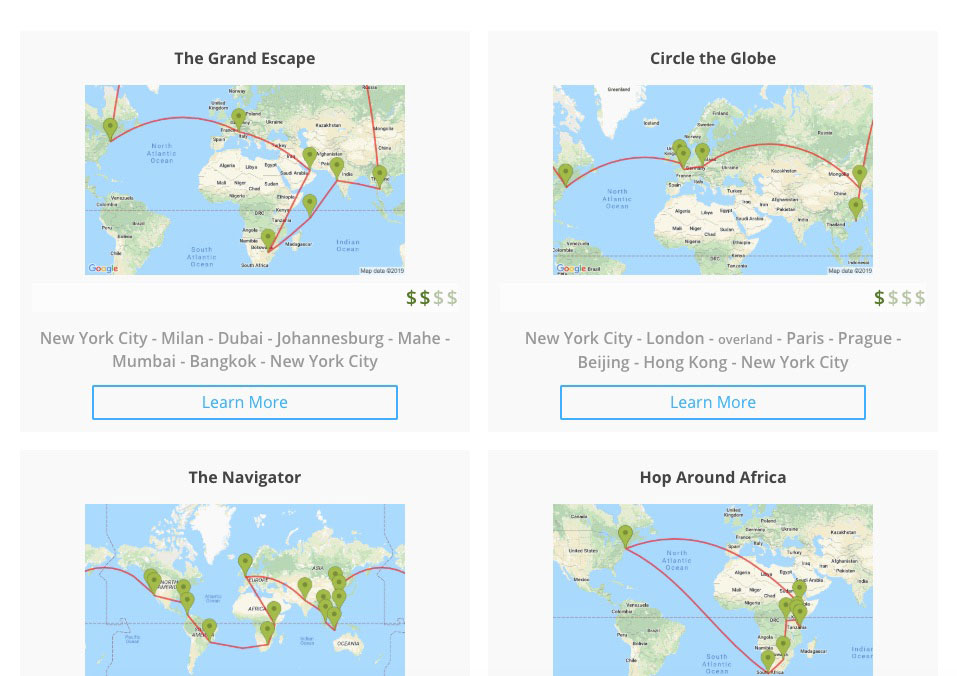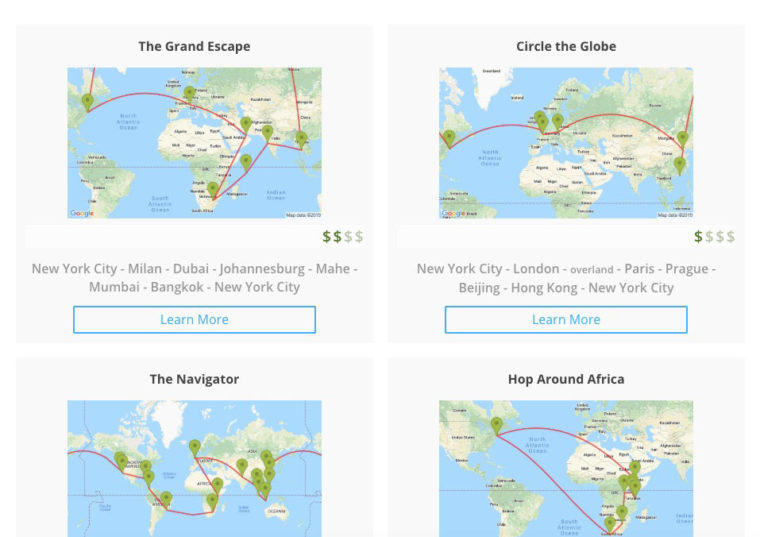 If you like one of the routes that you see, you can click on it to get more information. For instance, here's "The Grand Escape" itinerary that we mentioned earlier in the article: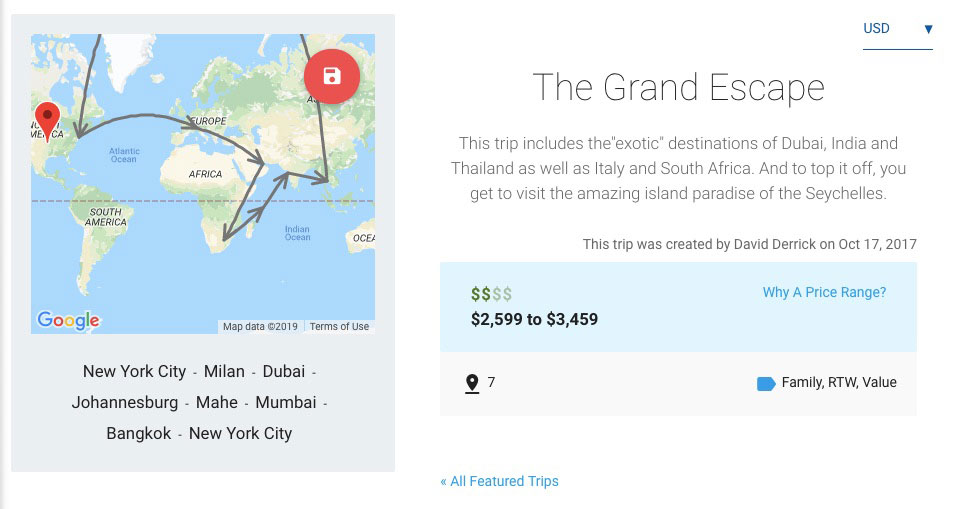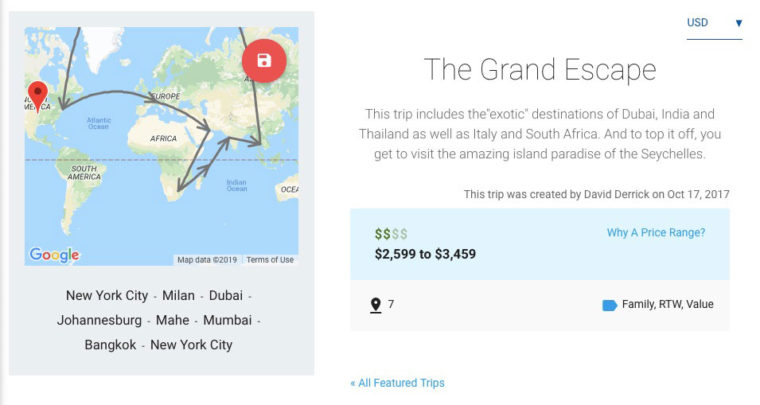 At a glance, you can see an estimated price, a map of the route, and a brief description of the trip. If you scroll down, you'll be able to enter the details of your trip, such as the number of travelers, start date, and end date. You can also enter your contact information so that someone from the AirTreks team can follow up with a price quote: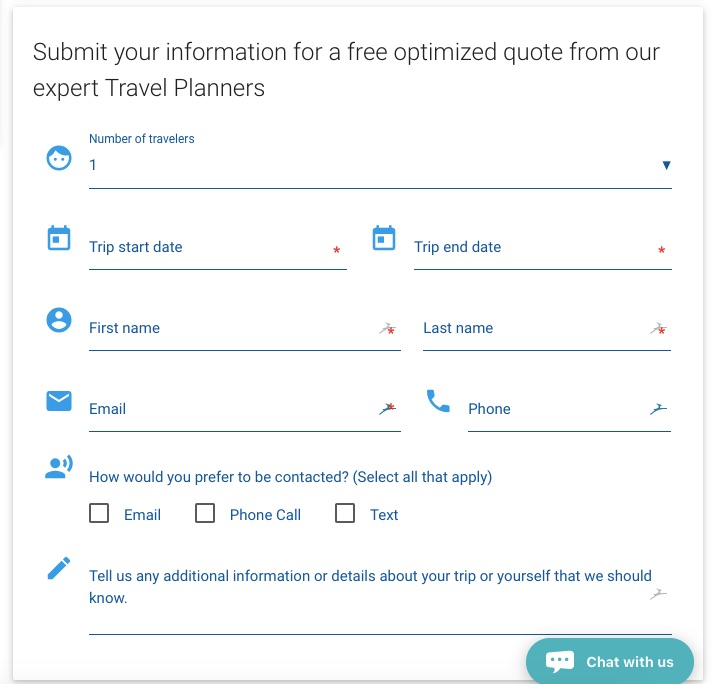 But what if you want to create your own itinerary? No worries — just use the TripPlanner tool. This tool allows you to enter the places you want to visit, and then AirTreks will help you book the flights to make it happen: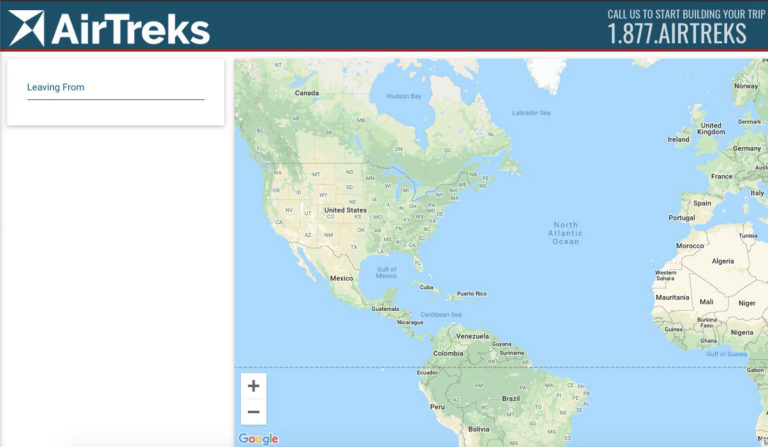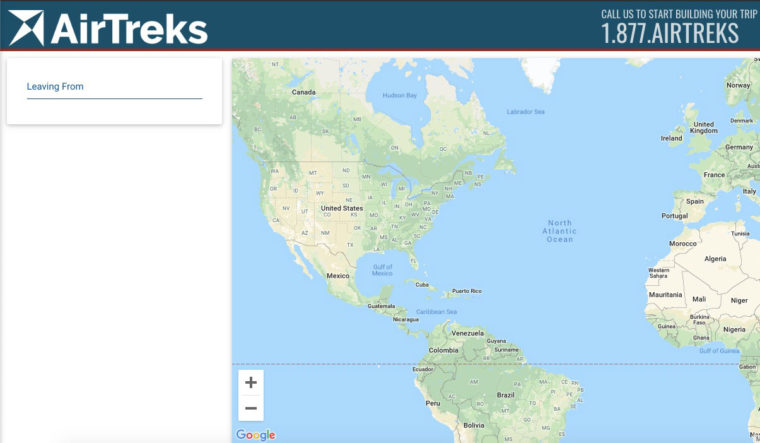 As you enter your cities, AirTreks will start to plot a route. For instance, let's say we want to travel from Philadelphia to Reykjavik to Berlin to Split. All we have to do is enter the cities into the tool and then click "Get Your Price" to find out how much it will cost: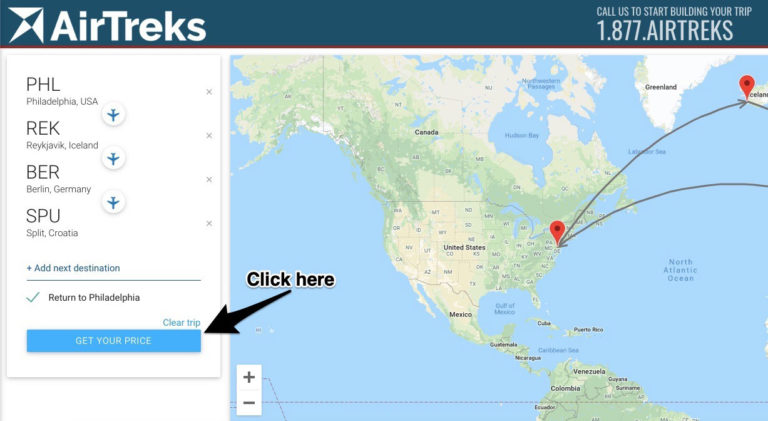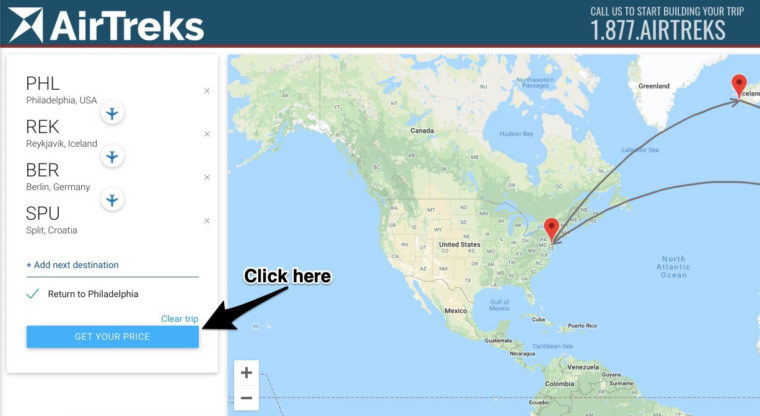 Here's the estimated price we got for this trip: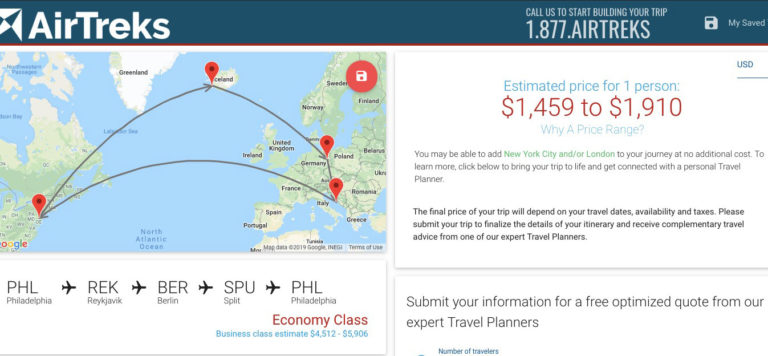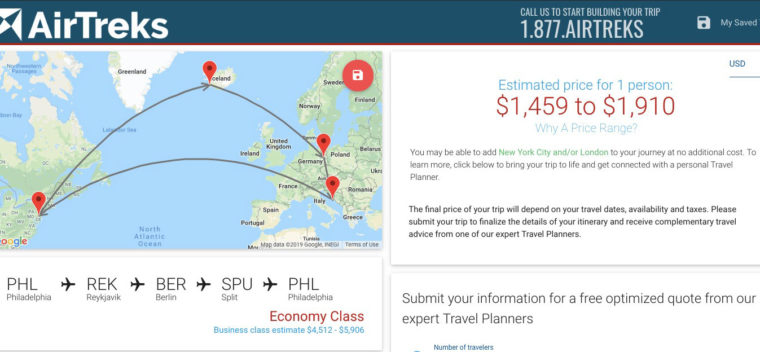 As you can see, AirTreks will also suggest cities that you may be able to add to your itinerary at no extra cost. In this case, it looks like we could add both NYC or London if we so desired. You'll also be able to see an estimate of what it would cost to make your trip business class instead of economy, if that's something that interests you.
To get a precise quote for this route, all we have to do is scroll down and fill out the form with our trip and personal details: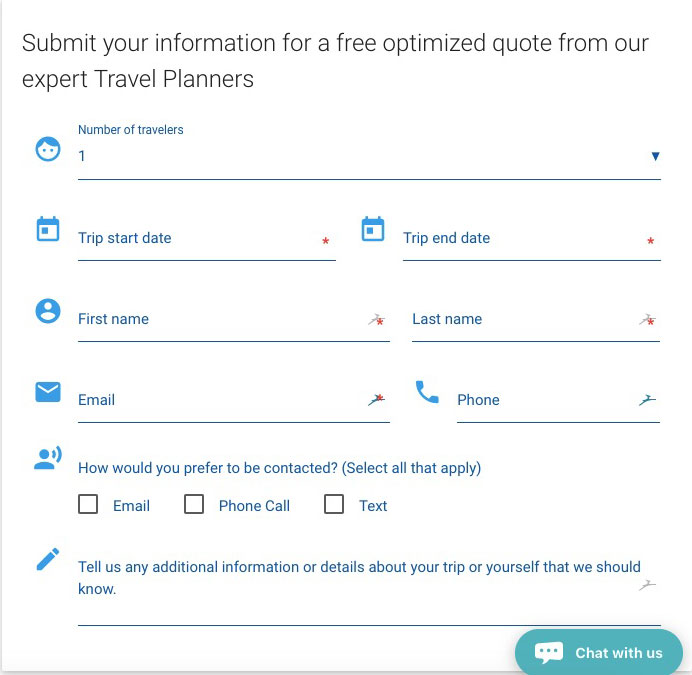 Once you submit the form, someone from the AirTreks team will get back to you with information on how much the RTW ticket will cost for your desired dates. If you're happy with the price, then you can have them book the ticket for you.
Ready to start planning your trip? Enter your destinations below:
Round the World Tickets FAQ
RTW tickets can be confusing, so it's natural that you have a lot of questions. Here are answers to the most common questions people have about booking and using around the world tickets:
1. Can I change the dates on my around the world ticket?
In many cases, yes, although you may have to pay change fees. This is the same as with a regular airline ticket.
2. How long are around the world tickets valid?
Generally, RTW tickets are valid for one year after the start date of your trip.
3. How do around the world tickets work for families?
Booking an RTW ticket for you and your family (or just for multiple people) works the same way as booking a single ticket (at least when booking through AirTreks).
When you go to book your ticket, you'll just enter the number of travelers. Then, when you're working to finalize the details, you'll be able to tell AirTreks the details of the people who will be traveling with you.
If you're traveling with children under the age of 11, then you'll usually be able to get their tickets at a reduced price.
4. Are around the world tickets refundable?
In some cases, yes. However, it's a bit more complicated than refunding a single ticket, since multiple airlines are often involved. For each flight on your itinerary, you'll be able to receive a refund in accordance with the specific airline's refund policy.
5. Do I have to start and end my round the world trip in the same city?
No, you do not. Generally, the only rule is that you have to start and end in the same country.
6. Is it possible to buy an around the world ticket with flexible dates?
As great as it would be, no. When you book an RTW ticket, the airlines need to confirm actual seats for your flights. To do this, they need specific travel dates.
This is one of the main reasons we only recommend RTW tickets if you have specific dates in mind for your trip.
Save on Your Next Trip with an Around the World Ticket
We hope this guide has helped you understand how round the world tickets work. They can be a little confusing at first, but the amount of money they can save you on extended trips makes them worth investigating.
To book your next round the world ticket, visit AirTreks.com.