Here at Extra Pack of Peanuts, we know how exciting travel can be. It lets you break out of your comfort zone, see places and people you never imagined, and return home with an appreciation of the vastness of our planet.
Yet while traveling can be fun, it's also important to leave home prepared. One of the key things to do before you leave for any trip (especially international travel) is to get travel insurance.
If you've never heard of travel insurance, don't worry. Not too long ago, we hadn't heard of it either. But now, we never leave home without it.
In this guide, we'll take a look at what travel insurance is, why it's so important, and our favorite companies for buying travel insurance.
What Is Travel Insurance?
So what in the world is travel insurance, anyway? As with any other kind of insurance, travel insurance exists to protect you from the unexpected. This could be anything from a stolen laptop to lost luggage to a serious injury.
Travel insurance provides coverage that your regular insurance may not. We say "may" because every insurance policy is different, and the details of your coverage will vary depending on where you go and what you do.
In general, however, the medical insurance (and home or renter's insurance) you use in your home country will not cover you abroad. Travel insurance fills in this gap, giving you the coverage you and your loved ones back home need for peace of mind.
Different travel insurance companies offer different types of coverage, and some will be better for you than others. We'll get into specific companies in a bit, but first, let's take a look at why travel insurance is so important.
Why You Should Get Travel Insurance
If you're following our advice here at Extra Pack of Peanuts, then you'll pay very little for your flights and accommodation.
Still, travel isn't free. When you're already spending money on gear and things to do, paying extra for travel insurance that you might not need can seem like a waste.
We understand your mindset. No one goes into a trip expecting something bad to happen. And in all likelihood, nothing will. The world is far less dangerous than the media makes it seem, and travel is one of the best ways to discover this.
Still, hazards exist with any trip. What would you do if you were thousands of miles away from home and one of the following happened:
You fall off a motorbike and break your leg?
You randomly get the flu?
You're sitting in a café and a thief runs off with your laptop?
All of the above are things that you could pay for out of pocket. And for minor incidents, that might be fine. However, receiving medical care in a foreign country can also end up being quite expensive.
When you're hurt or sick, the last thing you want to worry about is how you're going to pay for the care you need. Even more so than what happens to you, the stress of not knowing how you'll pay can really ruin your trip.
With travel insurance, however, you don't have to worry.
Travel insurance policies exist to cover all thing things we mentioned above, as well as far more serious situations such as evacuation back to your home country or even repatriation of your remains (a dark thought, but something that it's better to be prepared for than not).
Convinced that you should get travel insurance? Then read on to find the best places to buy it.
The 3 Best Travel Insurance Companies in 2020
If you google "travel insurance," you'll be overwhelmed with the number of companies out there. Insurance, in general, is big business, and travel insurance is no exception.
Not all of the companies you'll encounter, however, offer quality travel insurance that's worth paying for. And even beyond that, not every travel insurance company will be right for your needs.
To help you sort through the clutter, we've created the following list. All of the companies below are ones that we've either used personally or are comfortable recommending based on our research.
We've excluded any companies that had difficult to use websites, poor coverage, or confusing policies. For this reason, our list is smaller than what you might see on other websites, but this is so we can give you only the highest quality recommendations.
In no particular order, here are our top travel insurance picks: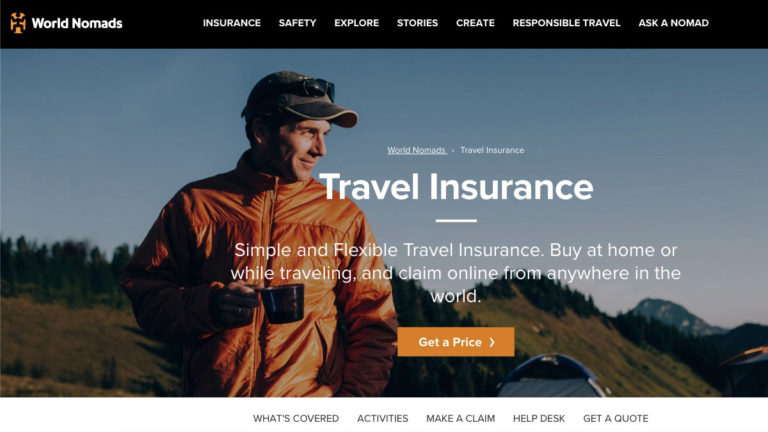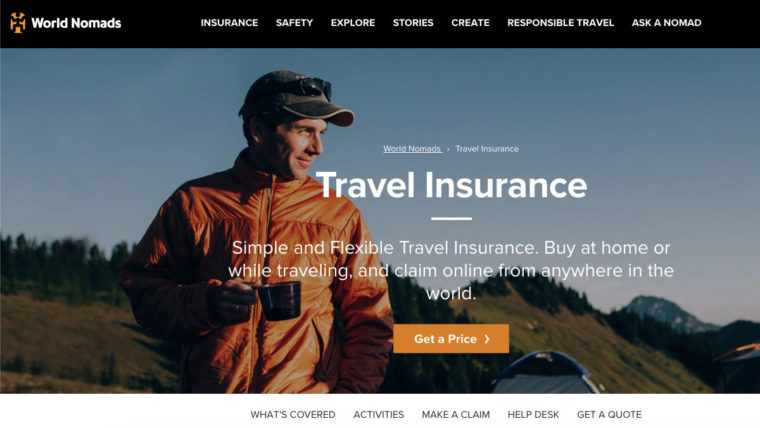 World Nomads has been our go-to travel insurance provider for years. They offer straightforward pricing, easy to understand policies, and they cover all the cool activities we like to do while traveling.
Coverage Offered
Trip Protection — If your trip is canceled for some reason, you can get reimbursed.
Emergency Medical Insurance — If you get sick or injured while traveling, World Nomads can cover the costs.
Evacuation and Repatriation — If you need to get back to your country ASAP due to serious injury or death, they can cover it.
Gear Protection — If your gear gets lost, stolen, or damaged, World Nomads can help reimburse you.
Trip Delay — Need to delay your trip for some reason? World Nomads can reimburse you for the associated costs.
24/7 Emergency Assistance — The World Nomads team is just a phone call away 24/7, 365 days a year for help with any kind of travel emergency.
World Nomads offers two main coverage plans: the Standard Plan and the Explorer Plan. The main difference between the two is the amount of reimbursement offered.
In general, the Explorer Plan will provide a higher level of reimbursement, making it better for riskier trips (think base jumping, skydiving, and other dangerous adventure sports).
Cost
The cost of a World Nomads plan will vary based on the following:
Your country and state of residence
Where you're traveling
How long your trip is
Your age
Based on a few quotes we pulled, you can expect to pay anywhere from a little over $100 to around $200 for trips of around a month. Just be aware that every situation is different, and the only way to know what it will cost you is to get a quote.
Who It's Best For
World Nomads is a great option for the traveler who likes to have an adventure. They've designed coverage levels for extreme sports, as well as pretty much any destination you can think of.
Plus, they offer coverage to residents of 140 different countries, meaning the odds are good they can cover you. They even offer long-term travel insurance for digital nomads, ex-pats, or other perpetual travelers.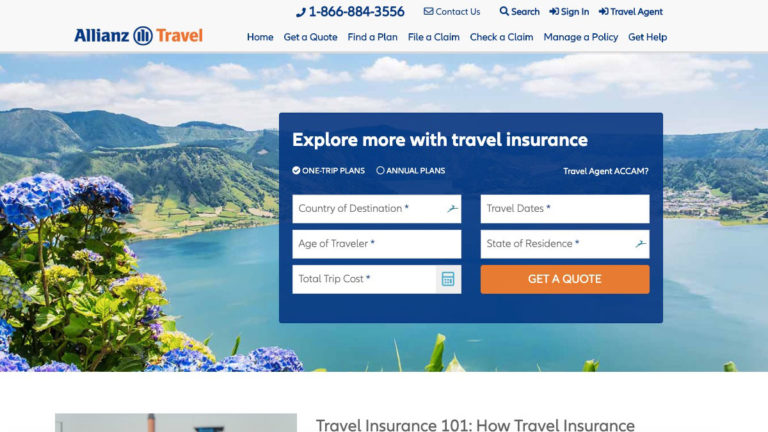 Up next, we have Allianz. They're another strong player in the travel insurance market, and they offer all kinds of coverage. They have an easy to use site, and they're especially useful if you need to insure a single-country trip.
Coverage Offered
Trip Cancelation/Interruption — If you have to cancel or end your trip, Allianz can reimburse you.
Emergency Medical — If you get sick or injured while traveling, Allianz can help cover the care you need.
Emergency Transportation — Covers the cost of transporting you to an appropriate medical care facility and then transporting you home afterward.
Baggage Loss/Damage/Delay — If your luggage gets lost, damaged, or delayed, Allianz can help you cover the associated costs.
24/7 Hotline Assistance — No matter the hour of the day, Allianz is there to help.
Allianz offers quite a few levels of coverage depending on what you need. We especially like that they factor in your trip cost and adjust what you pay accordingly.
If you're just taking a quick weekend trip to Mexico, it doesn't make sense to pay as much as you would for a month-long trip to Bali. Allianz understands this, and they adjust your price accordingly.
Cost
The cost of Allianz travel insurance will vary based on the following factors:
Country of destination
Country and state of residence
Trip length
Trip cost
Age
Also, you'll pay more if you want to purchase an annual plan. Annual plans are perfect for digital nomads and other long-term travelers who may not even know what country they'll visit next.
The cost of insurance for a single trip can be as low as $23 and as high as $500 for the maximum level of annual coverage.
Who It's Best For
Allianz is great for travelers who need just the right amount of coverage and nothing more. If you're traveling to a single country, you can get a far lower price than a company like World Nomads.
On the other hand, it may not be the most affordable solution if you're doing an extended trip to multiple countries. In cases such as these, World Nomads is likely a better option.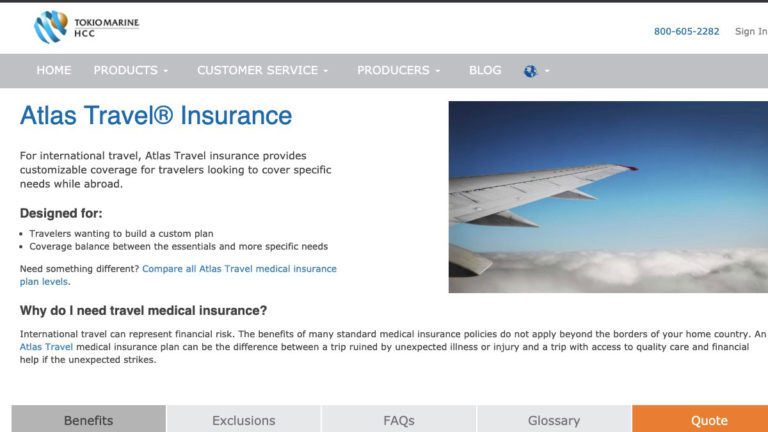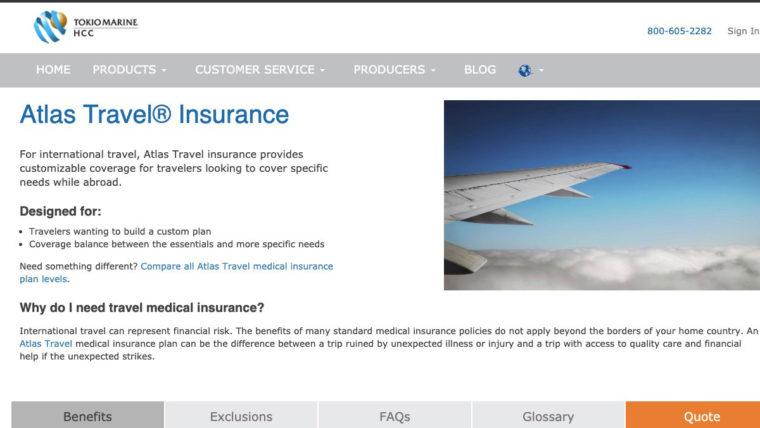 If you're looking for a travel insurance plan that focuses on medical coverage, then Atlas Travel Insurance can be a great option. Provided by Tokio Marine HCC, Atlas will give you comprehensive medical coverage across the world.
Coverage Offered
Emergency Medical Evacuation — If you need quick evacuation from your travel destination due to serious injury or illness, Atlas Travel Insurance will provide coverage up to $1,000,000.
Ambulance and Hospital Services — The cost of these can really add up abroad, so this is a great benefit to have.
Crisis Response — Provides coverage for associated expenses if you're kidnapped.
Lost Checked Luggage — Coverage up to $1,000.
Travel Delay — If you need to make an unexpected overnight stay due to a delayed flight, you can receive reimbursement for your meals and accommodations.
Cost
The cost of Atlas Travel Insurance depends on the following factors:
Travel dates
Age
Coverage area (you can choose to cover anywhere in the world except your home country, or anywhere in the world plus your home country)
Given that Atlas Travel Insurance covers fewer situations than the other options we've discussed, it's some of the most affordable coverage you can find.
The lowest plan (coverage of up to $1 million) can be as cheap as $17, making it a great bargain for the right traveler.
Who It's Best For
Atlas Travel Insurance is an excellent choice if you just want low-cost coverage of medical expenses, as well as a bit of travel delay and lost luggage coverage.
If you're planning to participate in any extreme sports or adventure sports, then this is not the travel insurance for you. Consider World Nomads if you plan to do things like base jumping, spelunking, or skydiving (to name just a few activities that Atlas Travel Insurance does not cover).
Travel Insurance FAQ
Travel insurance can be a confusing topic, particularly if you've never heard of it. To help you understand it, here are answers to some common questions about travel insurance:
1. Can I get travel insurance for my family?
Absolutely! All the travel insurance companies we've recommended in this article offer family coverage. In many cases, coverage of your dependent children is included for free.
Learn more at the links below:
2. Can I buy travel insurance during a trip?
Generally, yes. World Nomads, for instance, allows you to buy travel insurance even if you've already left for a trip. The specific rules can vary based on your country of residence, so be sure to check your preferred travel insurance provider for more info.
3. Should I buy travel insurance for domestic travel?
This depends on the trip. If you're just taking a cheap weekend trip, it's probably unnecessary. When you're traveling domestically, you generally don't have to worry about medical coverage; your regular medical insurance should cover you (though be sure to check with your agent if you have any doubts).
The only time it could make sense to buy domestic travel insurance is if you're taking an expensive trip and are concerned about the cost of having to cancel it.
For instance, if you're going to spend a month scuba diving in Hawaii, you might want to look into some travel insurance to reimburse the high upfront costs if you need to cancel for some reason.
Also, be aware that many travel credit cards provide coverage for things like lost luggage, trip delays, and even trip cancelation. The Chase Sapphire Reserve, for instance, provides reimbursement of up to $20,000 for prepaid, non-refundable travel expenses if you have to cancel your trip.
Don't Travel Without Insurance
If you take nothing else away from this guide, let it be this: you need travel insurance. It's not a "nice to have" thing that you add if you can afford it. If you can't afford travel insurance, then you can't afford your trip. The risks of traveling uninsured are simply too great.
For easy reference, here are all the travel insurance companies we recommend:
Safe travels!