The Chase Southwest Companion Pass is one of, if not the, best airline perks out there. For people who fly domestically, it is an absolute must-have.
Even for people who don't fly domestically that often, it can still provide incredible value and is probably worth getting.
Read on to find out what the Southwest Companion Pass is, how to get it, and our favorite ways to use it.
Jump to:
What Is the Southwest Companion Pass?
The name of the card is not intended to fool; the Southwest Companion Pass is exactly what it says it is.
The pass allows a companion (spouse, mother, friend, favorite blogger) to fly free with you when you fly on Southwest.
And unlike many other airlines, Southwest does not make the rules super confusing. In fact, the process is fairly straightforward:
Once a person earns the Companion Pass (how to earn it is discussed below) they will designate the individual they want as their companion.
The Companion Pass arrives in the mail.
When the person is booking their tickets online, there is an option to choose to use the Companion Pass. When the person is booking over the phone, they simply have to tell the representative they want to use the Companion Pass.
The companion flies for free.
About as easy as it gets, right?
Here's a closer look at how you can earn the Companion Pass:
How to Earn the Southwest Companion Pass in 2020
Technically, there are two different ways to earn the Companion Pass:
By flying 100 qualifying one-way flights with Southwest in a calendar year.
Earn 110,00 Southwest points in one calendar year.
Since 99% of people won't fly enough on Southwest to earn it the first way, we will focus on how to earn 110,000 Southwest points in one calendar year.
At first glance, this may seem difficult, but in fact, it's not hard AT ALL – below are all the options for earning 110,000 Southwest points in one calendar year.
Option 1: Open Two Southwest Credit Cards
Getting the Companion Pass is so easy because Chase is currently offering three different Southwest credit cards that EACH earn you Southwest points that count toward the Companion Pass.
The amount of points each credit card earns changes throughout the year, but you can generally get these cards with bonuses between 25-60k.
All you have to do is open up two of these credit cards and you'll be at 110k Southwest points (and the Southwest Companion Pass) before you know it!
Plus vs. Premier Southwest Credit Cards
The first thing to be aware of is that there are two types of Southwest cards, the Plus and the Premier. These cards differ slightly:
The Plus has an annual fee of $69 and offers 3,000 Southwest points as an anniversary bonus each year you keep it open. Also, it charges a foreign transaction fee of 3%.
The Premier has an annual fee of $99 and offers 6,000 Southwest points as an anniversary bonus each year you keep it open. It has no foreign transaction fee, so you pay nothing extra when you use it abroad.
The second thing to understand is that Chase offers both a personal and a business version of the Southwest Premier card.
That means there is a Plus personal card, a Premier personal card, and a Premier business card — three opportunities to make the Southwest Companion Pass yours!
To ensure that you get the sign-up bonus for both cards (more than enough points to qualify for the Companion Pass), we recommend opening both a business and a personal card.
Since one is a personal card and one is a business card, you can apply for them at the same time without issues getting approved.
It is possible to reach the necessary number of points by opening two personal Southwest credit cards, but we don't recommend it, as Chase is unlikely to approve an application for two personal credit cards so close together.
If applying for a business credit card feels intimidating, don't worry. Here are some tips to get approved for a business card.
Other Ways to Earn Qualifying Points
If you only get approved for one Southwest credit card, or just want to apply for one of the cards, don't worry, there are plenty of other ways to rack up points towards your Southwest Companion Pass.
Just a quick (but very important) heads-up: Not all the ways that you can get Southwest Rapid Rewards points to count towards the Companion Pass, so be careful.
For example, buying 6,000 Southwest points WILL NOT count towards the Southwest Companion Pass, nor will transferring Chase Ultimate Rewards points directly to Southwest. Transferring points from hotel loyalty programs was also cut out of the equation early in 2017.
Option 2: Spend with the Southwest Credit Card
For each dollar you spend, you'll earn one Southwest point, so if you spend $6,000, you'll earn 6k points!
Plus, any Southwest flights you purchase on the card earn you an additional point, making it that much easier to rack up those Rapid Rewards points! For instance, if you use your Southwest credit card to buy a $300 ticket, you'll earn 600 points instead of just the regular 300.
I'd recommend this for anyone who has a big purchase planned or plenty of monthly expenses that you can pay with a credit card.
Your regular monthly spending could earn you your Southwest Companion Pass in no time!
Option 3: Book Hotels Through Southwest Hotels
If you are planning any travel in the near future, consider booking your hotel through Southwest Hotels.
The base rates for points will count towards your Southwest Companion Pass.
Generally, you'll earn one point per dollar spent on hotels. This isn't bad, but we can do better — some hotels give you up to 10k points!
For instance, a quick search for a one night stay in Las Vegas shows many hotels with 1-2k Rapid Rewards points per night. A $254 night at The Palazzo will earn you 7,000 Rapid Rewards points when you book it with your Southwest credit card.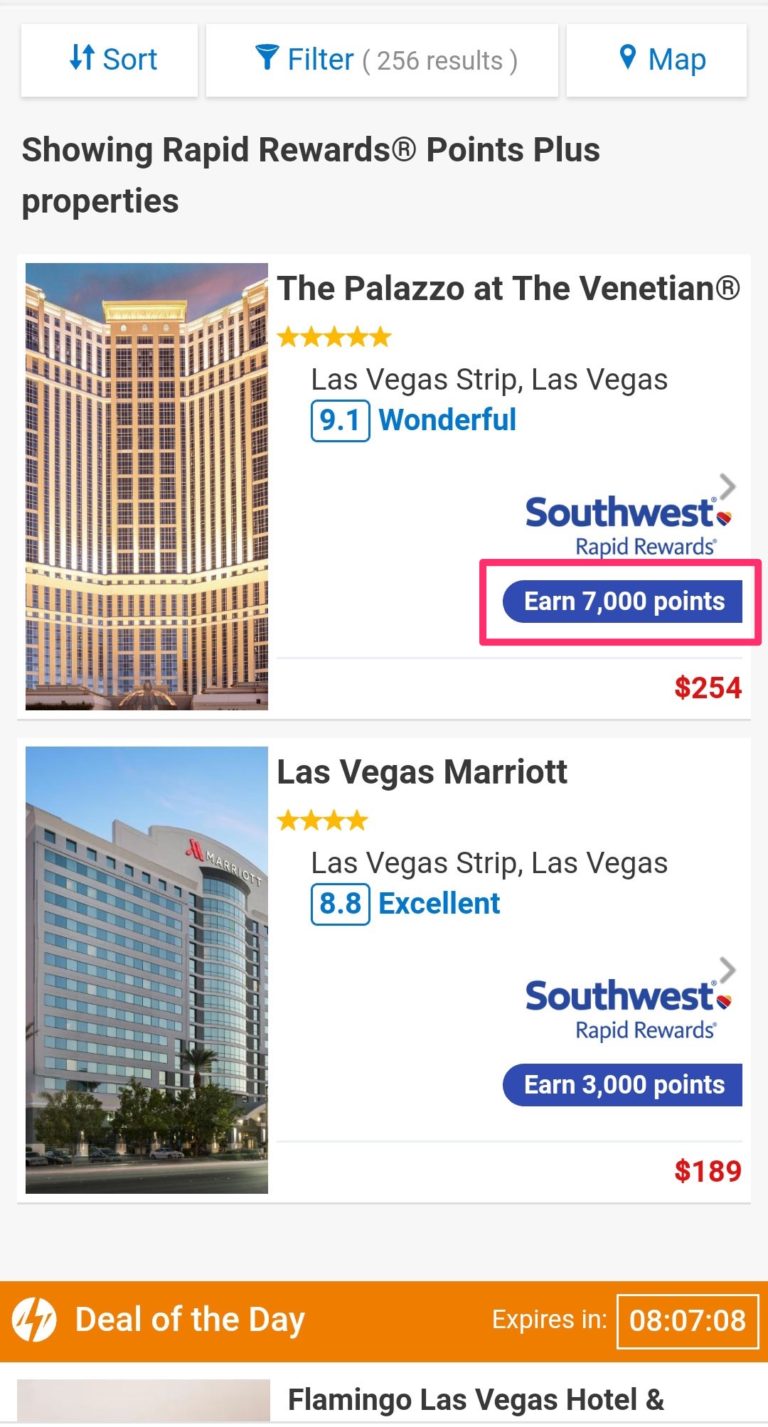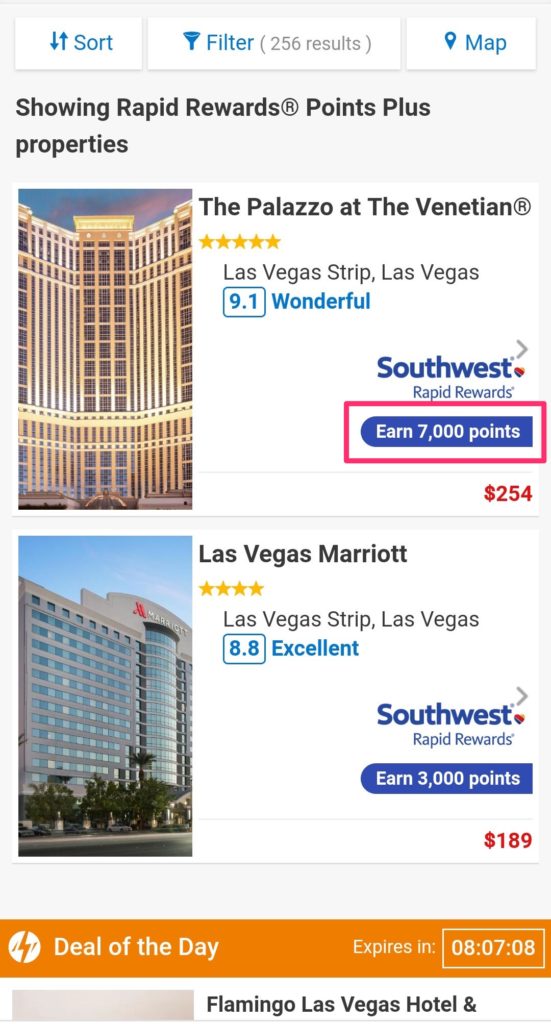 And when you pay for the hotel with your Southwest credit card, and you'll earn an additional two points per dollar. Meaning that, in the above example, your total earnings would be ($254 x 2) + 7,000 = 7,508 points.
Option 4: Shop Through the Rapid Rewards Shopping Portal
Everyone shops online – so why not earn something for it?
There are lots of stores on the Rapid Rewards Shopping Portal that you probably already shop at, so make sure you visit those shops through the portal and earn points towards your Southwest Companion Pass for buying what you were already going to buy!
Earn Rapid Rewards points at websites like Restaurant.com, Home Chef, Shutterstock, Bass Pro Shops, Lord & Taylor, Tumi, Apple, and Nike.
Buying a new iPad Pro? That's 650 points towards your Southwest Companion Pass.
Buying $100 worth of clothes for the kids at JCPenny? That's three points per dollar equalling 300 points!
The best part is that you can double dip when you pay with your Southwest credit card. This means iPad Pro purchase has turned into 1300 Rapid Rewards points and the clothing from JCPenney has become 400 points.
All of these points count towards your Southwest Companion Pass!
There are hundreds of websites listed, so make sure you check the Rapid Rewards portal before you click "buy" and you'll be well on your way to the Southwest Companion Pass!
Option 5: Go out to Eat with Rapid Rewards Dining
If you go out to eat a lot, be sure to take advantage of this opportunity to earn points towards the Southwest Companion Pass.
Signing up for Rapid Rewards Dining Program will earn you up to three points per dollar towards your Southwest Companion Pass at participating restaurants.
That means a $20 dinner would net you 60 Rapid Rewards points!
If you use your Southwest credit card, you can double dip and earn even more!
Your $20 dinner just turned into 80 Rapid Rewards points just by using the right credit card. Who thinks double dipping is bad now?
Option 6: Fly Southwest Airlines
This might seem like a no brainer, but it really does make sense. You'll earn miles for your fare, plus an additional two points per dollar when you book with your Southwest credit card.
You'll earn Rapid Rewards points based on the fare you buy:
6 points for Wanna Get Away
10 points for Anytime
12 points for Business Select
If you book a $200 Wanna Get Away fare, you'll earn 1,200 Rapid Rewards points.
If you book that same fare with your Southwest Credit card, you'll earn an additional 400 points for a total of 1600 Rapid Rewards points!
A $300 Anytime fare will earn you 3000 Rapid Rewards points (300×10=3000!)
If you're a little short on Companion Pass qualifying points, spending a little extra on your next Southwest flight could bump you up to two for one travel for the next year!
5 Awesome Southwest Companion Pass Benefits
Still not convinced of the value of the Southwest Companion Pass? There are five things that make the Companion Pass especially awesome. Let's take a look at them:
1. You Can Use the Pass Unlimited Times
This is not a one-time pass, but instead allows a companion to fly free with you EVERY TIME you fly Southwest.
Yes, you are hearing me correctly: EVERY SINGLE TIME you fly Southwest.
Theoretically, I could fly Southwest every day and my companion would fly free with me each and every time.
2. The Companion Pass Can Remain Valid for Up to 2 Years
You may think you are mishearing misreading me, but you aren't. The Companion Pass is good for the year you earn it and the next calendar year as well.
Example: Let's say you get your Companion Pass on October 1st. Your Companion Pass will then be good for October, November, and December of 2020 and then all of 2021, for a total of 15 months.
Of course, the way to squeeze maximum value out of it is to get it as early in the year as possible (like January) and then you'd have it for a full two years.
Bingo!
3. Your Companion Flies Completely Free
With most things in life, free doesn't mean free, and a lot of times there is enough red tape and rules to make the "free" item not even worth it.
This is NOT the case with the Southwest Companion Pass.
In this case, free really does mean free.
The only thing that the companion will be required to pay is a government-mandated September 11th security fee and taxes which is about $5.60 one way.
Other than that, there are no costs for the companion whatsoever.
And in case you've been hiding under a rock for the last two years, you should be aware that bags fly free on Southwest (awesome commercial evidence here, here, and here), so the companion won't even have to worry about that cost!
4. You Can Use the Companion Pass on Both Paid and Award Flights
Whether you pay out of pocket for your flight or use some of the Southwest miles you've accumulated to get an award ticket, your companion can still fly free with you.
This is basically unheard of in the airline world, as every other companion pass (that I'm aware of) requires the original person to pay for their ticket.
Not on Southwest.
So whether you pay $500 for a last-minute ticket, $150 for their normally cheap regular fares, or fly free yourself using your Southwest miles, your companion can come along as well.
What's better than one person flying free on Southwest?
TWO PEOPLE FLYING FREE ON SOUTHWEST!
5. You Can Change Your Designated Companion Up to 3 Times Per Year
After you originally designate your companion you can change it and get a Companion Pass reissued with another person's name up to three times a calendar year each year you maintain your Companion Pass.
This can be done instantly over the phone and is an awesome perk that often gets overlooked among all the other amazing things about the pass.
I'll give you a good example of how I plan to use this to my advantage.
Naturally, Heather (my wife) will be my companion on many of my trips.
However, instead of designating her as my original companion, I plan on designating my best friend Jon because we are planning a trip together down to Florida.
After we take our trip and he flies for free (saving him anywhere between $150-300), I'll call in and ask to designate Heather as my new companion.
Then, we'll use the Companion Pass to fly all over this awesome country of ours.
You can even designate a new companion (i.e. Jon), change it to someone else (Heather) and then change it back to the original person (Jon).
FINAL WORD(S)
The Southwest Companion Pass is an amazing, amazing perk and even those who only occasionally fly domestic should consider it. Southwest is expanding its route network every year with flights to the Caribbean and Latin America already happening.
For anyone who flies a decent amount (or would if it was cheaper), it's an absolute must.
Grab a personal and business card, find a good companion, and experience the joys of free travel!
If you've got the Southwest Companion Pass, weigh in below. Is my love for it justified? Where have you gone with it? If you don't have it, how do you plan on getting it? Fire away!