Everyone knows that the absolute quickest way to earn tons of frequent flyer miles is to take advantage of credit card sign-up bonuses.
However, most credit cards only allow you to get the sign-up bonus for the credit card one time.
After a while, if you open a few cards, your options will become limited.
The best way to continue to get the best sign-up bonuses?
Open up a business credit card!
However, there are a few differences between opening up a business credit card and a personal card. Here's everything you need to know about getting a business credit card, from how to qualify to how to apply (even if you don't have a "business").
How Almost Anyone Can Get a Business Credit Card (Even Without a "Business")
Now, before you start to say, "But I don't own a business," stop and think for a second.
Is there anything you do to make extra money that isn't part of your regular salary?
Do you sell items on eBay?
Do you do some consulting on the side?
Babysit or pet-sit for friends?
Do yard work or snow-plowing?
There are lots of things that people do for extra income that they don't consider a business but which can be considered one!
Here's a perfect example:
My mother is a middle school gym teacher. When I first started telling her about the Chase Ink Business Preferred card and all its awesome perks, she was intrigued. However, she told me:
"Travis, I don't have a business."
"So you don't do anything for extra money Mom? You just make your teacher's salary?"
"Well, I do coach field hockey and lacrosse at the high school and during the summer, I run field hockey camps."
"Do you make money for that?"
"Yes."
"Then guess what, you've got a business."
And just like that, my mom, who 2 minutes before claimed she didn't have a business, was on her way to applying for a business card.
Here are the important things to know:
You don't have to be incorporated to be a business.
You don't have to have employees to be a business.
And you don't have to make a lot of money to be a business.
All you have to do is provide a good or service in an attempt to make a profit.
So start thinking if there is anything you do that could be considered a business. Nothing is too small, and the answer may surprise you!
What If You Really Don't Have a Business?
This makes things a little more tricky but it doesn't mean you can't get a business card.
The definition of a business includes the words "An attempt to make a profit."
This does not mean that you have to currently be making a profit.
If you rack your brain and can't think of any way that you currently have a business, you can still qualify for a business card.
Are you planning on starting up a business in the near future?
If so, you may be able to qualify for a business card by applying for a card BEFORE you've actually made a profit as a start-up.
The banks will be more hesitant to give cards to start-ups than they will to already established businesses (and remember, when I say "established," I mean things as simple as my mom's coaching). But if you go in with a well thought out and convincing plan, you can oftentimes still get approved.
A few things to make sure to mention when going this route are:
Your existing relationship with the lender. If you already have an established relationship with Chase (or Citi or Amex), make sure to mention this. Tell them that you've enjoyed being a customer of theirs for ______ years and that you'd like that relationship to continue.
Your desire to split your personal expenses from your business expenses. Tell them you want to open up a business card right when you are starting the business because you want to easily track your business expenses and you currently only have personal credit cards.
Your willingness to move some credit from a personal card to the business card. If they are hesitant to offer you more credit, make sure to mention to them that you'd be willing to take some of the credit from a personal card and put it on the business card. This should help assuage their fears.
Congrats! You're now ready to apply for a business card. But how exactly do you do that? It's not difficult, though there are a few additional steps compared to applying for a personal card. Read on to find out the differences.
How to Apply for a Business Credit Card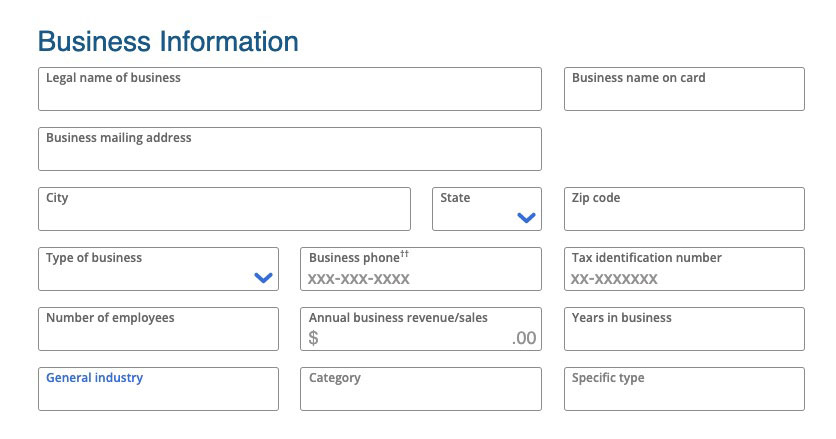 When applying for a business card, it's important to understand how to fill out the actual application, as it'll differ from a personal application.
Most of it will be pretty straightforward, but there are a few parts that might be a touch confusing.
The most important thing is to not make it too complicated. You don't have to make your business look bigger, better, or more profitable than it is.
Just be honest on the application.
While each bank will have slightly different questions, let's look at how to fill out a Chase business credit card application. Here's what to put for each box on the application:
Legal name of business: Put your own name.
Business name on card: Again, your name is fine.
Business mailing address: Use your home address (unless you have a separate business address).
Type of business: Select Sole Proprietor
Tax identification number: Use your social security number.
Number of employees: For most people, this will be 0, unless your business actually has employees. Note that contractors do not count as employees, so don't count freelancers you hired on sites like Upwork or Fiverr.
Years in business: List the amount of time you've done whatever your business activity is.
General industry, Category, and Specific type: Select the options that best describe your business. Don't worry if your business doesn't fit perfectly in the options the bank gives you.
Annual revenue: Give your best guess if you're not exactly sure. If you're a start-up, you can put 0 in here. You'll almost assuredly have to explain it later in a phone call, but that's fine. We'll explore that in the next section.
The information above is intended for people who, like my mom, don't have a registered business.
Of course, if you have a registered business (such as an LLC or corporation), you can use that information.
How to Use the Business Card Reconsideration Line to Get Approved Faster
Don't get frustrated…you'll have that business card in no time by calling the reconsideration line!
First off, realize that this DOES NOT MEAN YOU ARE DENIED!
Every single person I know, myself included, who has applied as a sole proprietor has gotten this message.
If you want to speed up the process, call up the business reconsideration line.
Waiting for a letter to tell you if you are approved or not can take up to a month, and oftentimes, you'll be denied because the card issuer couldn't verify your business.
Instead, take 5 minutes and call the reconsideration line. You can call anytime, even the same day you applied, and will usually get approved immediately.
When you call the reconsideration line, simply tell the customer service rep that you applied for the card and would like to check on your application status.
They will then ask you a few basic questions about your business, such as:
What is your business? What do you do?
How long have you been in business?
How much revenue did you make in the past year? How much of that was profit?
How much revenue do you plan on making this year? Why do you think you'll make that amount?
There may be some other, more specific questions about your business, so the best advice I can give you is to take a few minutes and be prepared.
But don't worry, this isn't the Spanish Inquisition.
The person on the other end of the line just wants more information about your business.
It's best to be as honest and personable as possible.
Don't be nervous; you have an actual business!
I can't begin to tell you how many people have told me they think they are doing something "wrong."
I believe it comes from the idea that a "business" has to be a huge entity employing thousands of people.
The sooner you get past that false ideology and realize that a business is ANYTHING (big or small) that someone does to make money, you'll understand that you have as much right to a business card as Bill Gates or Mark Zuckerberg. (Although you'll probably be given a much smaller line of credit!)
The Best Business Credit Cards in 2019
There are many good business credit cards out there, and some will be better for your needs than others. However, we want to save you some time. If your goal for getting a business credit card is to earn the maximum number of reward points (as opposed to actual "business" benefits), then there are just two cards we recommend:
Here's some more information about each:
1. Chase Ink Business Preferred
This is our top pick for a business credit card. If you have the Chase Sapphire Preferred or Reserve, then the benefits of the Chase Ink Business Preferred will be familiar to you.
Key facts:
Earn 80,000 points after spending $5,000 in the first 3 months.
Earn 3x points on travel, shipping purchases, internet, cable and phone services, and advertising purchases with social media sites and search engines.
Earn 1 point per dollar on all other purchases.
$95 annual fee.
This sign-up bonus is one of the highest we've ever seen, making this a great card to apply for while the bonus is this high. The 3x points on travel purchases is also an obvious win for travel hacking.
And remember: this card will earn you Chase Ultimate Rewards points, which are some of the most valuable out there. According to Chase's calculations, the sign-up bonus is worth $1,000 in travel (what would you do with all that free travel?).
To learn more about the Chase Ink Business Preferred, check out our full review.
2. Southwest Rapid Rewards Performance Business
If you fly Southwest regularly, then the Southwest Rapid Rewards Performance Business card is definitely worth adding to your wallet. The biggest benefit of this card is that its sign-up bonus will count towards earning the Southwest Companion Pass, one of the best travel perks out there.
Key facts:
Earn 70,000 points after spending $5,000 in the first 3 months.
Earn 3 points per $1 spent on Southwest® and Rapid Rewards® hotel and car rental partner purchases
Earn 1 point per $1 spent on all other purchases
$199 annual fee
The 70,000 points sign-up bonus will be enough for a round-trip flight anywhere in the continental U.S., and it could even be enough for a flight to Hawaii or the Caribbean if you travel during the off-season (late spring and fall, in most cases). And the $199 annual fee is quite reasonable, particularly compared to the high fees for our top personal credit cards.
Business Card Wrap-Up
Business cards can be a GREAT way to earn even more frequent flyer miles quickly and easily, so don't write them off right away.
Take a few minutes to think about your own business, and what you might do that is considered a business.
Once you've found that, don't let your fear of having to make a phone call scare you. It's usually painless and takes less than 5 minutes.
If you're still scared or nervous, take a minute to imagine yourself sitting in an Italian café, while you watch the sunset over the Mediterranean.
Or walking through the vineyards of France, picking grapes off the vine and sitting down to some delicious cheese and red wine.
That's usually enough to convince people to make that call because the boatload of frequent flyer miles that'll come your way, as a result, is well worth the small hassle.
And once you do it, you'll realize just how easy and painless it is. From then, its game on!
What are some of the businesses you have that have gotten approved for a business card? Are there any other questions you have regarding how to get a business card? Let me know in the comments below!