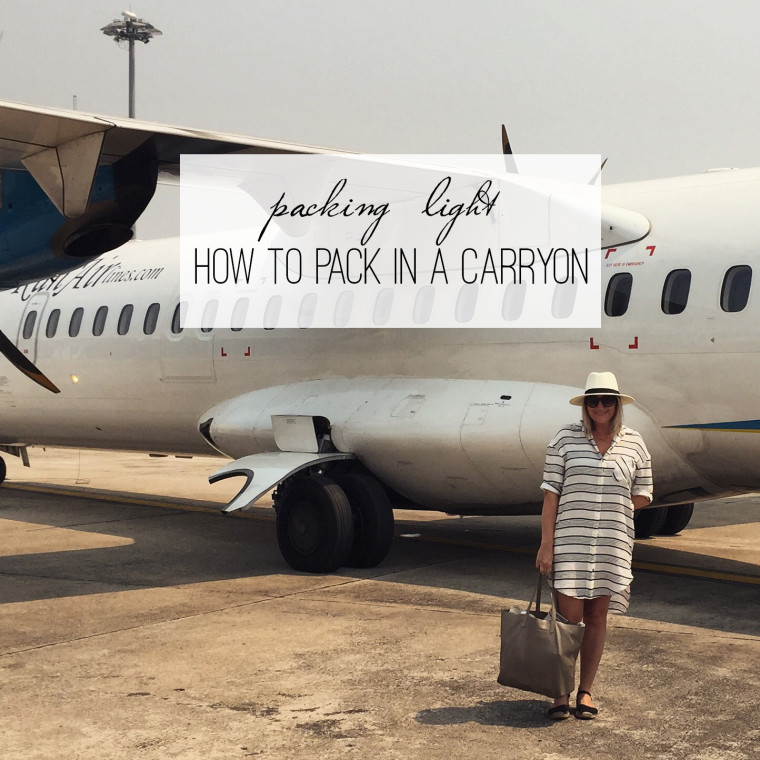 When planning a trip, most people get excited about the destination or the itinerary but feel overwhelmed when it comes to packing.
Here at EPoP, we have tried many different strategies for packing – me more than Trav, because he is much happier with much less – and it always comes down to packing light.
Packing less doesn't have to be a death sentence for fashion.
Here are my tips to packing less and looking great while traveling.
Want more traveling fashion advice?  Head to Heather's newly redesigned site – Sartorial Stripes.
1. Neutral basics
This means grey, white, black and navy. This doesn't mean you can't pack colorful items – but it simply makes it easier to mix and match outfits if you have a neutral palette.
2. Minimal shapes
Jeans, button downs, wrap sweaters, slouchy pants, and basic dresses.
3. Pack a Punch
This is where you can add that color. Chose a colorful cardigan, sweater or scarf that you can easily throw over your basic pieces. I love the selection and the cause at Jacobs Scarves.
4. Accessories
My current favorite pieces to travel with are dainty necklaces. You can wear this every day for a polished look. I love everything from Layered and Long's ETSY shop.
Also, I always bring a statement necklace, statement earrings, stud earrings, and a nice watch (silver or gold).
5. Shoes
This is the hardest part for me. I always pack too many shoes – even after agonizing over which ones to cut, I still end up with a number that makes zipping my pack or suitcase nearly impossible.
That being said, three pairs of shoes is sufficient (I guess).
A casual sneaker – such as these Nikes, these grey ones from New Balance or these navy New Balance from Amazon.
A flat walking shoe – boot or sandal.
A dressy option – I love these from Zara and these wedges J.Crew (wedges are the most comfortable dressy option, especially for walking on cobblestone streets) .
A plastic flip flop – (for the beach or just in case your accommodation bathroom is not up to par) My favorites are Havaianas.
*See what I did, I even sneaked in an extra pair here!*
6. Outerwear
I try to pack something casual and something dressy.
My favorite picks are:
Utility jacket – for every day use in any country and any situation. It is the perfect jacket that always looks fashionable and put together. (Other options include this from H&M, a removable hood from Nordstrom, and these from Amazon).
A black blazer – this is perfect if you need a nice jacket for a night out and can transition into many different looks with a scarf or accessories. (Other options include this navy version from Zara, this black one from Zara, and this casual one from H&M).
Wool coat – this is only necessary if you are traveling during winter seasons. All other seasons you can layer sweaters under the utility jacket or the blazer.
A packable puffer coat – the compact puffer is great to throw in any bag if you think it's necessary. Many companies make light, packable ones. I have this one from Land's End. You can also layer it under your utility jacket.
7. Luggage
Main Bag
I go between using a backpack and a suitcase. Backpacks are great for Asia and South America where the travel is a bit harder and rolling a suitcase behind can be more difficult.
I love my Osprey Farpoint pack.
If we are traveling more slowly and in more developed areas (Europe, US, etc), I tend to pack in a suitcase.
Right now I am using a carry on size canvas Samsung, but it is looking slightly banged up and I would love to upgrade to a hard shelled case.
Tote Bag
If you have been following our travels through my Instagram, then you already know how much I love my Cuyana tote! It has held up perfectly over our last few trips and is well worth the splurge.
This is what I generally cram into my tote (which I use as my personal item along with my carryon luggage).
laptop
chargers
notebook and planner
kindle
passport
makeup
lotion
facial cleanser
8. Roll your items
If you pack your heavy items at the bottom (shoes and toiletries) and then roll all of your clothes on top, you can fit a lot more into your bag.
The Packing List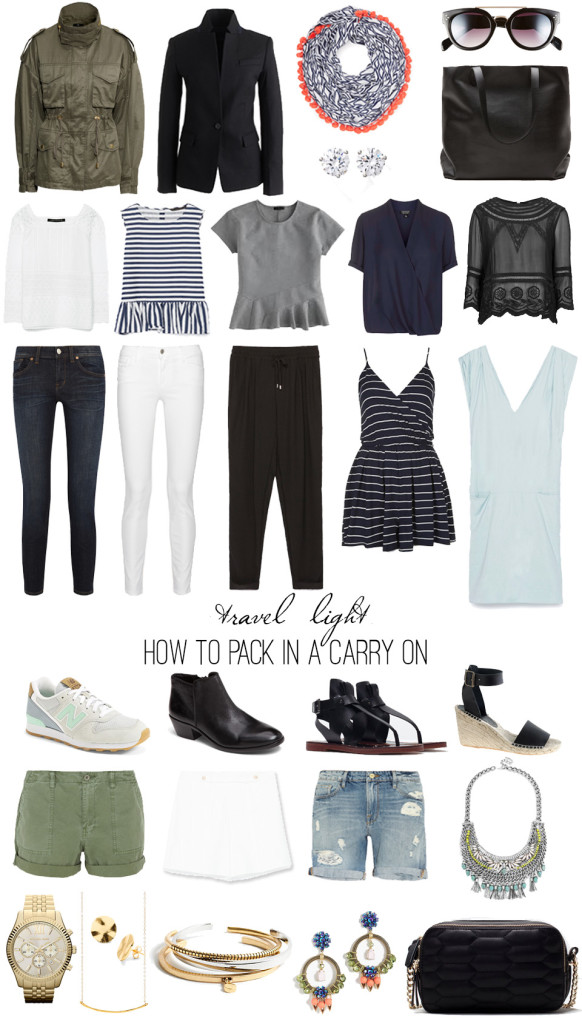 //H&M Jacket, J.Crew Blazer, DVF Scarf, Sunglasses, Earrings, Cuyana Tote//
//Topshop Top, Zara Striped Top, J.Crew Top, Topshop Draped Top, Topshop Lace Top//
//Jeans, White Jeans, Drapey Pants, Striped Romper, Zara Dress//
//New Balance Sneakers, Sam Edelman Boots, Zara Sandal, J.Crew Wedge//
//Madewell Shorts, Zara Shorts, Boyfriend Shorts, Statement Necklace//
//MK Watch, Necklace, Earrings, Bracelets, Statement Earrings, Clutch-Crossbody Bag//
Do you have trouble deciding what to pack? What are your packing tricks?
We'd love to hear from you! Leave comments below.
Don't forget to head to Heather's site – Sartorial Stripes – for even more fashion travel advice.