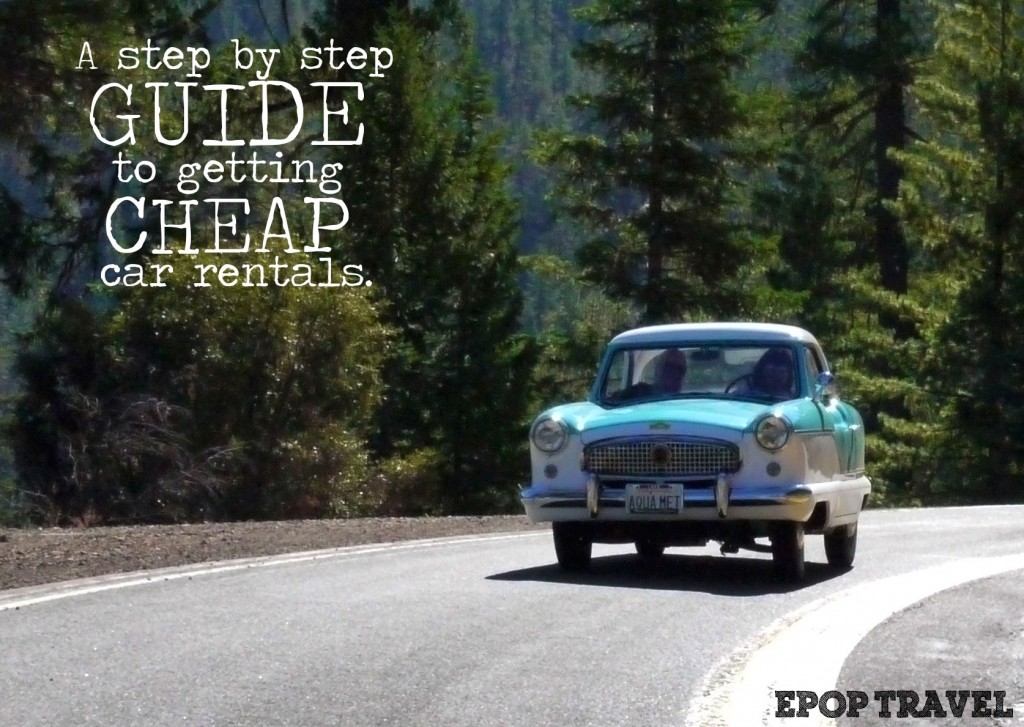 Renting a car can be a confusing, frustrating, and oftentimes, an expensive experience.
With so many options available and prices constantly changing, if you're unsure where to look or what to choose, you usually leave the process feeling ripped off.
I know, because I've felt this exact way the first few times I booked rental cars.
But little by little, as I started to pick up more secrets and insider info, I put together a system that I now use each time I book rental cars.
Now, you can use this step by step guide as a game plan to not only score cheap rentals cars but also alleviate the stress and headaches that normally accompany the process.
All you have to do is follow the seven steps below:
1.  Decide whether your rental is one-way or roundtrip.
If you're returning the car to the same location, it'll usually be much cheaper.  If you can return to the same spot, definitely do it.
Returning to the same location?  Head to Step 2.
Booking a one-way rental?  Head to Step 4.
2.  Check National Car Rental Last Minute Deals
If you're renting in the US or Canada and returning to the same spot, you can score some great deals from National's Last Minute Deals.
Most of these are for weekend rentals, but you can also find some weekly rentals mixed in as well.
If you find one that works for you, no need to continue.  This will be cheapest rate you'll get!
3.  Check Chase's Ultimate Rewards Portal
Chase's Ultimate Rewards Portal not only allows you to use your Chase points to book a car rental if you want (every point is worth 1.25 cents), but it also gives you great deals on car rentals if you want to pay cash.
Or, you can choose to use some cash and some points, an awesome way to defray some of the costs. 
You'll need to have a Chase Ultimate Rewards account to be able to access the prices.  The easiest way to get a Chase Ultimate Rewards account is to open a Chase Sapphire Preferred or Chase Ink Plus card, my favorite personal and business credit cards, respectively.
Grab the quote from here, then head to the next step.
4.  Check RentalCars.com, Kayak.com, and Carrentals.com
In my experience, Rentalcars.com, Kayak.com, and Carrentals.com are the three best aggregator sites for car rentals with any stipulations you want (one-way rentals, rentals anywhere in the world, etc.).
They will sometimes spit out different prices, so make sure to take the few minutes to check all three of them.
EXPERT TIP:  If you're renting for 3 days or more, check to see if a weekly rental is actually cheaper in total price than a 3 or 4 day rental.  If it is, choose to rent the car for a week and just drop it off early.
Find the lowest price from these three sites and see what rental car company it is with.  Then, head to Step 5.
5.  Check the Actual Rental Car Site (Hertz, Enterprise, Alamo, etc.) For a Price
Once you find the lowest price from the step above, check that rental car's site and see what price they are offering for the same rental.
On my last trip, rentalcars.com wanted 192 euros for a 10 day rental from Europcar.  When I went to Europcar's actual site, the same rental priced out at 150 euros, a whopping 25% less.
A few minutes of work can save you a nice chunk of change, especially on long rentals.
Expert Tip:  Renting cars from non-airport locations can oftentimes save you up to 50% and be more convenient if you aren't flying in.  If possible, make sure to check all the rental locations in a city versus just the main airport location.
6. (Optional)  Check FrequentFlyerBonuses.com for Additional Bonuses
If you collect and use frequent flyer miles or rental car points, check FrequentFlyerBonuses.com for additional coupon codes to earn more bonuses.
7.  Always Book Using a Credit Card That Offers Rental Car Insurance
Many of the best travel credit cards offer rental car insurance, meaning you can opt out of the rental company's insurance, save tons of money, and still be covered.
For a list of some of the credit cards that offer rental car insurance, as well as 9 other tips for saving money on car rentals, click here.
Final Word(s)
Renting a car doesn't have to be a frustrating and expensive endeavor.
Simply use these seven steps, in order, and you'll not only have an easy to follow game plan in place but you'll also make sure you're getting the best deal on your rental cars!
What are your best tips for renting cars?  Do you have a process that you go through each time?  Please share with use below!