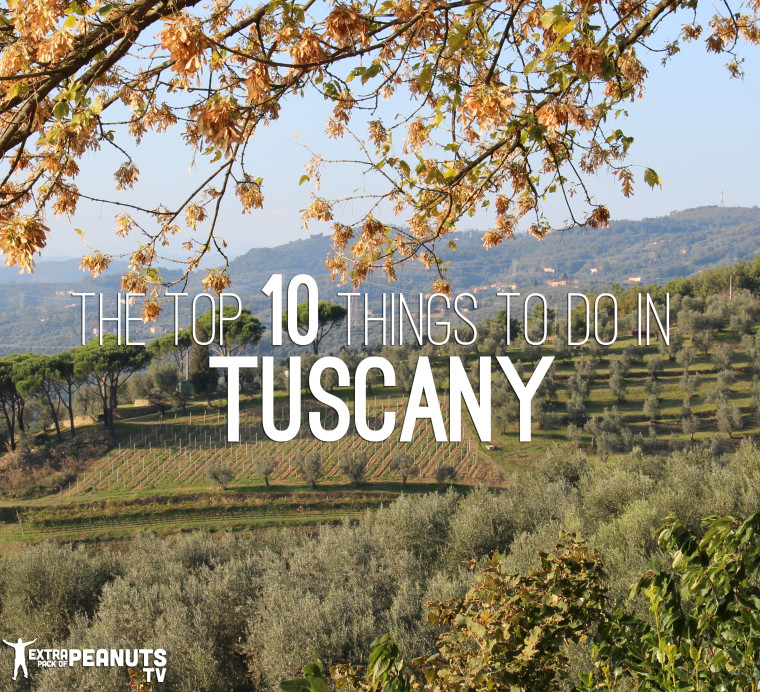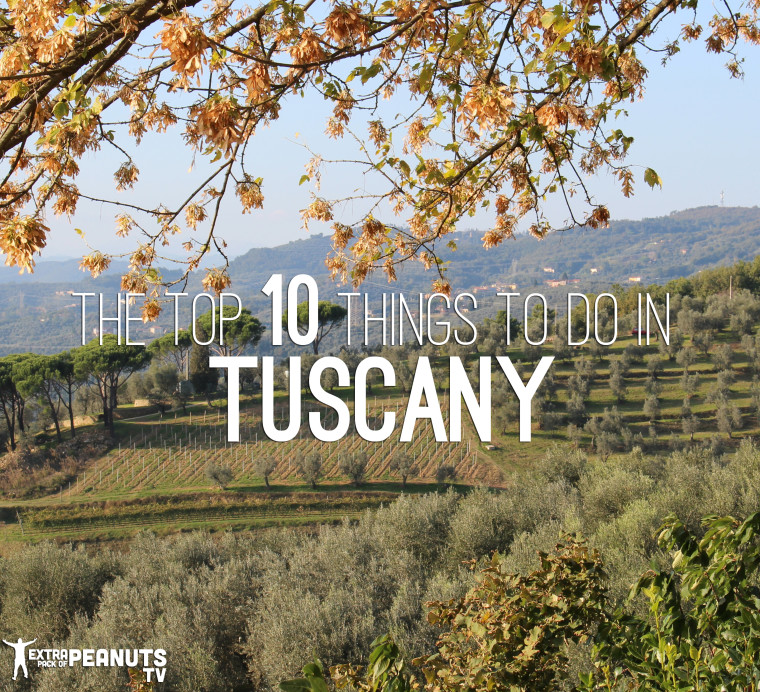 Tuscany is a vast area in central Italy where gorgeous landscapes of olive groves and vineyards are abundant. There are many cities to explore and countryside villas to stay at.
Here are the top 10 things to do in Tuscany, in under two minutes.
Want more details, including the best sandwich in the world and Trav's pick for the best gelato?
Below are the Top 10 Things to do in Tuscany.
1. Stay in a Farmhouse
Tuscany has its fair share of beautiful villas to rent. We had the most unbelievable experience renting this farmhouse, which was a short 45-minute train ride to Florence.
If you would like to read the full review of our stay in Tuscany, click here.
2. Relax
The whole area of Tuscany effuses relaxation and a slower pace of life. It is almost impossible to feel stressed out in this region.
The people are friendly, the food is meant to be enjoyed and the wine flows freely. Make sure you take time to truly take in the atmosphere of this region.
3. Learn How to Make Italian Pizza
What better way to relax than to enjoy the simple process of pizza making. Fortunately, our farmhouse came equipped with our very own outdoor brick oven. (Read about our experience here.)
Nothing tastes as good as fresh pizza from a brick oven, and even better when made outside enjoying the countryside.
4. Wine Tasting
There are wineries spread throughout Tuscany. Make sure to do some research and visit ones that are locally operated and organic. (Sulfate-free means fewer headaches the next day).
The winery featured in this video is Fattoria Castellina – their Daino Bianco wine has a history that is very interesting to learn during the tasting.
If you stay at a local villa or farmhouse, your hosts should be able to tell you the best ones in the area.
5. Rent a Car
The best way to see Tuscany is by car. There are so many small villages to explore and the only way to get there is by car.
Make sure you have a GPS or some maps and hit the road. Some of our favorite small towns include Vinci (home to Leonardo De Vinci), Carmignano and all of the small towns in between. You might get lost, we certainly did, but it is all part of the adventure.
6. Eat, Eat, and Eat Some More
It is Italy, after all.
There are so many delicious places to eat in Tuscany including some of the best gelato and the most incredible sandwich you will ever eat at All' Antico Vinaio.
Some of the quintessential Tuscan dishes include ribollita, porterhouse steak, wild boar and pecorino cheese.
One of the best restaurants to experience a classic Tuscan meal is at Trattoria Mario, where you can sample a traditional steak and don't forget to order the ribollita (a delicious soup-like dish consisting of bread and vegetables simmered overnight and dosed in olive oil).
If you don't feel like venturing out, you can find some of the most delicious meats and cheeses at any local grocery store. Just make sure you are brave enough to order at the butcher's counter – it is worth it!
7. Spend the Day in Florence
With all of the eating in Florence (refer to #6), you would be crazy not to spend some time here. But food is only one of the reasons to explore this gorgeous city.
The Duomo is one of the most magnificent cathedrals ever built – and climbing to the top of it is worth the view.
There are also numerous museums and squares throughout the city. It is where many of the Renaissance artists resided and seeing Michelangelo's David at the Accademia is an unforgettable experience.
8. All' Antico Vinaio
Trust us, this sandwich is so good it deserves it's own number.
There are so many great variations it can be overwhelming deciding exactly what to order. We recommend asking for their favorites or you can try one of ours:
Pecorino cheese spread with fennel salami, shaved zucchini, and eggplant
Prosciutto with mozzarella, tomato, arugula, and olive oil
9. Indulge in Gelato
Trav's pick for the best gelato is Gelateria dei Neri in Florence. However, most gelato shops in Italy are legitimately delicious, just make sure to follow the gelato pro tip!  We are also fond of La Carraia – with multiple locations around Florence, and Le Bonta in Lucca.
10. Visit Lucca
This charming medieval town in northwest Tuscany is the perfect day trip. You can walk around the city walls and wander through the various alleys and streets throughout the city.
The Piazza San Michelle and the Lucca Cathedral (Duomo di San Martino) present the perfect picture-taking opportunity. Lucca is just the right size to wander around for a day and feel like you have seen almost everything.
Final Word(s)
If you are planning a trip to Europe, then Tuscany is the best place for a rejuvenating yet adventurous vacation. It is one of my favorite places in the world and is perfect for a summer or autumn trip.
The best part of our time in Tuscany was acclimating to the local culture. We stayed for two weeks and by the end of our time the women behind the deli counter recognized us and we had no problem ordering and then picking up that 4Euro bottle of red to go with it all.
If you book the same apartment we did, we can guarantee you will have an excellent experience as our hosts were some of the best people we have met.
Have you ever been to Tuscany? If so, what are your top 10 things to do there?
Further Reading (Posts handpicked for you, by us!)
None of that automatic "read more" stuff you'll see everywhere else on the internet!