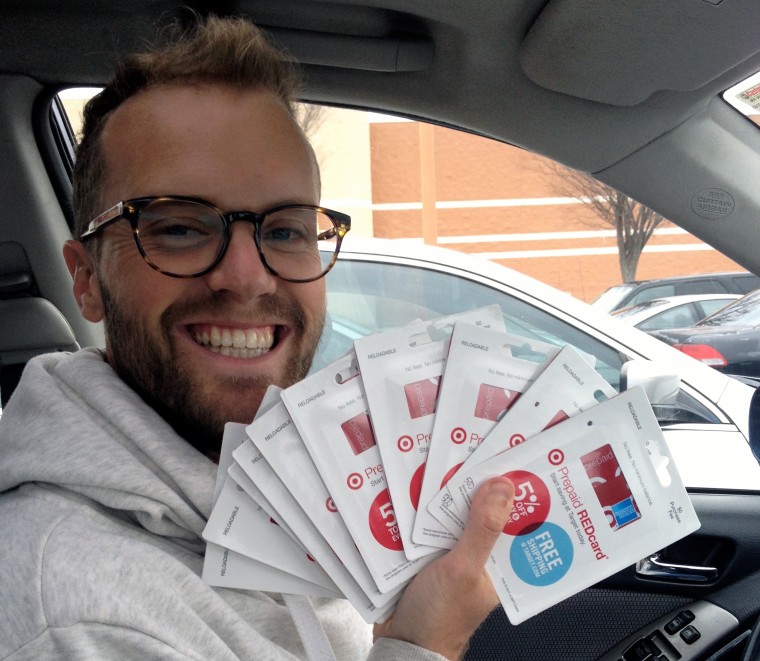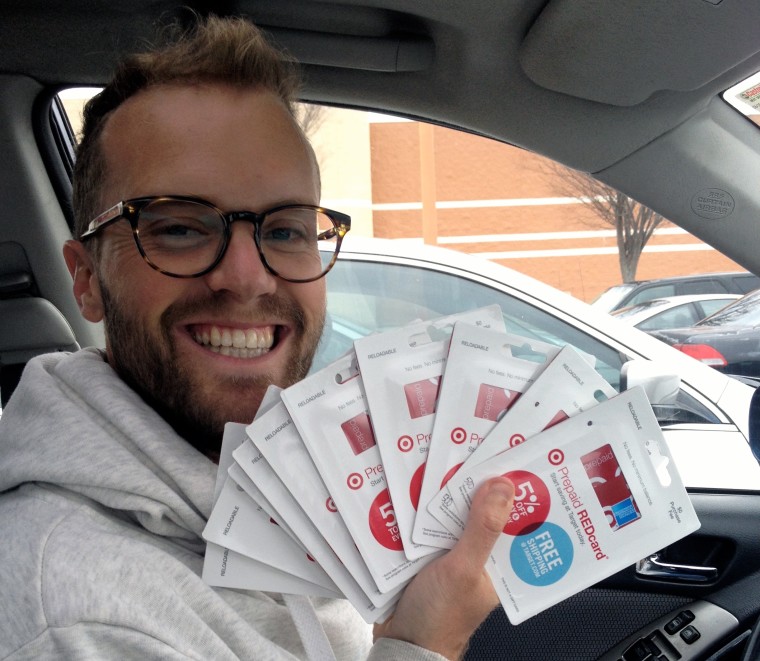 [UPDATE 5/12/2015:  You can no longer load your REDcard with a credit card.  HOWEVER, you can still load your REDcard with gift cards.
All you have to do is follow Steps 1-5, skip Step 6, and then follow steps 7-8.]
The Target REDcard (frequently referred to as a "Redbird" card due to it's similarity to Walmart's Bluebird card) is far and a way the best tool for anyone who wants to:
Meet a minimum spend requirement on a credit card.
Pay bills that you can't usually pay with a credit card (mortgages, student loans, rent, taxes, etc.).
Or simply earn extra frequent flyer miles and points on your credit card.
Why?
Because it's easy, and most importantly, totally free!
Here's exactly how to do it:
Step 1:  Find a Target that sells REDcards
The first step is actually the hardest, and that's because at the moment only certain Target stores sell the Prepaid REDcard.
Target is slowly rolling it out to more and more stores, but it's still in its infancy.
To check which stores currently sell Target Prepaid REDcards, click here.
If a Target near you sells Prepaid REDcards, great!  Skip to Step 2.
If you don't see a store near you listed, I'd call ones in your area and ask if they have them.
Make sure you are asking for the Target Prepaid REDcard. Stress the PREPAID part! 
If a Target Near You Doesn't Have a Prepaid REDcard:
If not, you'll need some help to getting one.  Here's how to do that:
1.  Find someone who lives near a Target who will purchase you one.
2. When that person goes to Target, have them buy an extra one for you (or many extra for multiple people).
3.  When it comes time for the person to enter the birthday or social security number, they can either enter your information or enter fake information.  It doesn't matter, because you'll have to enter your real information when you register it later.
4A.  Have them send you the temporary card in the mail OR
4B.  Have them open the REDcard and tell you the card number and the security code on the back.
Step 2:  Buy the temporary Target Redcard
When you buy the card at Target, it'll be a temporary card.
There are a few options, so make sure you get the Prepaid REDcard.  It looks like this: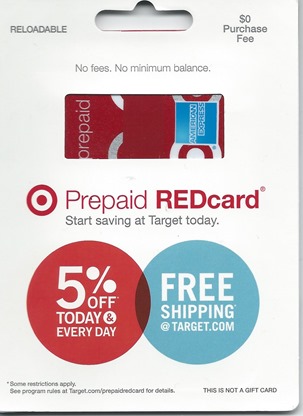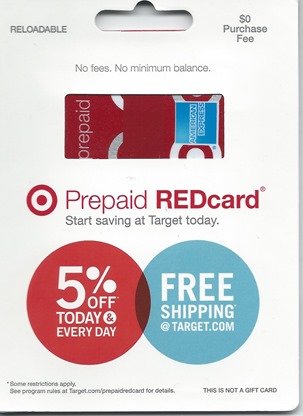 DO NOT BUY A TARGET DEBIT CARD OR TARGET CREDIT CARD!  Get the Prepaid REDcard pictured above.
At the register, you'll go through this process:
When asked how much you want to load – Make sure to load at least $1.  You can load up to $500.  Personally, I loaded the max ($500) so I could get more points.
Hand your driver's license to the cashier.
Enter your birthday, social security number and phone number on the keypad.
Step 3:  Register Your Temporary Redcard
If you have an existing American Express Bluebird card or Serve account you have to close that before you can register your Redcard.  You aren't allowed to have both.
Take your temporary REDcard home and open it.
Then, go to https://secure.prepaidredcard.com/manage?intlink=us-serve-partner-target-launchmain-uppermanage
Click register.
Remove the sticker from the front of your temporary REDcard.
Enter the 15 digit card number and 4 digit security code that is on your REDcard.  Then enter your birthday.
After that, you'll be prompted to enter all your information.
If you had someone else buy you a Target REDcard, make sure to enter YOUR information. 
You'll get a confirmation screen saying that your permanent card is on its way.
Step 4:  Use Your Temporary REDcard OR Wait For Your Permanent Card
If you want, you can use your temporary card (which only has the money you initially loaded on at Target) wherever American Express is used.
Your temporary Redcard cannot be reloaded, used at ATM's, or used for online functions like paying bills or sending people checks.
To do all of that, you have to wait until you get your permanent card.
For that reason, I recommend that most people just wait the 4-7 days it takes to get their permanent card in the mail to start using it.  This cuts down on any confusion.
If you've found this post, then you're obviously interested in using frequent flyer miles.  If you want to make sure you are squeezing all the value you can out of your miles, we created Frequent Flyer Bootcamp specifically for you.
Join hundreds of others who are using their miles to take some of the most amazing trips in the world.  On top of that, we offer the one and only $1,000 guarantee.  It's literally completely risk-free!
Check out Frequent Flyer Bootcamp
Step 5:  Get Your Permanent REDcard in the Mail and Activate It
Once your permanent card arrives in the mail, you'll have to activate it.
You can do it by calling 1-855-306-7395 or by going to target.com/prepaidredcard/activate
Now that it's activated, it's time to move on to the good stuff!
Step 6:  Load Your REDcard at Target with a Credit Card
This is the easy part.  Just take your permanent REDcard to Target and ask them to load it at the cash register.  Here's what's crazy:
You can load it with a credit card, and it doesn't cost a thing!
Currently, you can load $2500 per day and $5000 per month.
If you have a credit card that you need to make a minimum spend on, this is a great way to do it.  You can knock out $5000 in just two days.
If you're not trying to make a minimum spend, just pick the credit card whose points you want to earn and use that to load the REDcard.
Make sure you're picking the type of points that are most valuable (you can see my rankings of the best and worst frequent flyer miles here).
Step 7 (Optional):  Load Your REDcard at Target with Gift Cards
Want to get really crazy?  You can also use gift cards to load the REDcard.
Why is this important?
Because you can earn even more frequent flyer miles and points!
For example:
If you have the Chase Ink Plus card, you'll earn 5x per $1 spent at office supply stores.
That means that if you buy a $200 Visa gift card at Staples or Office Depot, you'll earn 1,000 Chase points.  Buy the gift card that looks like this: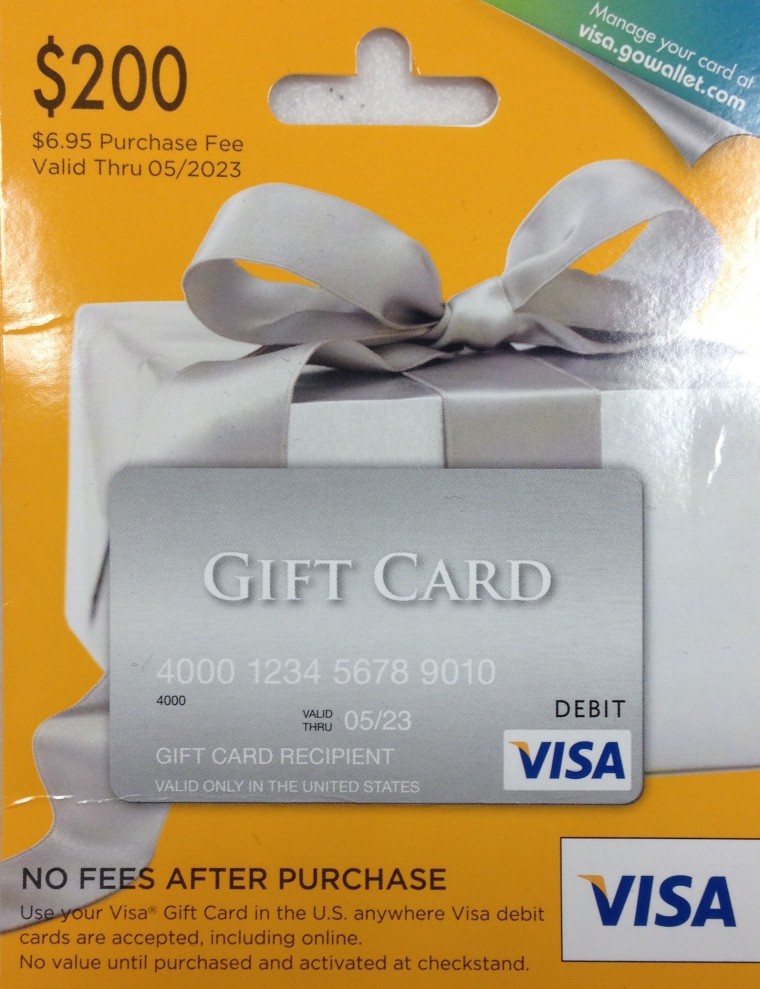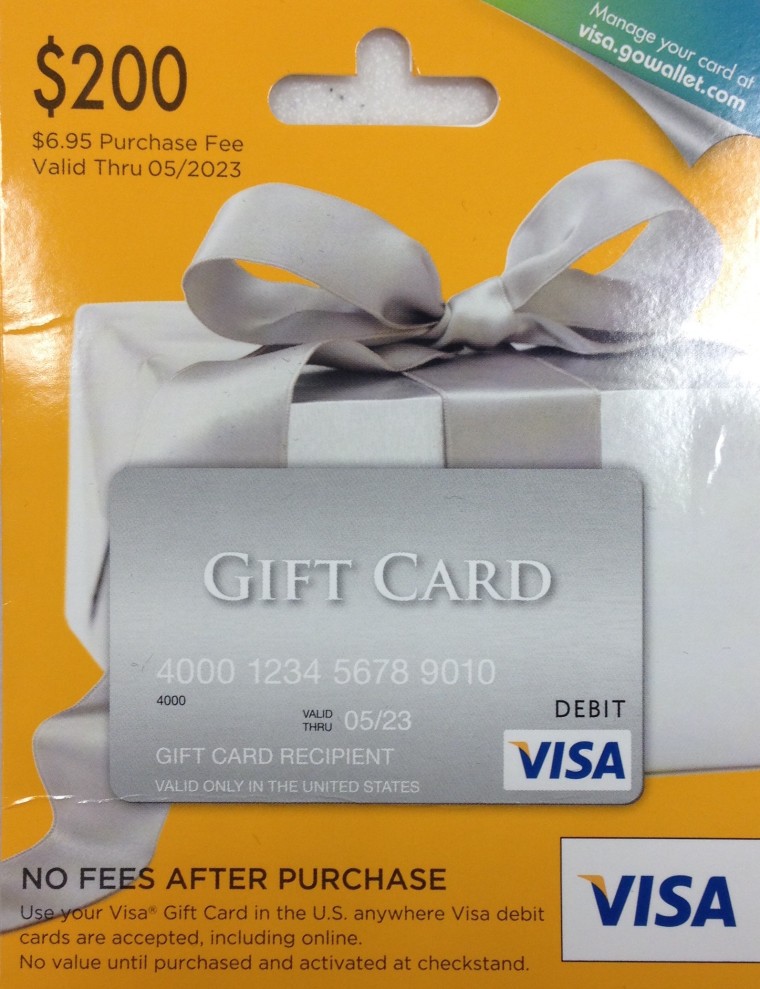 Then, you can take that gift card and use it to load your Redcard instead of using your credit card to load your REDcard.
But why stop at one?
If you buy $5,000 worth of Visa gift cards from Staples (the amount that you can load on your REDcard each month), you'll earn 25,000 Chase points per month.
25,000 Chase points are enough for one roundtrip ticket anywhere in North America on United!
Each $200 Visa gift card costs $6.95 to purchase.  So, you're paying $6.95 for 1,000 Chase points.
If you extrapolate that out, you're paying:
$173.75 for 25k Chase points – a roundtrip flight in North America
$417 for 60k Chase points – a roundtrip economy flight to Europe
$556 for 80k Chase points – a roundtrip economy flight to Australia, NZ, or SE Asia
If you know how to use frequent flyer miles effectively – especially if you are taking advantage of stopovers and open jaws to get 2 vacations for the price of 1– this can be an incredible deal.
Step 8:  Use Your Online REDcard Account to Pay Any Bill
Now that you have funds in your REDcard account, you can easily pay any bill you'd like from this account – including things like your mortgage, rent, student loans, or any other big expense that doesn't normally accept credit cards.
That's because you'll be sending a check from your REDcard account, and almost everyone accepts checks!
If you're struggling to visualize this, just think of your REDcard account as a bank account.  It operates in the same way as a regular online checking account – it just happens to be tied to Target.
Here's how to do it:
Login to your REDcard account
Go to Pay & Transfer and hit the Pay Bills button on the dropdown.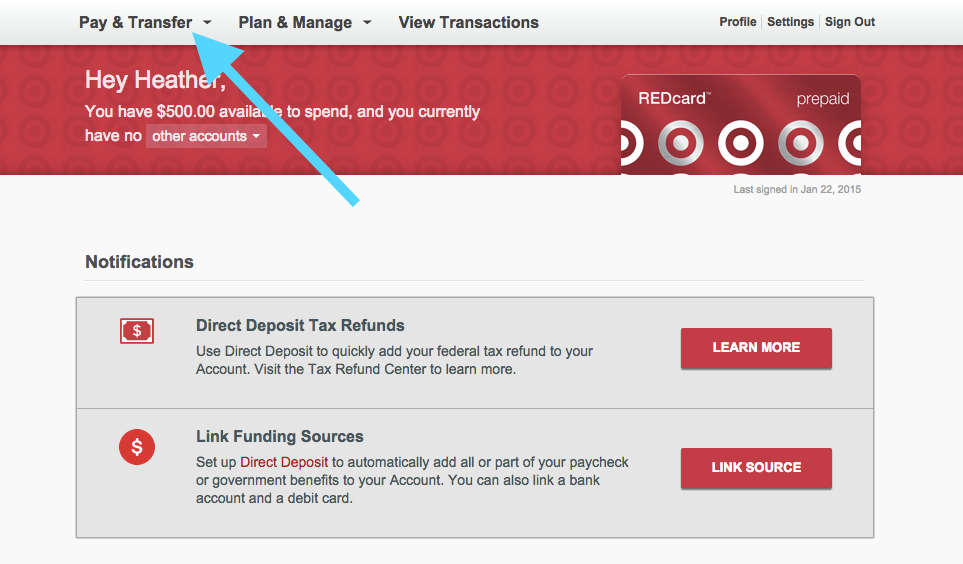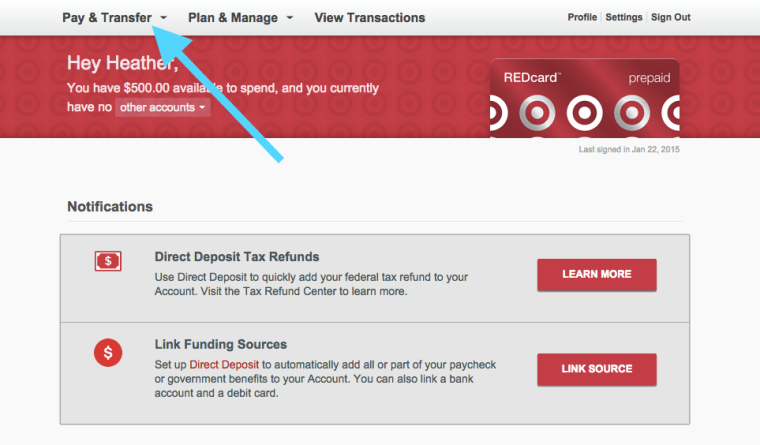 Hit Pay a Bill on the next screen.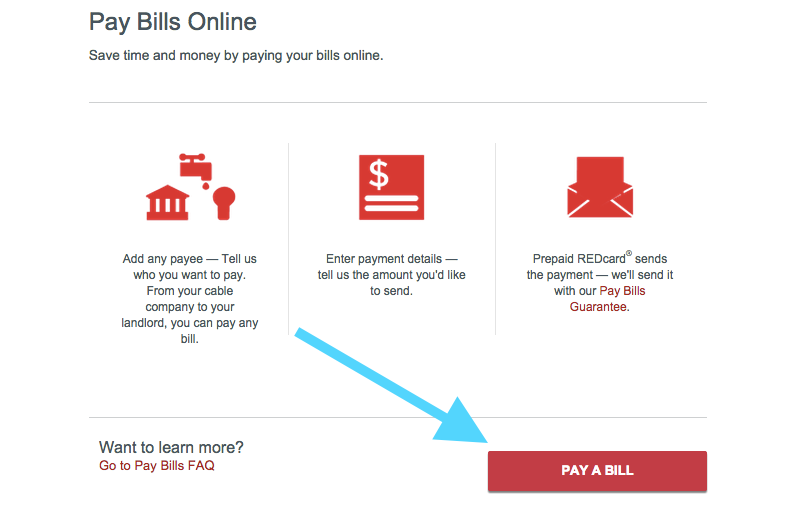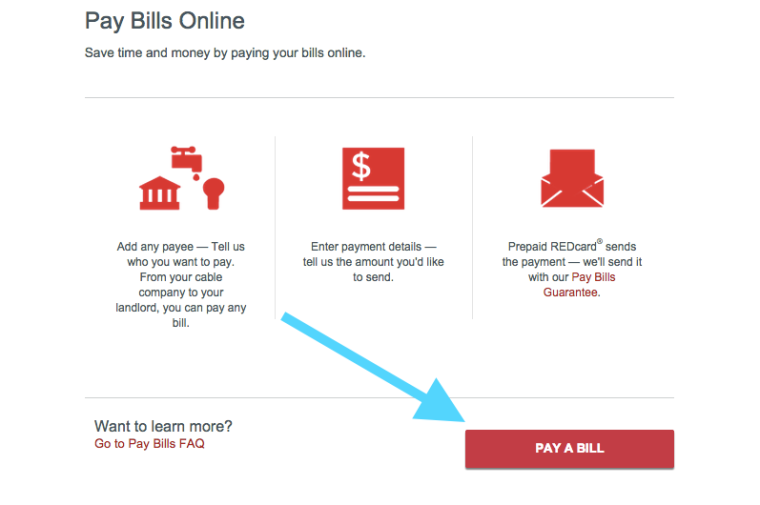 Pick whether you are paying a business or a person (if it's a mortgage or student loan, they may have your company preloaded in the business part).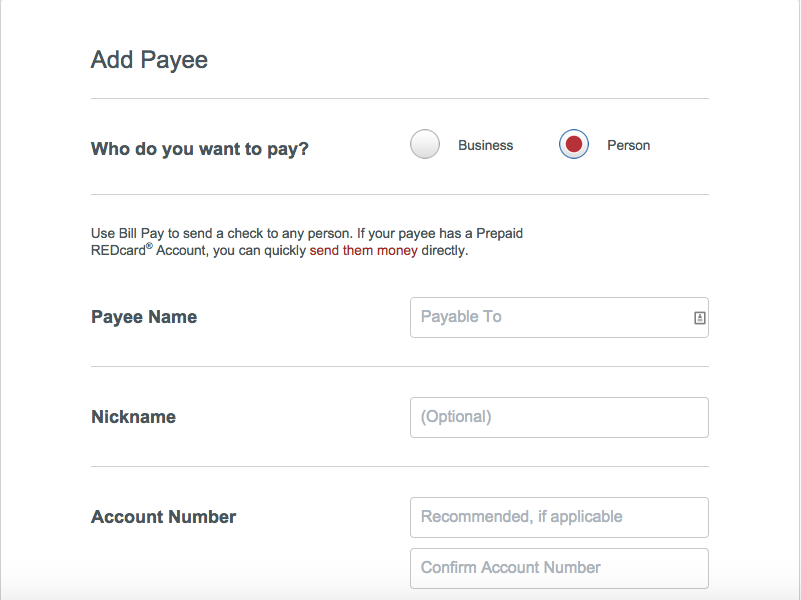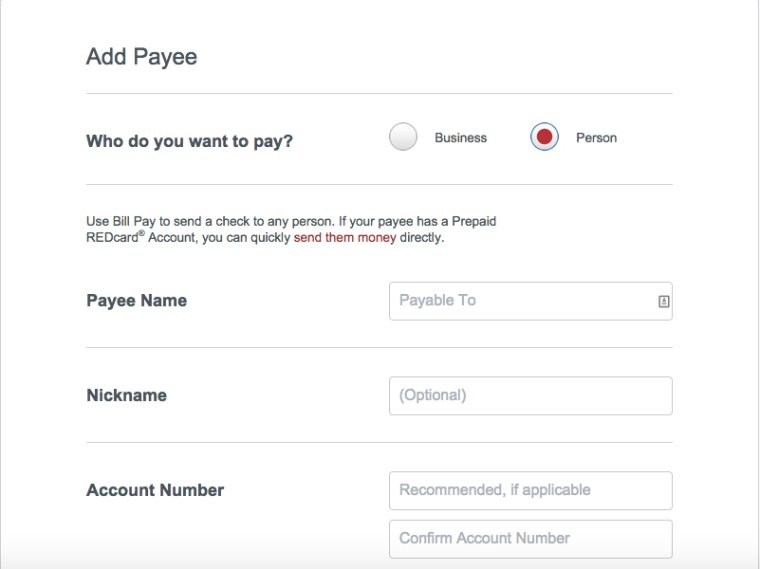 Enter the information.  If it's a person, you won't have an account number.  Hit "Save and Pay"
On the next screen, enter how much you want to pay, then you'll hit "review".
On the last screen, you'll have to enter the PIN you set when you registered the card.
After that, hit "submit" and a check will be sent to whoever you are paying!
Step 9:  Repeat Each Month and Rake in Points
Every calendar month, you'll be able to add $5,000 on your Redcard.
As long as you have a Target near you, this is by far the easiest way to rack up miles and points and it doesn't cost a cent.
If you did this for a year, you'd have 60k extra points, which is enough for a free roundtrip ticket to Europe!
[post src="http://www.extrapackofpeanuts.com/bootcamp/"]
A Few Frequently Asked Questions
1.  Do you know where I can get a Target Redcard?
Click here to see where they are sold.  If you don't see a store near you, make sure by calling and asking if they sell Prepaid REDcards.
2.  Do you know when all Targets will start selling REDcards?
No idea.
3.  Do you know when or if Targets will stop allowing us to load REDcards with credit cards and gift cards?
Nope, but I imagine they won't let it go on forever.  I'd take advantage of it as much as you can while it's available.  Personally, I'm loading the $5,000 a month max each month.
4.  Can someone else buy me a Prepaid REDcard?
Yes.  If you know someone who lives near a Target, they can buy you one.  Then, have them either send you the temporary card in the mail or give you the card number and security code.  After that, you can register it online and get a permanent card sent to your home address.
4.  Is buying Target REDcards for other people illegal? 
No.
5.  If I'm going to buy more than one for other people, what should I say?
I simply told the cashier that I lived in Philadelphia and had driven all the way down to Maryland to get them because we didn't have them up there yet.
I then said that my friends and family had heard about the REDcard and wanted them as well and that I was buying some for them too.
She totally understood and said she realized that only a few places had the REDcards and that it was nice of me to do that for others.
6.  If someone else buys me a REDcard, do I need them to actually send me the temporary card?
No.  They could open it up, give you the card number and security code, and you could "register" for your permanent card without ever actually having the temporary one in your possession.
7.  How much can I load at a time?
$2,500 per day and $5,000 per month.  You can only load $1,000 per swipe of your card, so if you are loading $2,500, you'll have to ask the cashier to do it three separate times ($1k, $1k, $500).
Final Word(s)
The Target REDcard is an absolutely amazing way to meet minimum spends, get points for paying bills that you can usually pay with a credit card, or just rack up points very easily.
I highly recommend you start doing it as soon as possible, as there is no telling how long it will last.
And if it sounds a little confusing, trust me, it's not.  As soon as you do it once, you'll realize how easy it is.
I get it, frequent flyer miles can be complicated and confusing.  2 years ago, I created Frequent Flyer Bootcamp to personally walk you through each and every step.  Now, hundreds of people are traveling the world for (almost) free.
You'll learn everything you need to know in less than one month, and we even have the one and only $1,000 guarantee.
If you thought this post was helpful in explaining a difficult subject, you'll be blown away by our concise, easy to understand library of video lessons.
Check out Frequent Flyer Bootcamp now! – and don't forget, it's completely risk-free
FURTHER READING (POSTS HANDPICKED FOR YOU…BY US!)
None of that automatic "read more" stuff you'll see everywhere else on the internet!
If you liked this post, then you'll love these as well: