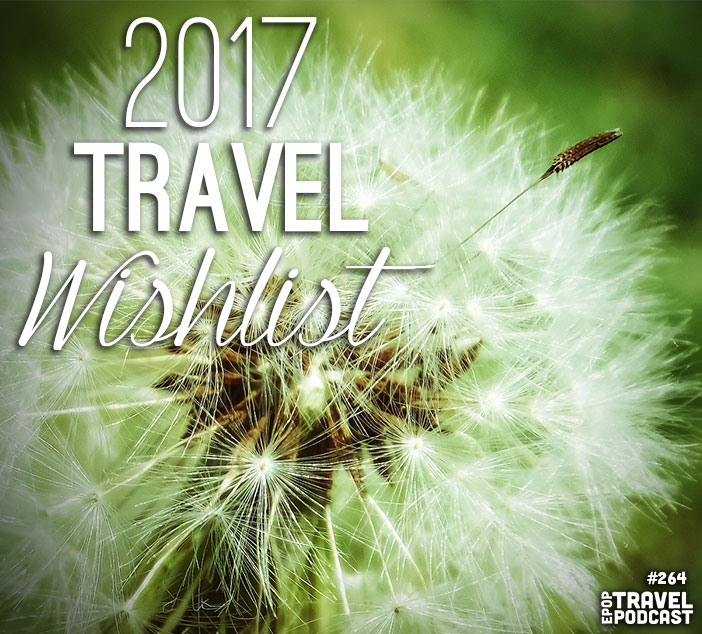 Click here to download this episode.
Every year we like to make a list of our dream destinations for that year. Sometimes we get around to a couple of them, sometimes we don't and they live on to the next year's list, but either way, it's a great way to start off the year!
Last year Greece and Georgia were both on our lists, and turned out to be some of our favorite experiences from 2016!
Heather and I go through our top 7 destinations (and some honorable mentions), including a couple of surprising destinations from us both!
Where will we go first?
Where do you want to go in 2017? Let me know @ExtraPackofPeanuts!!
Today's episode has been sponsored by our friends at Tortuga Backpacks!
Check out the entire library of EPoP Travel Podcasts on iTunes
In This Episode
02:30 The honorable mentions
09:30 Our #7's Heather's is rather surprising!
12:07 Wild, wild nature!!
18:20 Don't cry for us, we'll get there eventually!
24:22 Trav decided to follow the rules (for once)
28:02 A lifestyle city
30:20 The #1's
Want More?
Leave a Review!
iTunes reviews are one of THE most important factors for podcasts. If you enjoy the show please take a second to leave the show a review on iTunes!
Click this link: Leave a review on iTunes
Hit "View in iTunes" on the left-hand side under the picture.
Leave an honest review.
You're awesome!