Travel hacking changes your whole perspective on travel. Instead of being content paying whatever prices the airlines want to charge, you start to look for any way you can to get a better deal.
In the beginning, this usually means using travel credit cards to quickly earn miles and then redeeming those miles for maximum value. After that, you may look into ways to get cheaper accommodation, such as housesitting or signing up for a hotel credit card.
If you've done all of that, then you're already miles ahead of the typical traveler. But what if you want to take things to the next level? What if you want to visit multiple cities without paying for extra flights, or get a free mini-vacation on your way to another city?
While it sounds crazy, it's possible to do both of these things (and more) when you understand stopovers and open jaws. Read on to find out how you can use these travel hacks to see more places for less money.
Stopovers
For an international flight, a stopover is any time you spend more than 24 hours in a city between your origin (the place you left from) and your final destination (the place you're going to).
Here's an example of a common stopover: New York (origin) > London (stopover, spend 5 days in London) > Paris (final destination).
Note that anytime you spend less than 24 hours in a city on an international flight, it's called a connection. This is sometimes also referred to as a layover or transfer. So just remember:
Stopover > 24 hours
Connection/layover/transfer < 24 hours
Why do stopovers matter?
Stopovers are awesome because they allow you to visit two places for the price of one!
In the above example, you could easily go directly from New York to Paris, and that would be a great trip on its own.
But if you have the time, why not stop off in London for a few days, a week, or even a month before continuing to Paris?
The Eiffel Tower is cool, but so is the Tower of London! With a stopover, you can see both!
How long can you stay in the stopover city?
On most award tickets, you have a year to make it from your origin to your final destination. You read that right; 1 WHOLE YEAR! This means that you could theoretically stay in your stopover city for 364 days.
In practice, of course, this usually won't be feasible due to visa restrictions, but it's cool that the possibility is there.
What are the restrictions on a stopover?
Each airline's frequent flyer program has its own set of rules, but most require the stopover city to make some sort of routing sense.
For example, New York to Paris with a stopover in London makes sense because a lot of flights going between New York and Paris will stop in London anyway.
However, New York to Paris with a stopover in Moscow (probably) wouldn't work. A normal flight wouldn't go through Moscow to get to Paris, so you would most likely be denied that as a stopover.
If you're unsure about whether a city can be a stopover, look at a map and use some common sense. Most of the time, that'll give you the answer! And, of course, you can always call the airline to ask if a stopover is possible.
How much do stopovers cost?
This depends on the airline and what you plan to do during your stopover.
In many cases, stopovers are free. For instance, Icelandair offers free stopovers in Reykjavik on a variety of transatlantic flights. They even let you book tours to go along with your stopover (a service that many airlines now offer in coordination with local tourism agencies).
In other cases, stopovers aren't free, but they're still usually a good deal. You can often add a stopover for only $100 or so extra, which will almost always be cheaper than booking an extra flight to the city you want to visit.
And some airlines even offer cheap hotel packages to go along with stopovers. Qatar Airways, for instance, will put you up in a 4- or 5-star hotel for just $23 a night when you stopover in Doha.
How do you book a stopover?
Each airline is different, but if you are flying on a partner airline (i.e. using AA miles but flying on Iberia), most of the time you won't be able to book the ticket online. You'll either have to call the airline directly or go through a travel agent.
United is the major exception to this, as they allow you to book almost all of their partners' flights on the United website (thanks United).
Now that you're dreaming of all the possibilities that a stopover presents for your next adventure, let me introduce its companion, the open jaw, which opens up a whole other world of possibilities!
Open Jaws
An open jaw is when you arrive in one city but leave from another city. An example of an open-jaw itinerary would be:
Arriving flight: New York > Paris
Departing flight: Rome > New York
In this example, you arrived in Paris but you departed from Rome, a completely different city.
What are the benefits of open jaws?
An open jaw is great for people who want to see more than just one place on their vacation because you don't have to return to your original starting point.
I call this "Traveling in one direction."
This is perfect for people who love renting cars and driving between cities or people who go on cruises that start in one place but end at another.
A great example of how an open-jaw can be really beneficial is my trip to Australia.
I flew from Tokyo to Melbourne, all the way down in the south of Australia.
After a week in Melbourne, I took the train up to Sydney, spent a week there, and then continued north to Cairns, all the way at the top of Australia.
I was then able to fly out of Cairns back to Tokyo.
If I wasn't allowed an open jaw, I would have had to find a way to get from Cairns all the way back to Melbourne, a distance of 2,000 miles, the equivalent of going from Boston to San Antonio!
Not only would this have cost me a good deal of money, but I also would have wasted at least a day or two of my vacation just getting back to Melbourne.
By open-jawing, I was able to see three different cities and travel in one direction, as opposed to having to double back. This saved me both time and money.
Are there restrictions on open-jaw tickets?
Generally, no. The only real common restriction is that the two open jaw cities must usually fall in the same region.
This means that if you fly from New York to Paris, then you'd have to fly from a European city back to New York.
You wouldn't be able to fly New York to Paris and then Tokyo to New York since Paris and Tokyo aren't in the same region.
Do open-jaw tickets cost more?
Nope. An open-jaw ticket will cost you the same amount of miles as a standard ticket that arrives and leaves from the same airport.
How do you book an open jaw?
As with stopovers, it depends on the airline. I usually start with Google Flights to see if it's possible to book an open jaw.
First, select the "Multi-city" option:

Next, enter your cities and dates: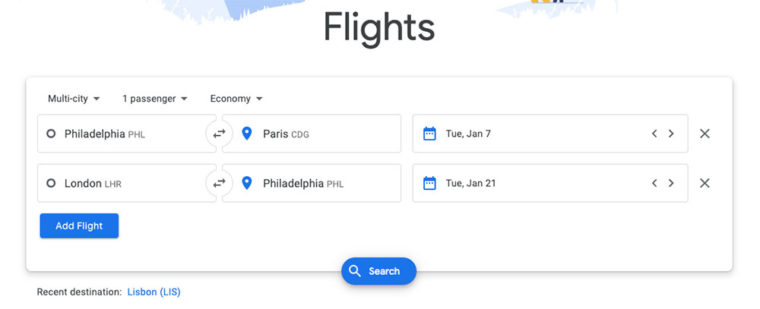 Google flights will then show you airlines and flights that meet your criteria. Note that you'll need to click "Select flight" for each leg of your trip before you can see the final price: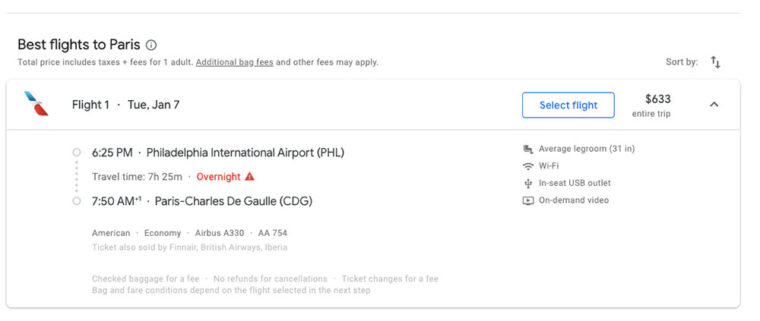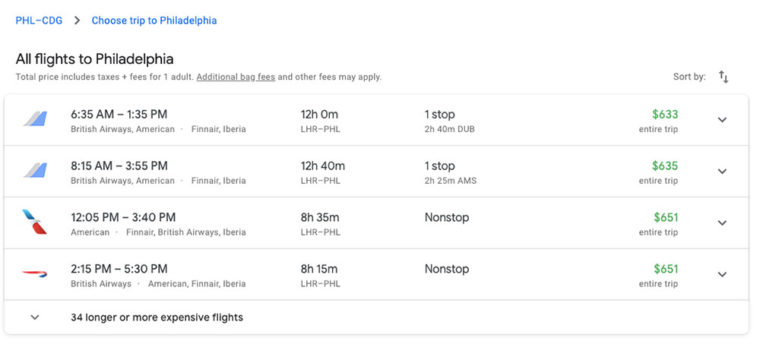 If you like what you see, you can then make the booking. In many cases, you'll need to call the airline to book, particularly if it's with a partner airline. United is a notable exception here, as they allow you to use miles to book flights on partner airlines directly from their website.
Note: To get the open jaw price, be sure to book both flights at once. Booking two separate one-way tickets will usually be far more expensive than an open jaw, which includes both flights in the same booking.
Final Word(s)
You've earned the miles, so you might as well maximize them to their full potential. Using stopovers and open jaws are some of the best ways of doing this, as you can easily turn 1 ticket into 2 or 3 separate vacations!
Need to earn some miles to book your next trip? Check out our list of the best travel credit cards.