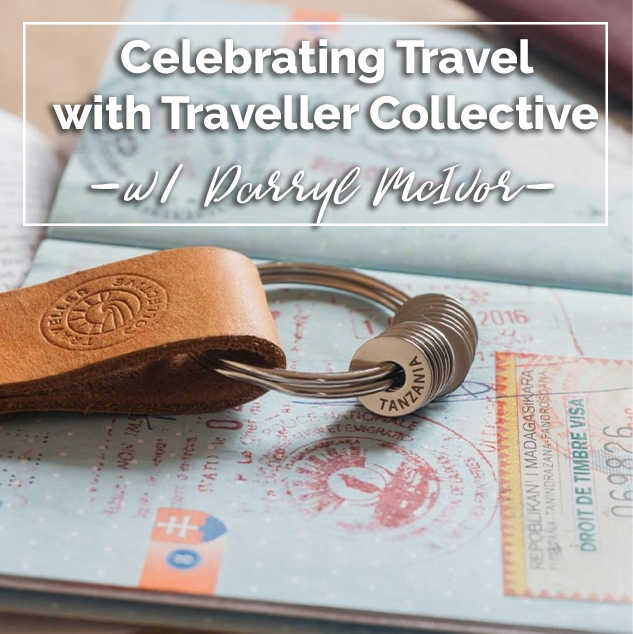 Do you enjoy collecting remembrances of your travels? Are you someone who has something from every country you have visited? 
Joining me today is someone who hails from the beautiful city of Vancouver, Canada, who wants to help those less fortunate be able to travel the world as well, and who has a design eye that would make my wife proud, Darryl McIvor from TravellerCollective.com.
He creates beautiful yet simple rings that are engraved with country codes that you can wear on a necklace or on a leather embossed keyring that allows you to easily carry mementos of all that places you have been in a classic and minimalist way. These are one of my new favorite ways to celebrate the places you have gone plus allows for some great conversations to start & inspires wanderlust!
Today's episode has been sponsored by our friends at Tortuga Backpacks!
Click here to download the episode directly. Is this on your gift list for this year? How many rings would you have on your keychain? Let us know @ExtraPackofPeanuts!
Check out the entire library of EPoP Travel Podcasts on iTunes.
Do you have travel questions for Trav about travel or travel hacking? Tweet us @packofpeanuts or Instagram with #askepop to @extrapackofpeanuts, or even on Facebook! Anywhere you can find us!
In This Episode
Important Links
Want More?
Leave a Review!
iTunes reviews are one of THE most important factors for podcasts. If you enjoy the show please take a second to leave the show a review on iTunes!