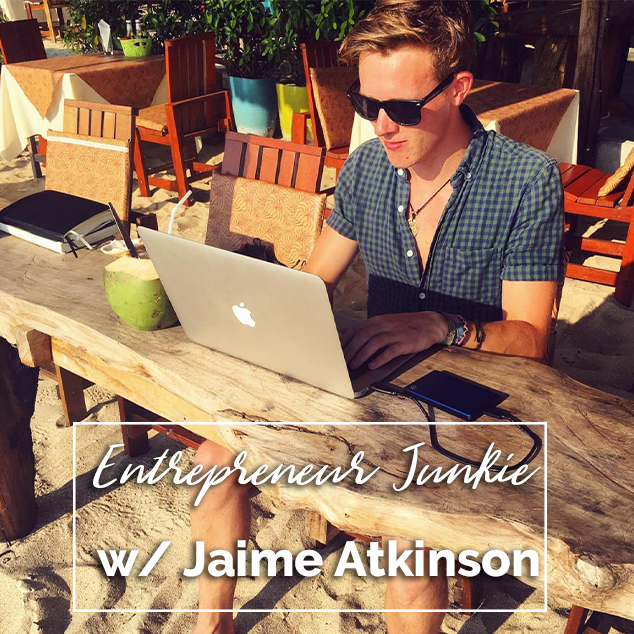 I am stoked to be talking today with my buddy, Jaime Atkinson from The EntrepreneurJunkie.co because I am extremely proud of his journey, his passion for entrepreneurship, and his unflinching honesty.
Today, we dive into his life story which includes the epic curveball that started him down this path, how The Paradise Pack helped launch him into the location independent lifestyle, and how he has navigated through the ups and downs of figuring out what works and what really doesn't in his businesses. Jaime is a powerhouse of truth and is not afraid to be open about everything when it comes to his life in business so you will definitely walk away today knowing that you can do this and that your mess may end up being your message.
Today's episode has been sponsored by our friends at Tortuga Backpacks!
If you are passionate about building a business that will allow you to travel where you want, when you want and be completely location independent, then check out this year's Paradise Pack.
Click here to download the episode directly.
Have you purchased a Paradise Pack? How has it helped you? Let us know @ExtraPackofPeanuts!
Check out the entire library of EPoP Travel Podcasts on iTunes.
Do you have travel questions for Trav about travel or travel hacking? Tweet us @packofpeanuts or Instagram with #askepop to @extrapackofpeanuts, or even on Facebook! Anywhere you can find us!
In This Episode
Important Links
Want More?
Leave a Review!
iTunes reviews are one of THE most important factors for podcasts. If you enjoy the show please take a second to leave the show a review on iTunes!