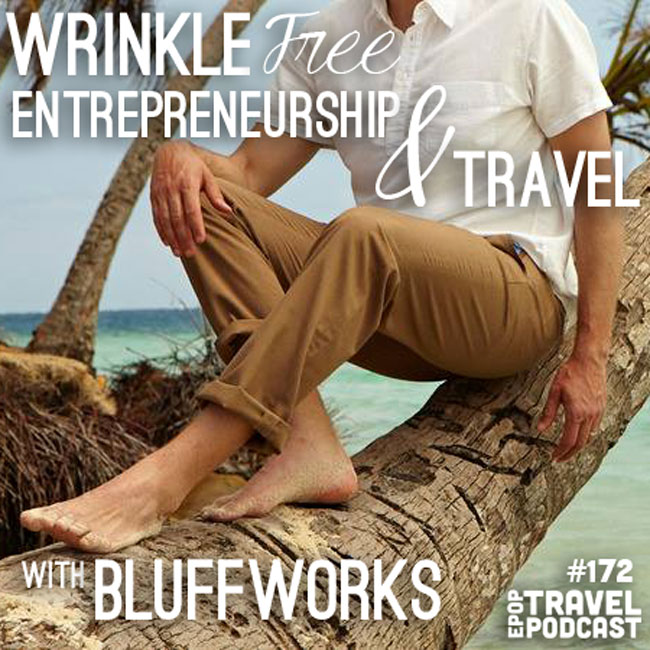 Animals don't run towards things. They run away from something.
Stefan Loble feels an affinity for this idea. For years he'd been having ideas for businesses he could start, but he never followed through on any of them.
Until he got really sick of washing his pants.
Running away from laundry led him to his current full-time job as the founder of Bluffworks.
Bluffworks creates awesome travel/work pants that don't wrinkle and can go days without care.
Seriously.
Stefan joins me today to talk about finally following through on his ideas and becoming an entrepreneur, why it's the hardest thing he's ever done (with stories for comparison), and how he managed to balance his new business with his 9-5 job as a software programmer.
Special Offer:  To get 10% off any non-sale Bluffworks item, click this link and use the promo code PEANUTS at checkout!
This is part 1 of a 2 part interview. Check back on Thursday for part 2 where we bring it back to travel. Favorite places to travel, tips on traveling cheap, and travel mistakes galore make part 2 of this podcast something you won't want to miss!
Click here to download this episode directly
Check out the entire library of EPoP Travel Podcasts on iTunes
In This Episode:
05:00 Traveling through the jungle with no shoes
13:30 How Bluffworks came to be.
18:00 Running a Kickstarter Campaign
22:00 Balancing a 9-5 with running your own business
29:00 Not having the skills
33:00 New Kickstarter Announcement!!
and much more!
Links from this Episode
Leave a Review!
iTunes reviews are one of THE most important factors for podcasts. If you enjoy the show please take a second to leave the show a review on iTunes!
Click this link: Leave a review on iTunes
Hit "View in iTunes" on the left-hand side under the picture.
Leave an honest review.
You're awesome!