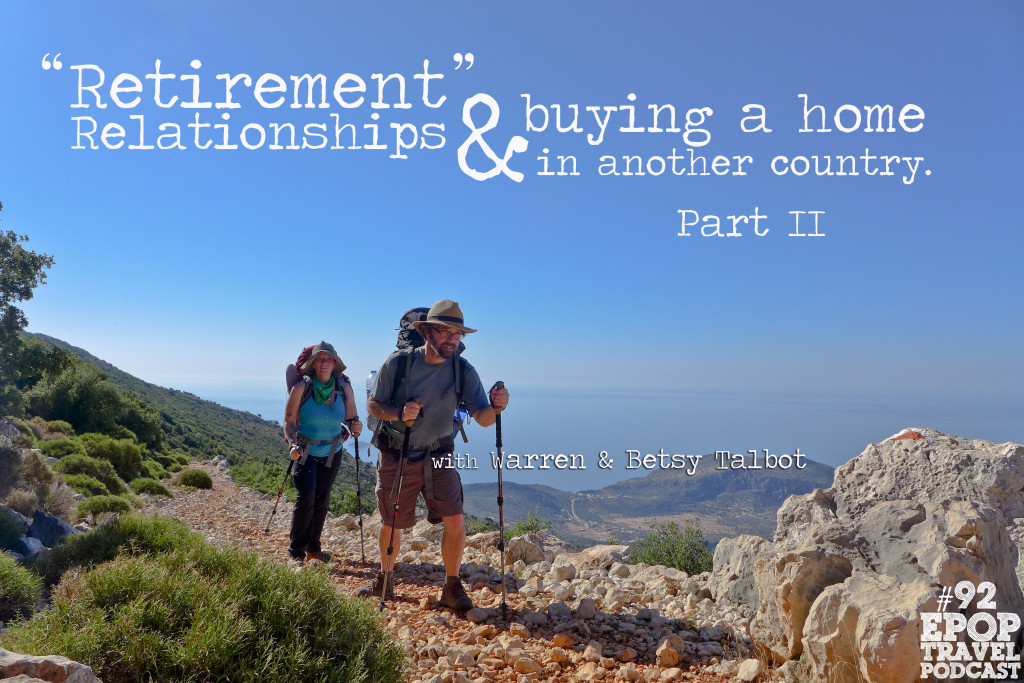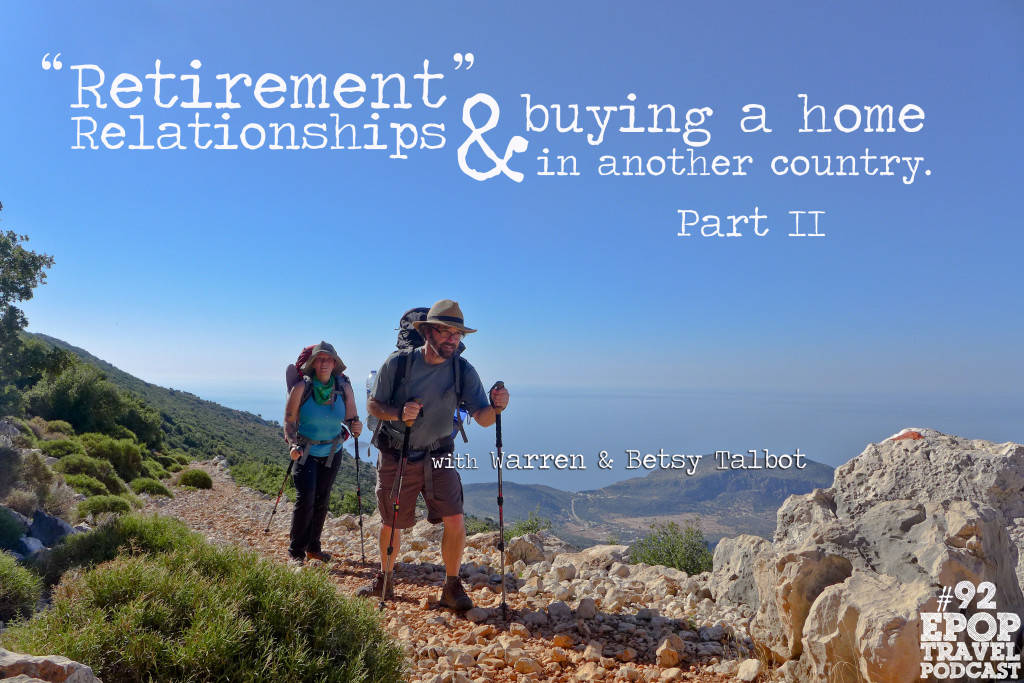 Yesterday Warren and Betsy shared amazing advice on starting your travel journey and finding a home base that you absolutely love.
Today we continue the trend of great advice and discuss a very important topic to me personally and I'm sure to a lot of you as well!
Relationships on the road.
Namely, making sure that you and your partner are on the same page, and happy during your travels. Because, as those of us who have traveled as part of a couple know, when you spend 24 hours a day with the same person in and out on top of the highs and lows of travel, tensions can rise quickly.
The advice that Warren and Betsy have to share on this topic is unbeatable for its wisdom and accuracy!
Do you and your partner use any of the tips that Warren and Betsy share? Different ones? Let me know how they work for you in the comments below!
Click here to listen to Part I of this interview
Right-click to download this episode directly
Check out the entire library of EPoP Travel Podcasts on iTunes
In This Episode:
Switching off who plays the "leader".
Find the way in which you communicate the best together.
Knowing what your partner needs to get over their anger.
Bringing more friendship into the relationship.
Make sure everyone is on the same page.
What's the list of things you want your life together to look like?
Eating out gets old when you travel, cooking together becomes romantic.
and much more!
Links Discussed in This Episode:
I Need Your Help
Warren and Betsy absolutely nailed it with the advice in today's episode about relationships and travel. Show them some love and click "Tweet This" below to spread the message!
@WarrenTalbot & @BetsyTalbot knock it out of the park with their #relationship advice for #travel. Have a listen!→ http://bit.ly/1w7sHwQ
Help Us Catch Tim Ferriss on iTunes!
We just hit our original goal of 100 reviews on iTunes, which means we are the top-rated travel podcast (and which means I'm giving out $100)!
Now, we're gunning to catch Tim Ferris's new podcast and I have a surprise in store if we do. Help out and leave a review on iTunes:
Click this link: Leave a review on iTunes
Hit "View in iTunes" on the left-hand side under the picture.
Leave an honest review.
You're awesome!