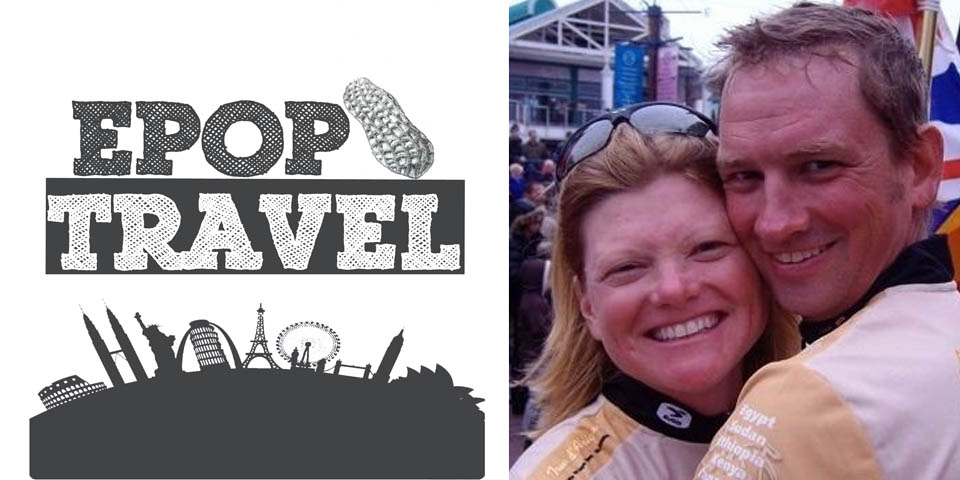 For the first time on the Extra Pack of Peanuts Podcast, I'm joined by TWO people on the other side, Dave and Deb of the wildly popular travel blog, ThePlanetD.com.
Billed as "Canada's Adventure Couple", Dave and Deb discuss what adventure travel really is, and how two normal people like themselves are able to do some pretty abnormal travel quests (and all along, I thought I was interviewing super athletes)!
In addition to telling some amazing stories, like how they drove across two continents or biked the entire length of Africa, they'll also provide logistical advice on how you can begin an adventure travel experience.
What tour companies might work for you.
How to pick your first adventure travel trip.
What health insurance you should have (and why you shouldn't be scared of hospitals in other countries).
And even how to do bring adventure to your home if you can't travel
And what I really love about this interview is that Dave and Deb then both open up about what travel means to them, and talk candidly about how it saved their marriage and the joys (and obstacles) of traveling as a couple.
Dave and Deb are two of the most energetic and passionate people I've met, so you can imagine what it's like having them both on at once.
Positivity and enthusiasm radiate from the podcast!
If you've dreamed of doing travel that is a little less ordinary, go have a listen…and be bouncing off the walls the rest of the day!
Right-click to download this episode directly
Don't forget, I'm giving away $100 if you rate the podcast (which takes 2 minutes).
Yep, I want a chance at $100.  Take me there!
In This Episode, You'll Learn:
How EVERYONE can do adventure travel, not just super athletes.
How to plan for adventure travel.
How to bring adventure to your life at home if you can't travel.
What the best travel insurance is.
How to "uncork" yourself
The two biggest keys to traveling together as a couple.
How to save tons of $$$ when picking a guide.
Links Discussed in This Episode:
I Need Your Help
Dave and Deb were an absolute joy to have on the show, so show them some love by clicking "tweet this" below:
"Thanks to @ThePlanetD, I'm ready to tackle adventure travel! Thanks for sharing your tips on the EPoP Podcast with @PackofPeanuts.
I'm giving away $100 once we hit 100 ratings on iTunes, so why not take 1 minute, leave a rating, and enter to win!
Leave a Rating for the Podcast, Win $100!
Cheers!
Trav