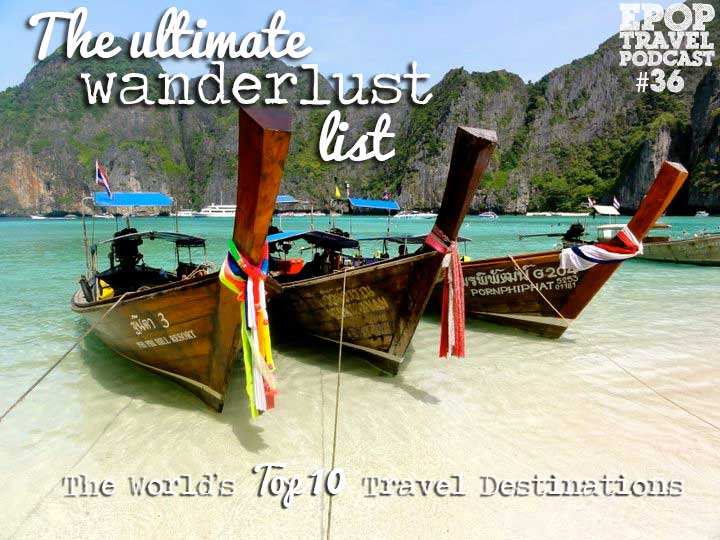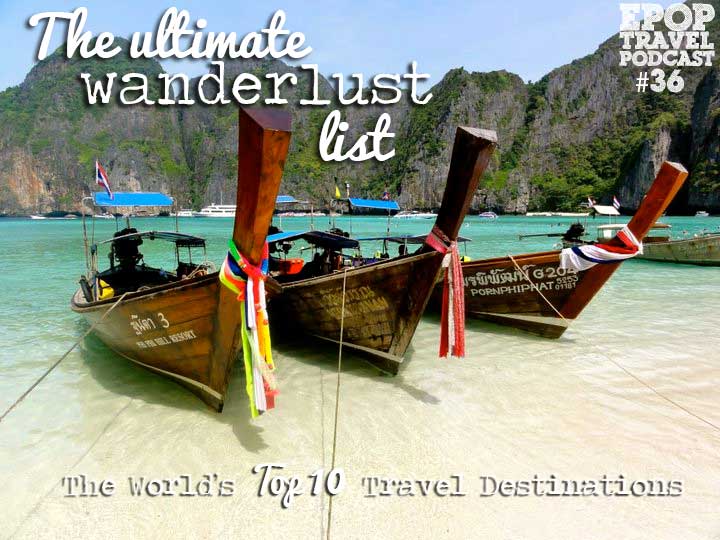 The world is a big place, and there are no shortage of destinations to travel to, things to see, and areas to explore.
To help you get some ideas of where you want to go (or more likely, to help you pare down your list), a special guest and I will be presenting The Ultimate Wanderlust List:  The Top 10 Travel Destinations in the World.
First, we'll each count down the 5 best places we've already been to, discuss why we loved them so much, and give some travel tips for those areas.
Then, we'll turn our attention to the top 5 places we want to go next and why we're dreaming about them.  
And because we didn't talk about our lists ahead, there are some surprises in store and some interesting reactions.
This was a super fun episode to record and so was coming up with our lists.
What's more fun than talking about dream destinations?
Now, it's your turn.
I'd love it if you told us the top 5 places you've been and the top 5 places you want to go next in the comments below.
The more travel recommendations, the better!
Right-click to download this episode directly
Check out the entire library of EPoP Travel Podcasts on iTunes
Help Us Hit 100 Reviews on iTunes
We're currently at 85 and almost there.  Would you be so kind as to take a minute and leave us a review?  Here's the link:
In This Episode:
How a certain Eastern European country lived up to its hype.
The region that puts more countries on the list than any other.
How three countries came out of nowhere to make the top 10.
The remote island nation that's both incredibly beautiful and (relatively) cheap.
A country that's considered the "last unspoiled horizon".
The cheapest country in the world to travel to.
and much, much more.
Links Discussed in This Episode:
I Need Your Help
If you liked this episode, I'd ask you to do two quick things:
Comment below and let us know the top 5 places you've been and the top 5 places you want to go next!
Leave a rating on iTunes.  We're only 15 reviews away from 100 (and barely any podcasts hit 100)!