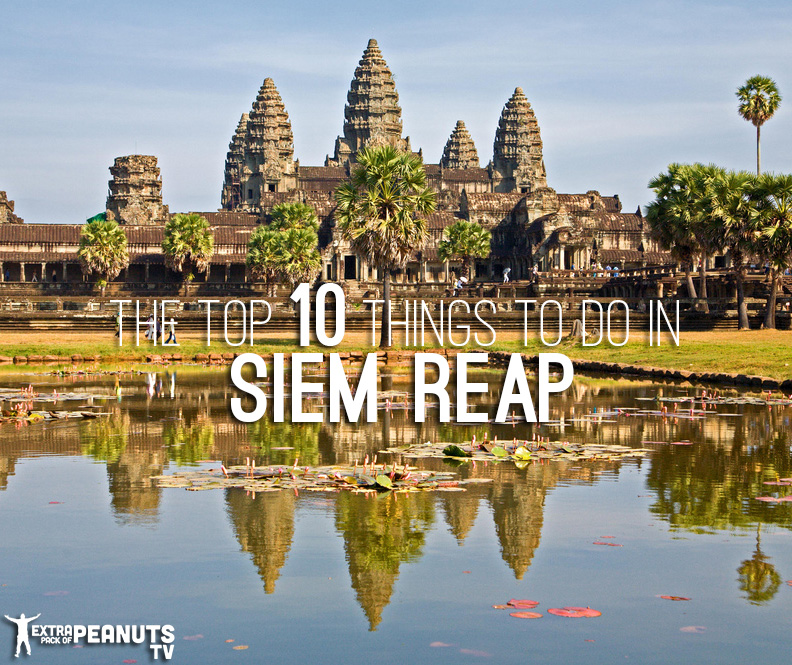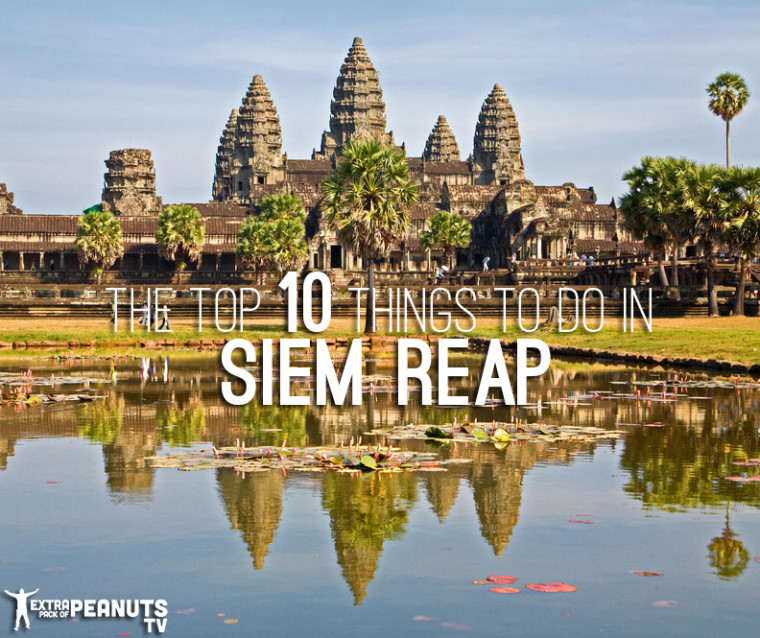 Siem Reap, nestled deep in the heart of Cambodia, is home to one of the most magnificent wonders of the world, Angkor Wat.
And while Angkor Wat alone makes a trip to Siem Reap worth it, there are tons of other incredible things to do in this tourist hotspot.
Here are the top 10 things to do in Siem Reap, Cambodia in under 2 minutes!
Want more details, including recommendations on where to eat, where to stay, and who to hire as your driver?
Below are the top 10 things to do in Siem Reap:
1.  Explore the Angkor Wat Temple Complex
Like this list would start with anything else!
You can buy one, three, or seven day passes and if you're on a time crunch, you can see all the major temples in one day.
But if you are taking it more leisurely, the three-day pass will give you the chance to dive a little deeper, even if you do just use it for two days.
No matter how many days you spend, don't miss any of the three main temples – Angkor Wat, Angkor Thom, and Ta Prohm (the "Tomb Raider" temple).
I'd also highly suggest stopping at Pre Rub, which doesn't get as much publicity but is one of my favorites, specifically because there aren't hordes of other people.
2.  Sunrise at Angkor Wat
Yes, you'll have to set that alarm for 5 o'clock, but no amount of extra sleep can rival the beauty of Angkor Wat at sunrise.
You certainly won't be the only person there, but if you head inside right after the sun has risen – and while everyone else is still snapping pictures – you can have the temple complex almost all to yourself.
It's worth it, as you'll then be able to stay a step ahead of the masses for the entire day.
3.  Hire a Driver (and make sure it's Bunthy)
You can choose a variety of methods to get around Angkor Wat – bike, tuk-tuk, or car and driver.
If it's hot, you want a little bit of luxury, or you want to see some of the temples that are further out, I recommend getting a car and driver.
Not only will you have air conditioning, but you'll also have a built-in tour guide.
And if you want the best driver in all of Siem Reap, you've got to contact my good friend Bunthy.
There is no kinder, nicer, or more genuine person in this world, and his knowledge of Cambodian history, past and present, is a treat.
Hundreds of people have hired Bunthy as their driver based on our post from three years ago, and every single one has raved about him.
You can email him at bunthyme.bm@gmail.com or call or WhatsApp him at (855) 12 972 469.
And don't forget to tell him Trav from Extra Pack of Peanuts sent you!
4.  Stay at a Local Guesthouse
As the tourism industry in Siem Reap explodes, so does the available accommodation options.
Over the last five years, numerous hotel chains have sunk their teeth into Siem Reap, and while the properties are world-class, I always prefer to stay at a local guesthouse.
This not only gives you a more authentic experience but also makes sure that your money goes back into the pockets of people from the local community, not hotel conglomerates.
Each time we've been to Siem Reap, we've stayed at the Golden Mango Inn, and each time, we've loved it.  It's got a free (good) breakfast, a nice pool, and incredible staff.
It's a little bit out of downtown – about 5-7 minutes – but they offer a free tuk-tuk service.
And just like Bunthy, don't forget to tell the staff at Golden Mango Inn that Trav from Extra Pack of Peanuts sent you and says hi!
Bonus Tip:  If you do stay at the Golden Mango, make sure to check out the Svay Mearas Beer Garden that is right next to it.  You'll be the only foreigner there (unless another Golden Mango guest follows you over) and one person MAY speak English, but you'll get as authentic an experience as possible and the draft beers are only 50 cents.
5.  Get a Fish Massage
Fish massages, which are now ubiquitous in Southeast Asia, apparently started right here in Siem Reap.
It's weird, especially if you go to the places with the huge fish, but certainly unique to the region.  And if you find a place that offers you a free beer with your fish massage, then you're really in luck!
6.  Go Shopping at the Old Market
Siem Reap has some of the cheapest prices in the world when it comes to market goodies, from clothing to food to souvenirs.
Of course, the first price they give you won't be cheap, but if you haggle like a local, you can get some amazing deals.
My "haggling" rule of thumb:  Always start my price at 25% of their original price (I know, crazy, but it works) and then work your way up towards 50%.
And don't forget, always have fun with it!  Haggling is part of the culture, but approach it with a good-natured attitude.
Remember, the locals need the money more than you, so haggle the price down, have fun, and in the end, if it's the difference of fifty cents or a dollar, don't be too much of a stickler.
7.  Go for a Swim
Siem Reap can get hot….really hot (especially March-May).
And after trekking around Angkor Wat all day, you're going to be dying for a chance to go swimming, so you better stay at a place with a pool.
One of the best things about the Golden Mango Inn is that the pool never closes!
Nothing beats those late nights and early morning swims under the stars – except maybe jumping in right after Angkor Wat!
8.  Eat Fish Amok
While Cambodian food isn't as "knock your socks off" delicious as it's neighbors like Thailand and Vietnam, it's still pretty good.
And one of the best and most famous Cambodian dishes is fish amok.
Give it a try, and make sure you're getting it at a traditional Khmer restaurant – Khmer Kitchen on Pub Street is an easy place for starters.
9.  Get a Drink On Pub Street
Speaking of Pub Street…nothing beats all day, every day happy hour that many of the restaurants here run.
Is it touristy? Sure!
Does it get crowded and noisy at night?  Definitely!
But if you head there during the day, it's a great place to walk around, relax, grab a drink (or three) and people watch.  And at 50 cents a beer or $1.50 a margarita, it's easy on your wallet.
A few of our favorite places include:
10.  Eat a Frog (or two)
If you've never eaten a frog in Cambodia, you are truly missing out.  And no, not mean frog legs – the whole frog.
And THE place to get frog – trust me, I've done my fair share of "research" – is Cambodian Soup on Pub Street in Siem Reap.
They are slowly bbq'ed over a fire and absolutely divine.  At a $1 apiece, do yourself a favor and order a few.  You'll be glad you did!
Final Word(s)
For anyone who is thinking about visiting Southeast Asia, Siem Reap is truly a can't miss destination.
And for anyone who isn't thinking about visiting Southeast Asia….what's wrong with you!
Angkor Wat is one of the most incredible places on the planet, and because it's only starting to become more popular, you're still allowed to have free reign around most of the ruins, something that may change in the future.
In the three years between my visits (2012 and 2015), I noticed a massive difference in the number of tourists, so I'd highly recommend getting to Siem Reap sooner rather than later.
And when you do, don't forget to contact Bunthy.
As amazing as Angkor Wat is, the people are what really makes the travel experience special, and I've yet to find anyone with whom I've felt such a strong connection as Bunthy.
He even took me to his barber to get a haircut and insisted on paying for me (although I slipped the money in his glove compartment when he wasn't looking…shhh….don't tell him).
 Have you been to Siem Reap before?  If so, what were some of your top 10 things to do there?
FURTHER READING (POSTS HANDPICKED FOR YOU…BY US!)
None of that automatic "read more" stuff you'll see everywhere else on the internet!
If you liked this post, then you'll love these as well:
(photo courtesy of Chi King)