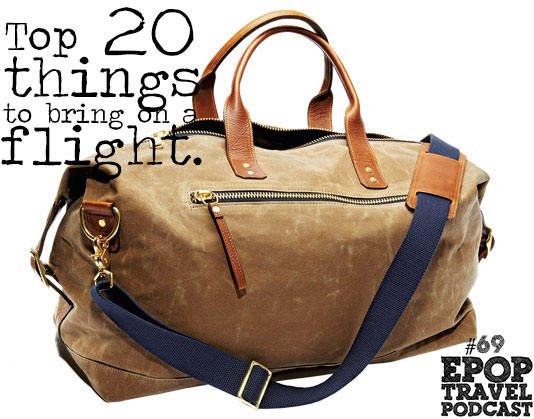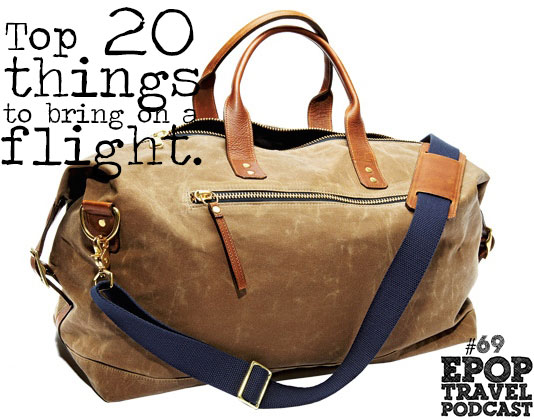 One of the worst feelings when traveling is boarding the plane, opening your carryon, and realizing that you either forgot something at home or you put it in your checked bags.
Ok, I guess getting food poisoning in Malaysia might be worse, but…
An 8-hour flight without headphones?
Torture!
Today, Heather and I reveal the 20 items that we ALWAYS pack in our carryon to ensure that we have as smooth a flight as possible.
Bonus:  We also tell you our go-to travel outfits which guarantee maximum comfort and fashion!
Let us know in the comments below what your top things to bring on a flight are!
Right-click to download this episode directly
Check out the entire library of EPoP Travel Podcasts on iTunes
In This Episode:
A smart way to save money at the airport.
How to bring your own alcohol on an airplane (legally).
The one item couples need to "not look weird".
The gold standard of cheap headphones.
The two things you HAVE to bring with you…or else.
and much more!
Links Discussed in This Episode:
Help Us Catch Tim Ferriss on iTunes!
We just hit our original goal of 100 reviews on iTunes, which means we are the top-rated travel podcast (and which means I'm giving out $100)!
Now, we're gunning to catch Tim Ferris's new podcast and I have a surprise in store if we do. Help out and leave a review on iTunes:
Click this link: Leave a review on iTunes
Hit "View in iTunes" on the left-hand side under the picture.
Leave an honest review.
You're awesome!