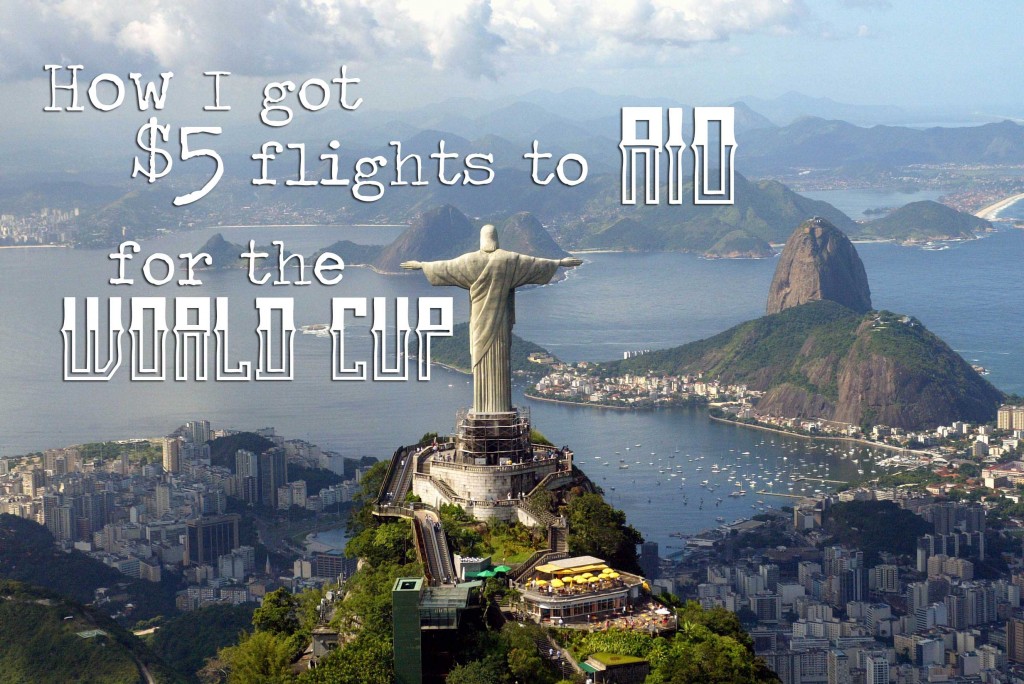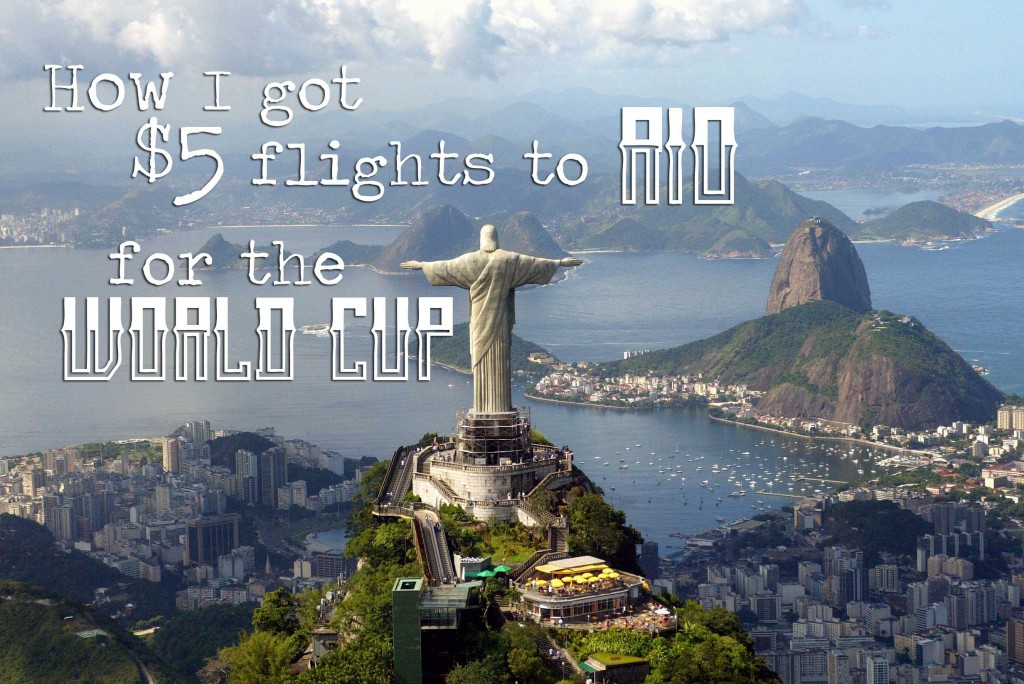 The world's most popular sport.
Its biggest tournament.
And its most passionate country.
Add it all up, and you've got a nonstop party.
Unfortunately, for those looking to sample a little joga bonito as well as a Carnaval atmosphere, you've also got one of the most difficult to get and most expensive plane tickets in the world.
So how did I score 2 direct flight plane tickets from New York to Rio for $2.50 each?
By following a system that is simple but unknown to most of the general public.
It's the "secret" that is the key to allowing you to travel anywhere in the world for under $100, whether it be Brazil or Budapest--a secret I've used to travel to over 25 countries for less than two tanks of gas!
Earn Frequent Flyer Miles…WITHOUT FLYING
When people hear "frequent flyer miles," most tune out the rest.
"Frequent flyer miles are only for people who fly all the time.  I don't fly enough, and so I'll never earn a free ticket."
Sadly, most people believe that they can only earn frequent flyer miles through flying.  
Because of this, they wrongfully assume they'll never earn enough for a free flight, and never pursue the idea.
Conversation over.
Dreams of free travel dashed.
Whoops!
There are actually tons of ways to earn frequent flyer miles without flying.
In fact, I've earned over 2 million frequent flyer miles in the last 3 years, and less than 1% (yes, 1%) of them have been from flying.
The quickest way to earn a large number of frequent flyer miles is to get a good travel credit card.
If you're responsible with your credit, you can take advantage of the perks by getting the large sign-up bonuses that credit cards offer!
By getting just one card, you could have enough miles for a round-trip ticket to Europe or South America.
Skeptical?  Here's the proof: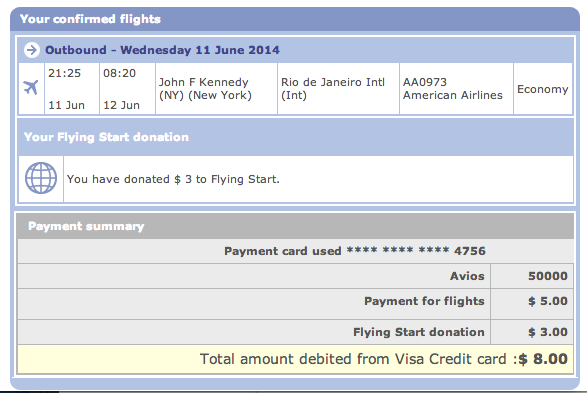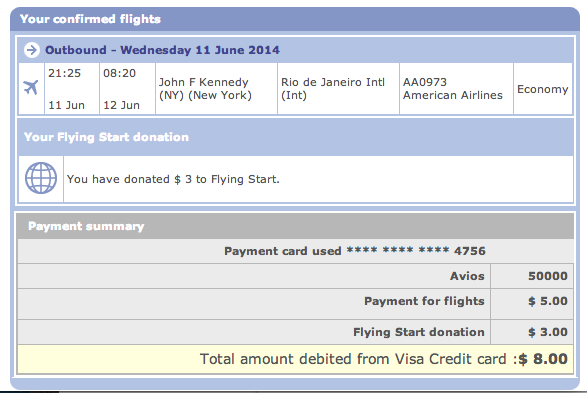 Understanding Which Miles to Earn
Not all miles are created equal, and so it's important to figure out which miles are best for getting you where you want to go.
If you want a general overview of which miles are the best, check out my rankings here.
For flying to South America, I knew that British Airways miles were great to use.  So while I could have used American Airlines miles or United miles to go to Brazil, I chose BA because they charged the lowest fees.
Understanding the Rules of Using Miles
After you've collected the miles, it's important to know a few basics about using them.  This is the spot where most people give up, but in reality, a few simple rules go a long way.
Airline Alliances
A common misconception is that you can only use an airline's miles to fly with that specific airline.
For example, most people believe that if they have British Airways miles, they can only fly with British Airways.
Nope!
Because of an awesome thing called airline alliances, it is actually much better than that.
British Airways is part of the Oneworld Alliance, meaning that you can use BA miles to fly on any of the other 15 airlines in the Oneworld alliance.
To get to Brazil, I flew on AA, which is a Oneworld partner that has direct flights between New York and Rio.
With airline alliances (the other major one is Star Alliance), you can use your miles to fly practically anywhere in the world.
The 330 Day Rule
When you use frequent flyer miles to book a ticket, there is less availability than if you were to purchase that ticket.
If a plane has roughly 300 seats, they may open up 1/3 of them for people who wish to book award tickets (tickets "bought" with miles).
This means that knowing when to book is imperative.
Airlines will open their seats up for availability 330 days in advance.
If you're trying to get a seat during a busy time, such as Christmas or the World Cup, you NEED to look as early as possible.
Knowing this, I got online exactly 330 days before the date I wanted to travel (June 12, 2014) and booked my tickets from New York to Rio.
When I checked later that evening all the tickets were already sold out!
The 6 Week Rule
If you miss out on an early ticket, more will get released sporadically, so keep checking.
However, the biggest number of seats get released about 6 weeks before the flight date. 
This is when airlines look at their flight, realize most people have already bought a ticket if they want one, and release the remaining seats for people using miles.
Keep a close eye on tickets around the 6 week window.  You'll most likely see more seats open up, even for major events like the World Cup.
Where to Look and How to Book
Because the airline industry operates in the Stone Age, you may not always be able to see availability online.
For flights to Brazil, I was able to book the ticket online, but if you search online and don't see anything, don't give up.
Instead, call up the airline whose miles you are using and have the agents check availability for you.  They often see things you aren't able to search for online.
A great tool that is a bit more complicated but incredibly handy is Award Nexus.  This is the weapon of choice of most frequent flyer experts for finding hidden availability.
Final Word(s)
If you have yet to start using frequent flyer miles, now is the time to start.  You can literally fly anywhere in the world for less than $100.
Start by getting a good travel credit card (click here for my recommendations).  Once you earn the miles, make sure to look for seats 330 days out, if possible.
Continuously check back for availability, and be aware that a large bunch of tickets may appear 6 weeks prior to the departure date.
And lastly, make sure to use all the tools at your disposal to find availability.  Check online, call if you need to, and dig in to Award Nexus.
Start now and we'll both be flying to Brazil on $5 tickets for the 2016 Olympics!
Want to travel to your dream destination for under $100?  Don't forget to sign up for our newsletter and you'll be in the air in no time!

Has anyone else been able to use miles to get amazing deals to major world events?  Let us know your biggest score in the comments below!