[offer expired]
Barclays is at it again, giving us yet another awesome travel credit card and continuing to challenge the big boys of Chase, American Express, and Citi.
This time, it's a near perfect card for people who travel domestically.
Introducing the Barclays Frontier Airlines World Mastercard®.
The Details for the Barclays Frontier Airlines Card
Here are the details of the current offer (bolding mine):
Earn 40,000 bonus miles after spending $500 in purchases in the first 90 days
Earn up to 10,000 bonus miles on balance transfers (1 mile per $1 transferred) in the first 90 days
Earn DOUBLE miles on purchases at FlyFrontier.com and 1 mile per $1 on all other purchases
No blackout dates! Book any roundtrip award flight on Frontier starting at 20,000 miles (subject to fees/taxes from $5)
Cardmember Exclusive! Redeem roundtrip companion award tickets for 5,000 less miles (from 15,000 miles plus taxes/fees from $5)
0% Introductory APR on purchases and balance transfers for the first 12 months after account opening. After that, a variable APR, currently 15.99% or 24.99% based on your creditworthiness
$69 Annual Fee
Click here to apply —> Barclays Frontier World Mastercard®
Why I Love the Barclays Frontier Airlines Card
Reason #1:  40,000 mile sign up bonus
40,000 miles is a good sign up bonus nowadays, especially considering the Frontier airlines award chart.
The 40k sign up bonus can get you 2 free roundtrip tickets anywhere in the US, including Alaska!
Check it out: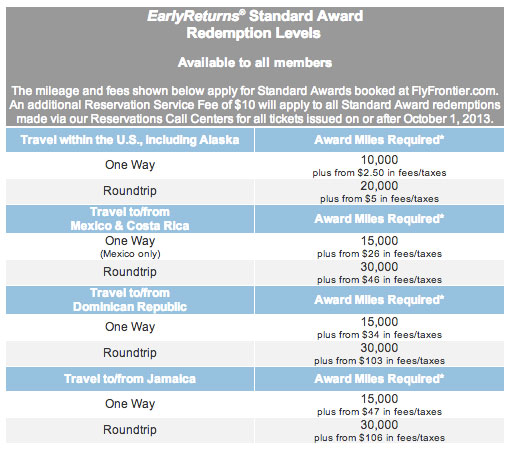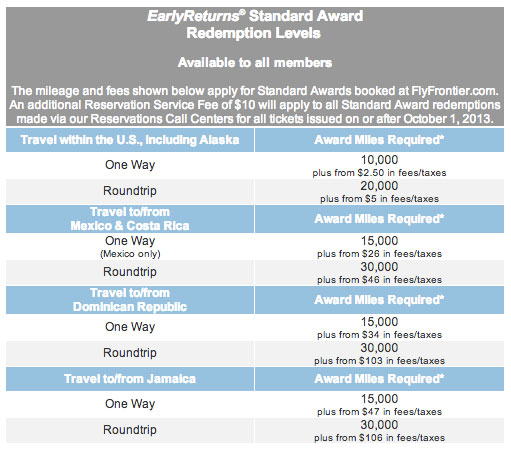 Or, since they allow one way tickets, you could use it for 4 free one-way tickets.
It can also get you 1 free roundtrip ticket to either Mexico, Costa Rica, or Jamaica and you'd have miles to spare!
Most airlines charge 25k miles roundtrip for a domestic ticket, so the fact that Frontier only charges 20k is huge.
This is a great sign up bonus for domestic travelers.
Reason #2:  The Low Minimum Spend
In order to get the sign up bonus, you'll only need to spend $500 on the card in the first 90 days.
Most other cards require much larger minimum spends, such as $3,000 or $5,000 in the first 90 days.
The $500 minimum spend means that this is a card that ANYONE can meet the minimum spend on.
Reason #3:  Frontier Airlines Flies From Lots of Smaller Airports
For people who don't live near large hub airports, this is a MASSIVE benefit.
Here is a map with all the places that Frontier flies to: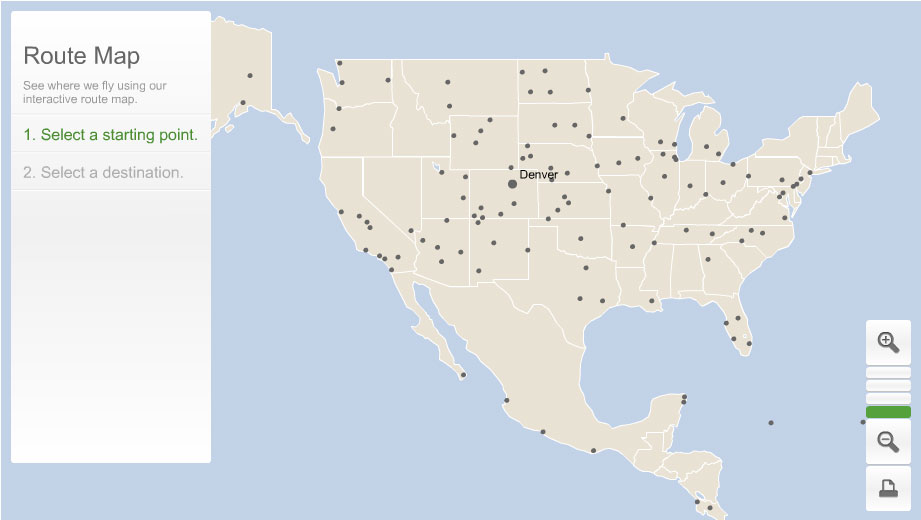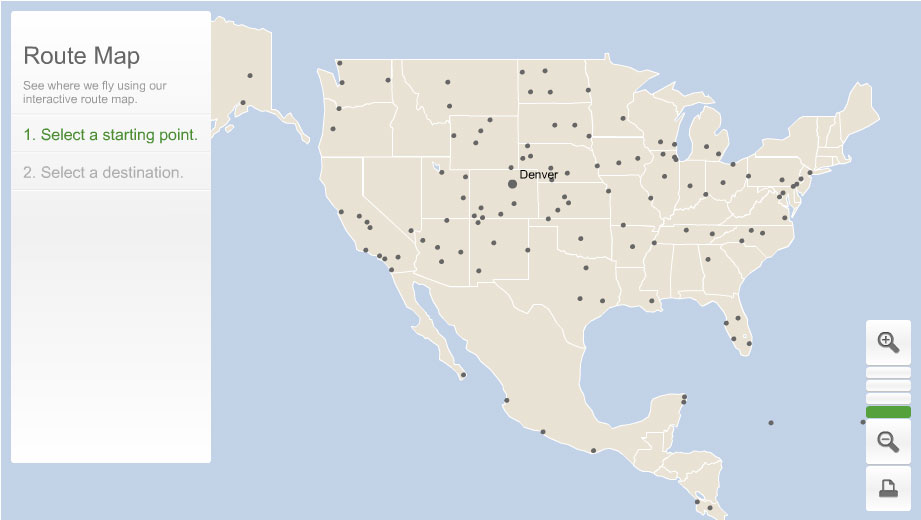 This is especially good for people out in the west and midwest, as Frontier flies to places like Jackson Hole, tons of places in Kansas and Nebraska, and even 5 different airports in North Dakota (wow!)
It's even really great for people who do live near major airport.
For example, I live about 45 minutes from Philadelphia International (PHL).
Frontier flies out of PHL, but also flies out of 3 other airports in the area, including Wilmington (ILG), Trenton (TTN), and Harrisburg (MDT).
Not only does this give me a ton of options, but flying out of a smaller airport is also oftentimes a better experience.
It's usually easier to get to, not as hectic to go through security, and parking is cheaper or even free!
Reason #4:  Companion Tickets are 5k Less
With the Barclays Frontier Airlines card, you'll receive a companion ticket.  Here's how the Frontier Companion Ticket works.
If you purchase a ticket with cash on Frontier, a companion can fly using miles for 5k less than the normal price.
This means that instead of paying 20k for a domestic roundtrip ticket, you'd only pay 15k.
And it can be used on one-way tickets as well!
Since a one-way domestic ticket is only 10k, you'll actually only pay 5k miles + $5 using the Companion Ticket.
That's a sweet deal!
Just remember, you can only use the Companion ticket if you PURCHASE your ticket with cash.
So if you have two people traveling and find a cheap ticket on Frontier, consider purchasing it the first one and having the companion fly on miles for cheap!
Reason #5: Cheap Changes on Award Tickets
One way most airlines really gouge you is when you have to make changes to an award ticket after you've booked it.
Luckily, Frontier isn't like most other airlines.
Any change you want to make to the itinerary of an award ticket that is more than 8 days before you leave is free.
Also, if you want to cancel the ticket and have your miles redeposited in to your account, it's only $75 (most airlines charge you $150).
Click here to apply —> Barclays Frontier World Mastercard®
Downsides of the Barclays Frontier Airlines Card
Overall, I think this is phenomenal card for anyone who is traveling domestically and really is a must-have.
However, there are two downsides.
$69 Annual Fee
The $69 annual fee is NOT waived the first year.  I consider it a very small price to pay.
In essence, you're paying $69 for two roundtrip tickets, which is a great deal.
Still, it's something to be aware of.
Frontier Charges for Checked Bags
If you do use miles, Frontier charges $25 to check the first bag, and $30 for a second checked bag.
Of course, carry-ons are free, and I always recommend traveling with just a carry-on anyway, so this isn't a big deal to me.
But if you're someone who does check baggage, just make sure you are aware of the fees (which are actually less than most airlines).
Final Word on the Barclays Frontier Airlines Card
All in all, I believe the Barclays Frontier Airlines card is one of the best card right now for domestic travel and I HIGHLY recommend it.
The sign up bonus of 2 free roundtrip ticket, even to Alaska, is awesome.
The minimum spend is super low.
You can fly one-way if you want.
And as an added bonus, you can also fly in to and out of some really cool, easy small airports that aren't serviced by most other airlines.
Add it all up, and you've got another great travel credit card from Barclays!
Now that the sign up bonus is 40k, are you going to apply?
If so, what cool city that Frontier flies to do you have your eye on?
If you do apply for the Barclays Frontier card using my links, I'll receive a commission.  Your support allows me to continue to run this site full time and as always, is truly appreciated!