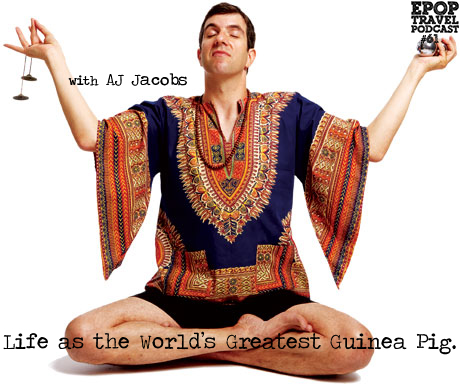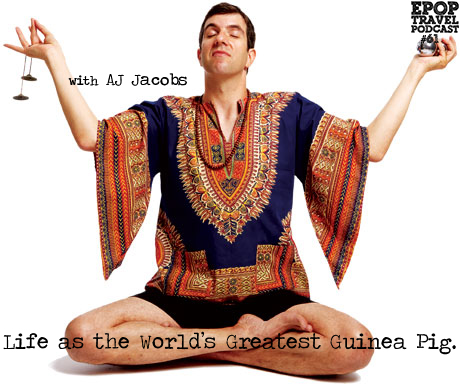 What do you do when you want to become more educated…or healthier…or learn more about religion?
If your answers to those look anything like this:
Read the encyclopedia from A to Z.
Live by every rule in the Bible for a year.
Try every single diet and exercise program out there.
Then you might have something in common with this week's guest.
A.J. Jacobs is a published writer and a professional human guinea pig.
A.J. takes on these personal experiments in what he calls "extreme self-improvement" and documents his struggles (and successes) in his books.
Keeping life fun and exciting through these personal challenges is exactly the reason that I wanted AJ to come on the show and share his experiences with us all.
AJ talks to us today about how he started on this journey to self-experimentation (hint: it involves the Academy Awards), how his family handles some of his more extreme projects, and his newest project that you can be a part of!
We're reminded that our changes don't all have to be huge, that viewing the world from another's point of view is always a good use of time, and the ideas are the lifeblood of entrepreneurs.
Make sure to check out the site for A.J.'s next project- GlobalFamilyReunion.com– so you can help him with his next project.
You and A.J. are cousins after all, and family helps out family!
Right-click to download this episode directly
Check out the entire library of EPoP Travel Podcasts on iTunes
In This Episode:
Where his experiment ideas come from.
Some valuable lessons learned from his projects.
How we're all really cousins. (It's true, he can prove it)
Why considering other points of view is so important.
How failure is just a part of life, not something to be terrified of.
The concept of disciplined daydreaming.
How ideas are the lifeblood of entrepreneurs.
and much more!
Links Discussed in This Episode:
I Need Your Help
Help me thank A.J. Jacobs for sharing his self-improvement experiments with us by clicking "Tweet This" below:
A big thanks to @AJJacobs, my cousin (and yours too!), for joining us on the @PackofPeanuts #travel podcast. –> http://bit.ly/1qnng9y
Help Us Catch Tim Ferriss on iTunes!
We just hit our original goal of 100 reviews on iTunes, which means we are the top-rated travel podcast (and which means I'm giving out $100)!
Now, we're gunning to catch Tim Ferris's new podcast and I have a surprise in store if we do. Help out and leave a review on iTunes:
Click this link: Leave a review on iTunes
Hit "View in iTunes" on the left-hand side under the picture.
Leave an honest review.
You're awesome!