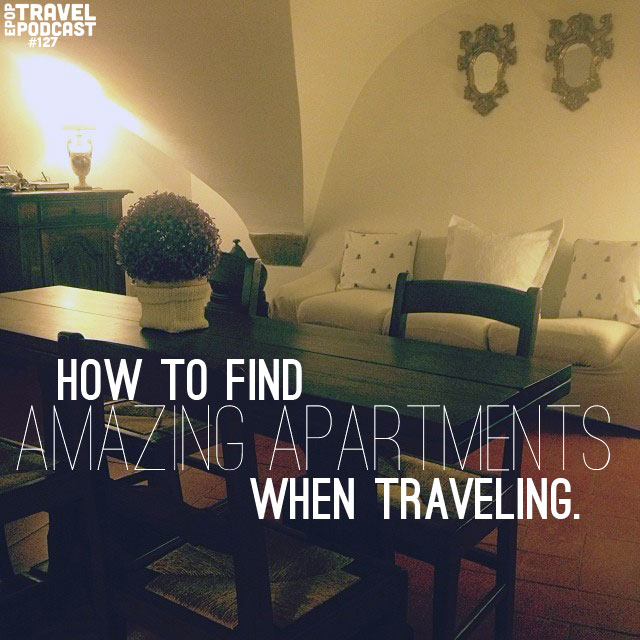 Renting apartments while traveling can save you tons of money.
Not to mention the extra space, less touristy neighborhoods, and the possibilities of great relationships with your hosts!
We've rented apartments in cities across the world, from Paris to Berlin, Bali, Portugal, Thailand, and so many more.
Heather joins me to list some of our favorite apartment rental websites, what to look for on the profiles to make sure you're getting a good place, and, most importantly, some tips and tricks that you can try to get a good deal on your next rental!
Let us know if you have any other tips and tricks for saving money on apartment rentals, or what your favorite sites are in the comments below!
Click here to download this episode directly
Check out the entire library of EPoP Travel Podcasts on iTunes
In This Episode:
04:45 The apartments we've rented around the world.
06:04 Why we LOVE renting apartments.
10:52 What makes these rentals different from hotels.
12:40 Where to find Apartments.
15:50 Strategies for finding good apartments.
17:19 What to check out on the apartment profiles.
25:58 How to get good deals.
31:10 Things to be aware of.
and much more!
Links from today's episode
Leave a Review!
iTunes reviews are one of THE most important factors for podcasts. If you enjoy the show please take a second to leave the show a review on iTunes!
Click this link: Leave a review on iTunes
Hit "View in iTunes" on the left-hand side under the picture.
Leave an honest review.
You're awesome!