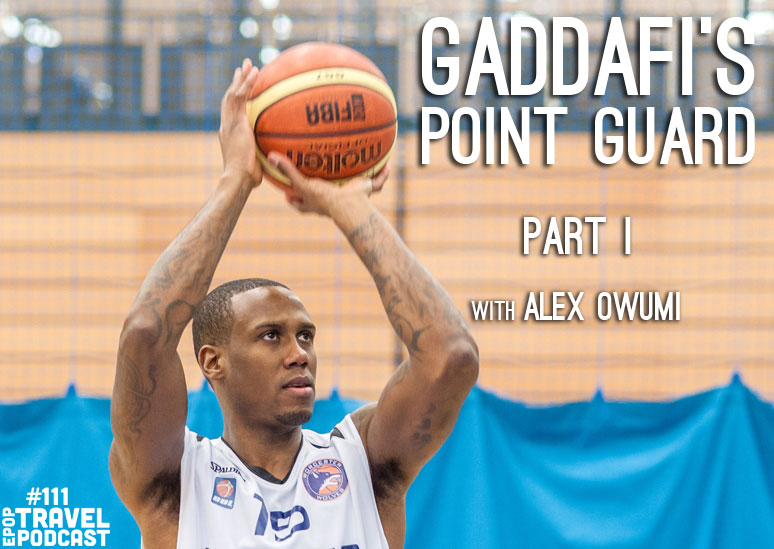 Alex Owumi, a U.S. Basketball player took a contract that would get him out of a bad situation.
Little did he know, it was just going to put him into a much worse one.
Alex was playing for the Benghazi Basketball team in Libya when the Arab Spring occurred.
When the world turned into a warzone outside of his penthouse apartment.
Today he joins us to tell the story of how he, unknowingly, came to be playing for a team owned by Qaddafi, his attempts to motivate the team, and the horrors of being trapped in the middle of a revolution with no end in sight.
This is part one of a two-part interview. Make sure to check back tomorrow to hear the conclusion of Alex's story.
Click here to download this episode directly
Check out the entire library of EPoP Travel Podcasts on iTunes
In This Episode:
How Alex ended up playing for Libya.
Christmas from far away.
The hostile working environment in Libya.
Leading up to the Arab Spring.
A beautiful city descending into a warzone.
What happens when you're trapped in an apartment for over 2 weeks.
His experience being on the verge of suicide.
and much more!
Links Discussed in This Episode:
Win a $50 Amazon Giftcard!
The last survey went SO well, that we're doing it again!
Click Here to fill out our survey (it only takes 5 minutes, we promise!) and get entered to win a 50 dollar Amazon Giftcard!
We'll randomly select one person who answers our survey to win!
Leave a Review!
iTunes reviews are one of THE most important factors for podcasts. If you enjoy the show please take a second to leave the show a review on iTunes!
Click this link: Leave a review on iTunes
Hit "View in iTunes" on the left-hand side under the picture.
Leave an honest review.
You're awesome!