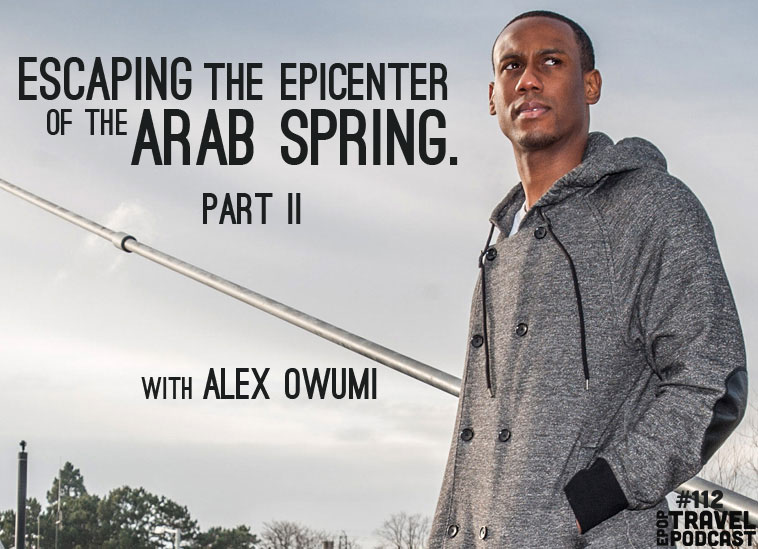 Yesterday Alex told us how he ended up in the epicenter of the Arab Spring.
Today he tells us how he escaped it.
From tense moment to tense moment we follow Alex through his lifeline phone call, his escape from the apartment building with a contingent of child guards, through his experiences at the refugee camp, and finally his re-entry into "normal" life and his struggles to cope with everything that had happened.
It's an amazing story.
This is part two of a two-part interview. Make sure to listen to part one to hear the entirety of Alex's story.
Click here to download this episode directly
Check out the entire library of EPoP Travel Podcasts on iTunes
In This Episode:
The phone call that saved his life.
Children turned bodyguards.
Fleeing to a refugee camp in Egypt.
Being thrown into solitary confinement.
Escaping the refugee camp.
The decision to go back to basketball.
Becoming "normal" again.
Writing down his experiences.
and much more!
Links Discussed in This Episode:
Win a $50 Amazon Giftcard!
The last survey went SO well, that we're doing it again!
Click Here to fill out our survey (it only takes 5 minutes, we promise!) and get entered to win a 50 dollar Amazon Giftcard!
We'll randomly select one person who answers our survey to win!
Leave a Review!
iTunes reviews are one of THE most important factors for podcasts. If you enjoy the show please take a second to leave the show a review on iTunes!
Click this link: Leave a review on iTunes
Hit "View in iTunes" on the left-hand side under the picture.
Leave an honest review.
You're awesome!