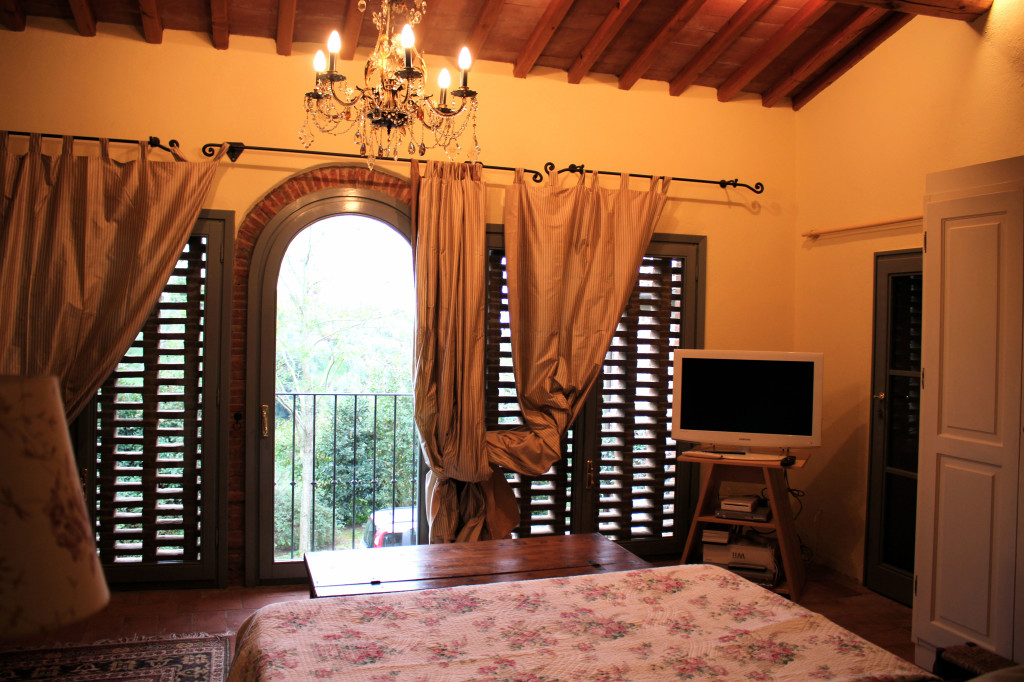 The benefits of staying in an apartment when traveling are innumerable – including lots of space, local insider knowledge, and the ability to stay in less touristy, more authentic neighborhoods.
However, finding a good apartment can feel overwhelming.
There are a lot of variables to consider… price, location, cleanliness, convenience.
This is where we come in.
We've rented apartments in Paris, Berlin, NYC, Tuscany, Venice, Rome, Florence, Split, and throughout Thailand.
So, if you are wondering how we managed to find great apartments and amazing experiences in all of these places, then read on for all of our insider secrets!
Where to Find Apartment Rentals
We use a few fantastic resources.  Our two favorites are Airbnb and GoWithOh (only in Europe).
But there are a few other websites you can use.
1. Airbnb
2. GowithOh
3. Homeaway
4. VRBO
5. 9Flats
6. Craigslist
Strategies for Finding the Best Apartments
Now that you know where to look, the next step is weeding through the listings. Some of these sites allow you to narrow your search to what you specifically want.
While this is a great option, here are a few other things to consider…
1. Look Early.
The best apartments tend to be swept up first. The earlier you look the more options you have.
2. Check the Pictures. I mean REALLY check the pictures.
Make sure you can see good angles on the bedroom, bathroom and layout in general. A lot of beautiful apartments can be deceiving.
I.e. a bed that is actually a pullout couch. One picture shows a bed. The next picture it is a couch. So you think there is a bedroom and a living room but when you show up it is one and the same.
3. Read the Reviews.
We find that these websites are not inundated with reviews that are mixed and varied, but rather sincere and useful. This is important when making sure you have a good host.
4. Read the Description Carefully.
For two reasons – To see if the owner has good language skills, and to check any specific requirements from the owner.
5. Check the Map.
Research the geography of a city (Airbnb and most other apartment rental sites show the apartment location on a map.)
This will ensure that you stay in a great location which can greatly enhance your stay.
How to Get a Good Deal
Check the Calendar.
If the apartment is available for a long length of time this can give you some leeway when you negotiate a price.
Negotiate.
Our motto is that it never hurts to ask.
If an apartment is not booked for a while and you are staying for an extended length of time (1-2 weeks instead of a few days), it is completely acceptable to ask for some type of discounted rate.
We usually start the negotiation at 50% of the asking price and go from there.  There have been plenty of times when they've even accepted our first offer, meaning we've scored a place for half price with very little hassle.
Contact More Than One Owner.
The more options, the better.
Airbnb will save your sent messages so you can refer back to the properties you have contacted, which makes it very easy to negotiate with a few places and see which one will give you the best deal.
Offer Something.
Do you have something to offer?
Maybe a review or social media shout out?
Word of mouth is important in a new market, so offering to recommend the property to your other traveling friends can go a long way.
Apartment rental is becoming popular but there are still a lot of people who haven't heard of it or are reluctant to try.
Things to Consider When Renting an Apartment
You Get What you Pay For
Renting an apartment is almost always cheaper than a hotel and there are many cheap options. However, it is important to take into account the city you are staying in.
For example, we stayed in a NYC AirBnB with two other friends and rented a really small, really cheap apartment.
It was perfect for what we needed, but we didn't have any great expectations that it would be an amazing stay. It served a purpose.
Another time we decided to "splurge" when we were staying in Berlin with another couple. We spent about $100/couple to stay in a large, beautiful apartment in the best neighborhood.
While this is still a fairly reasonable price, it is more than we usually prefer to pay per night. It was well worth it because it made our experience so much more enjoyable.
Be Very Clear about Check In and Check Out
One downside to an renting an apartment can be meeting the host to get into the property.
It's not as easy as rolling up to a hotel or hostel where there is a 24hour reception desk.
A frustrating arrival can be avoided with a simple email or text message with your travel plans and arrival time. Most hosts will meet at your convenience.
Be Respectful of the Property
An apartment is not a hotel and there is not an account for incidentals. Make sure you are taking care of the property and respecting the owners' possessions.
Know the Rules or Situation
If you are sharing a space with other people, make sure you know the requirements of comings and goings. Also, be aware of other "rules" such as trash or recylcling, electricity or hot water, etc. Most properties will have these itemized in the listing of their apartment rental
Always Take Advantage of the Host's Knowledge.
This is one of the best reason's to rent an apartment – firsthand, local knowledge of an area.
Most hosts want to ensure that you enjoy your time in an area (this is how they sell their property, after all).
We have found that all the hosts we have come in contact with have given us the best recommendations for an area, including my favorite pizza in the whole world, recommended to us by our lovely hosts in Rome.
Final Word(s)
We absolutely love renting apartments when we travel, and it is easily one of our favorite ways to book accommodations (housesitting is another great option).
It provides a more authentic and memorable experience than a regular hotel would, and oftentimes, it's much cheaper.
And remember, if you are going to rent an apartment, you can usually negotiate a better price, especially if you are going in the off-season or staying for 3+ days.
Have you rented an apartments before?  If so, where did you rent, and how was your experience?  Let us know in the comments below.
FURTHER READING (POSTS HANDPICKED FOR YOU…BY US!)
None of that automatic "read more" stuff you'll see everywhere else on the internet!
If you liked this post, then you'll love these as well: