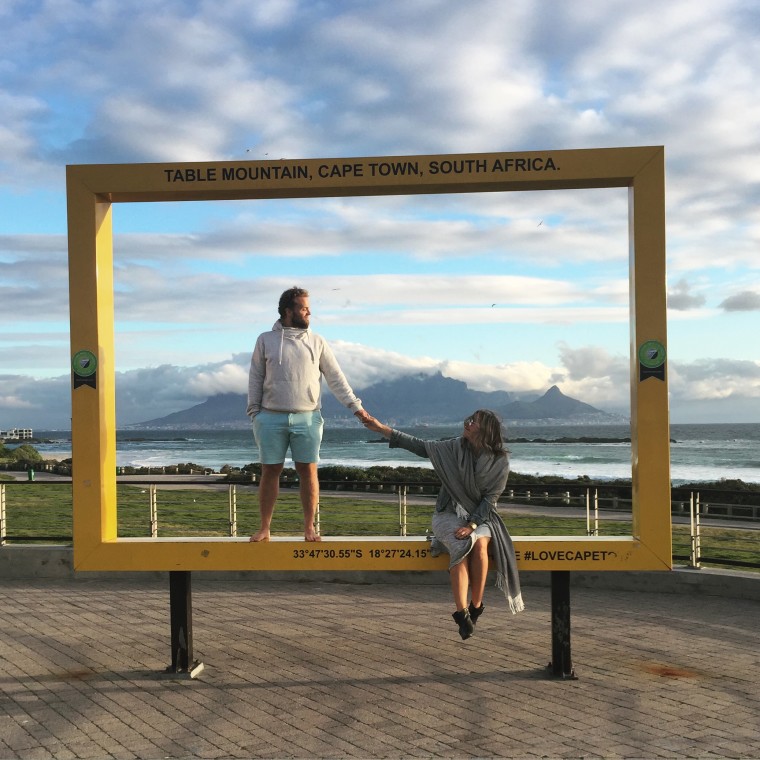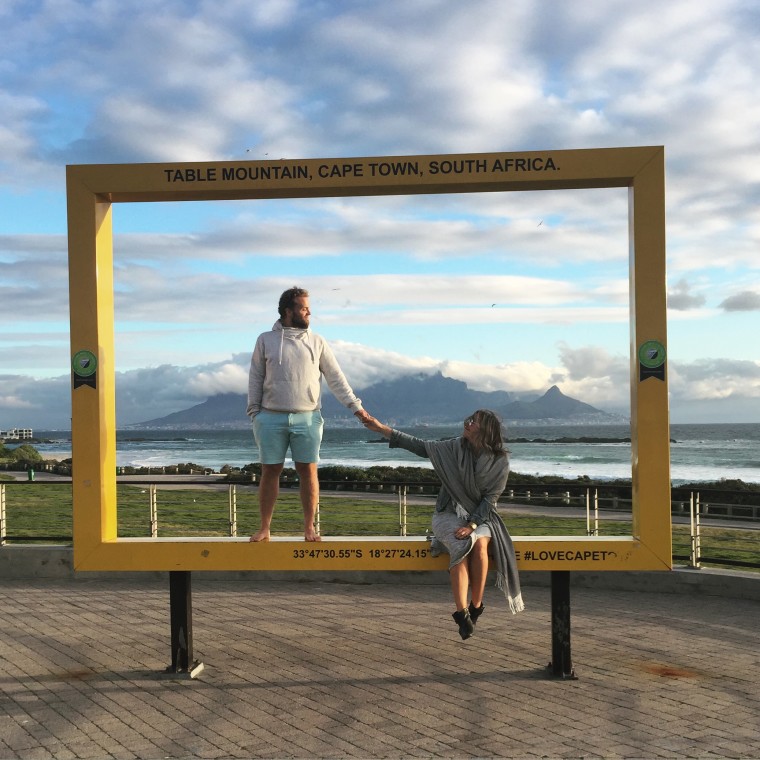 So you want to know what to eat, where to sleep, and what to do when you head to Cape Town?
Well, you're in luck because we've been there, and we've got you covered.
Each section is broken down into one of three specific areas – Cape Town (the city), Wine Country, and the Garden Route.
All prices based on a conversion rate of 13 rands to $1 USD, which was rate when we went in October 2015.
Eat (and drink)
Cape Town
Truth Coffee in District 6 – This is their flagship location and it is incredible!  Awesome building, awesome people, great coffee – Heth's fave in all of Cape Town – and great food with big portions.  BLT with honey drizzle and brie or huge chicken burger for 90 rands ($7) each…pick either, you can't go wrong!
Devil's Peak Taproom – Devil's Peak is THE BEST craft beer in Cape Town, hands down, and the only place that you can get all their different beers is at their Taproom.  Couple that with a great vibe, cool staff and cheap and delicious food and you've got my favorite hangout in Cape Town.  As a bonus, on Tuesday's from 5-6:30 pm you can get a burger and a beer for 50R ($4), plus live music…get here!
Quay Four – Avoid at all costs.  The food here is awful and overpriced.  Lots of other good options at the V&A Waterfront.  Like…
The Food Market at the Waterfront – A great place with tons of food options.  This should be your go-to place for cheap, interesting food on the waterfront.  Closes at 6 pm though.  Some of our favorites:
Tunisian place – Run by Dino from Buffalo, has great paninis at 50 rands ($4).
Flatbread place – Both chicken (60R $4.5) and veggie (50R $4) flatbread pizzas are excellent.  Fresh, light, and good!
Wrap place in the back corner – 40R ($3) for a big veggie wrap with balsamic and avocado.  Yum!
The Creamery – 28R ($2) for one scoop but that's enough.  Ask them to "split scoop" and get 2 flavors.  Good stuff, especially the peanut butter ice cream.
Beluga – One of Cape Town's most popular "upscale" restaurants with a cozy atmosphere that is cheap enough that you can afford to spoil yourself.  Opt for the set menus – 2 course lunch for 140R ($10.50), 3 course dinner for 190R ($14.50) – which are incredible value.  Beef ribs with creme fresh mente and calamari with lemon sauce were good but do yourself a favor and get the springbok cooked medium rare – wow – it was perfect! For fine dining at a good price, this is the spot!
Arnold's – A Cape Town institution on Kloof Street.  They have breakfast all day – something we didn't know – and that's what everyone raves about.  Good service and the funky chicken salad (70R $5) was good but try the breakfast.
Beleza – Cool building on the corner of a neat neighborhood in the Gardens.  They have Origin coffee – Heth's second favorite – and really nice staff.  Portuguese/Italian cafe with neat breakfast brunch dishes like bacon and banana pancakes (45R $3.50).
Eastern Food Bazaar – Suuuuper cheap food court and a neat, local experience.  Huge falafel plate for 25R ($2) and curries for 4oR ($3).  Curries are decent, the falafel and hummus are very good.
Beerhouse – Smack dab in the middle of the "bar scene", Beerhouse specializes in highlighting local craft beers and has 99 bottled beers and 20+ on tap, so you'll be able to sample a ton of different ones.  Just don't go on Harry Potter trivia night (unless, of course, you're into that kind of thing).
Sawadee Thai Restaurant – Decent Thai restaurant in the Gardens.  Pad thai (55R $4) was the best dish, while the curries (60R $4.50) were just ok.
Addis In Cape – Authentic Ethiopian restaurant with a cool atmosphere and a great place to go with a group.  Their 99R ($7.50) full set lunch special is plenty for one person and allows you to try it all.
Hout Bay Market – Open Friday, Saturday, and Sunday and worth the drive, especially if you don't get to the Old Biscuit Mill Saturday market.  Head to the pizza place on the left as soon as you enter the food court area.  The roast veggie and feta pizza (80R $6) is big and delicious!
Wine Country (Stellenbosch/Somerset West)
The Thirsty Scarecrow – On the grounds of a strawberry farm with some eclectic decorations, this is a really cool spot with tons of craft beer.  And, here's the best part:  they have their very own strawberry beer, which is super sweet but oh so delicious!  4 tasters for 40R ($3) and bottles run 28-50R ($2-4).  Food is good "pub grub" style stuff.  The nachos and rooster salad (both 78R $6) are favorites.  Check this place out!
The Farmer's Kitchen –  Connected to the Thirsty Scarecrow, this place is open for breakfast and lunch (whereas Thirsty Scarecrow is only open for dinner/late night) and is divine!  Salads, like the butternut and feta (68R $5), gourmet pizzas (88R $6.50) and incredible desserts, including a killer carrot cake mean you have to stop here once…or twice…or three times.  Plus, you can wash it all down with the Thirsty Scarecrow strawberry beer!
Annandale Winery – The BEST winery in South Africa.  Why?  Awesome reds, an unpretentious attitude, a rustic setting, and they even have their own braai (bbq) going every day so you can bring your own meat and grill it.  Plus, it's owned by a former Springbok player.  This is unlike any other winery you'll visit…and they're proud of it!
Jordan Winery – The wine is good, the food is good (albeit a touch overpriced) but the real selling point is the setting.  This is the prettiest winery we visited, which is saying something.  On a nice day, head here, sit outside and take it all in.
Lovane Boutique Winery – The smallest winery, they have a neat downstairs tasting room and friendly staff.  Wine is decent.  Since it's near Jordan, you might as well try it out.
Delheim Winery – They have a wine and cupcake pairing.  What else needs to be said?  Just make sure to call ahead and book it, as they need advanced notice.
Garden Route
Salinas – Awesome beachside restaurant in Wilderness, which is the perfect place for a pit stop while driving the Garden Route.  Incredible calamari – some of the best I've ever had – which is even better if you get the "Trav special", which is half grilled and half fried (80R $6).  Awesome service, awesome food, and awesome views will make you want to stop on the way out and the way back.
The Table – Great restaurant in Plettenberg Bay ("Plett" to locals).  The butternut goat cheese pizza (75R $5.50) is good and Heather loved her prosciutto, fig, and rocket (110R $8.25).  But the winner was the chicken avocado feta (99R $7.50), which was to die for.  Plus it's a really fun place to sit outside at their large wooden picnic tables and chat up the people around you.
The Fat Fish – Another fabulous restaurant in Plett with killer seafood.  The fried calamari was, like Salinas, some of the best I've ever had.  And the tempura shrimp, avocado, and caramelized pineapple salad, while a touch pricey (110R $8.25) was delicious.  It gets packed – for good reason – so make reservations if you are there in the high season.  You won't regret it!
Sleep
Cape Town
Park Inn Foreshore – Decent hotel that's pretty affordable (around $60/night), especially since breakfast is included.  Located in the CBD without much going on, but you can easily walk to the V&A waterfront.  We used our Club Carlson points to book.  Secure parking for 50R ($4) per night.
Radisson Blu Waterfront – A 5-star hotel on, you guessed it, the waterfront.  Pretty pricey ($200+), but might be worth spoiling yourself if you can score an ocean view room or if you use your Club Carlson points. They have a cool deck and pier, which has fantastic views of the stadium and Table Mountain.  Within walking distance of V&A Waterfront, but not much else.  It also has free parking out front if you don't want to pay 100R a night.
AirBnB – There are TONS of AirBnB properties in Cape Town and the surrounding areas, fitting all types of budgets.  Many are cheaper or the same price as a hotel and nicer.  We spent 4 nights at an AirBnB property and I'd highly recommend looking at apartments over hotels if you're staying for two or more days, as there are some really neat options.
If you aren't an AirBnB member yet, use this link to sign up and get $20 credit.
Wine Country (Stellenbosch/Somerset West)
Vredenburg Manor House – I can't say enough good things about Vredenburg.  It was, truly, one of the best places we've ever stayed.  Leon and Luke, the managers, are some of the nicest, best hosts we've ever come upon on our travels and did everything to make our stay special.  The free breakfast is incredible – ask for the cinnamon pancakes with banana caramel sauce!
And the property itself is beautiful, with 7 rooms set on an old Dutch estate.  If you want to stay in wine country (and you should) look no further than Vredenburg.  Just make sure to book early, as it gets packed.  And be sure to tell Leon and Luke that Trav and Heather from EPoP sent you!
Garden Route
Robberg Beach House – Great location right on Robberg Beach in Plettenberg Bay, this place can get a bit expensive but if you may be able to get it half off by booking through hotels.com (like we did).  Cute place, nice staff, decent free breakfast, and you can sometimes spot whales from the deck.  Good spot in Plett, especially if you want to be right on the beach.
Do
Cape Town
Hike Table Mountain – It's not easy, but it is an amazing experience and you can then always say "yeah I climbed that" when you see a picture of Table Mountain.  Hike up via Platteklip Gorge route, which takes about 2:30 hours.  Definitely take snacks, water, and sunscreen and wear good shoes.  If you're tired at the top, treat yourself to a cable car ride down like we did.
Hike Lion's Head – If you want an easier hike, go up to Lion's Head instead of Table Mountain.  It's more of a "walk" than climbing, although it does get steep at the end.  Both have incredible views.
Drive to the Cape of Good Hope – The Cape of Good Hope park is cool, but the drive alone is worth it.  Leave yourself 4 hours to see the park, at least, as there are tons more than just the Cape (yeah, we didn't know that either).  Drive down the west side on the way there through Clifton, Camp's Bay, Hout Bay, etc and then come back up the east side through Simon's Town, Kalk Bay, and Boulder's Beach (or vice versa).
Speaking of Boulder's Beach…
Hang out with Penguins at Boulder's Beach – The easiest place in the world to see penguins, this is worth stopping for an hour or two.  If you're lucky, they'll come on to the one swimming beach so you can get real close.
Old Biscuit Mill Saturday Market – The Saturday market at Old Biscuit Mill is crazy…crazy awesome!  Tons of local artisans, and more food stands than you can count.  Plus, it's all housed on the grounds of, yep, an old biscuit mill, which is totally hipster and totally cool.  If you're in Cape Town on a Saturday, go and eat!
Take a helicopter ride over Cape Town – In case you haven't heard, Cape Town has some pretty stunning scenery.  And the best way to see it all is from above.  Take the 20-minute ride (instead of the 15) so that you can go behind Table Mountain and make sure to barter them down on the price.  We got three people for 20 minutes for 2800R ($210) total.
Take a boat cruise – After taking to the air, hop on a boat and cruise around the harbor.  You can do it during the day, which is about 130R ($10) or for sunset, which is 220R ($18).
V&A Waterfront – The hub of tourist activity in Cape Town, it's a great place to just wander around, grab some food (at the aforementioned food market) and shop.  It's here that you can get helicopter rides and boat cruises.
Drive-up Signal Hill – This is a really great place to go for sunset and for more great views.  If you go during the day, it's also a cool spot to picnic, and since you can drive all the way to the top, you don't have to worry about getting any exercise!
Visit Kirstenbosch Gardens – Right on the doorstep of Table Mountain, these gardens are great even if you aren't a flower lover and makes a great picnic spot.
Drive out to Milnerton/Big Bay – If you have a rental car, driving out to the Table Bay area is easy and gives you a great vantage point, and photo op, of downtown Cape Town.  Milnerton also has a really nice beach, and Blouberg has tons of windsurfing.
Go to Truth Coffee in District Six and Devil's Peak Taproom in Salt River – Yeah, we already mentioned this in the "eat" section, but here's your reminder:  If you love coffee, head to the Truth Coffee shop in District Six and if you like beer, head to the Devil's Peak Taproom.  If you don't love coffee or beer, they both serve excellent food and are fun environments, so go anyway.
Wine Country (Stellenbosch/Somerset West)
Go wine tasting – DUH!  If you have limited time, you can take a day trip, but we recommend coming out and staying a few nights (and staying at Vredenburg Manor – see above).  There are hundreds of wineries to pick from, but make sure you get to Annandale Winery.  For other wineries we recommend, scroll up to the "eat" section above.
Wander around Stellenbosch – The town of Stellenbosch has an incredibly quaint, cute downtown, with cobblestoned streets and the airy vibe of a college town.  It's worth stopping in to grab a meal or just walk around.
Garden Route
Whalewatch in Hermanus – While not technically on the Garden Route, if you are driving out there, take the detour to Hermanus.  It's not only the prettiest part, but Hermanus itself is a cool town with great whale watching.  We spotted a whale right on the coast within one minute (literally!) of parking our car.
Stop in Knysna – There are a bunch of small seaside towns on the Garden Route, but Knysna is the nicest.  Stop to grab a bite to eat or just wander around and stretch your legs.  If you want to break up your journey, you can even stay overnight here, as they have a good selection of restaurants and bars.
Spend a day or two in Plettenberg Bay – The "official/unofficial" end of the Garden Route, Plett is a great destination in its own right.  Known as the local's favorite beach vacation spot, there's plenty of good food and things to do, including the world's highest bungee jump.
Hike Robberg Trail in Plett – If you only do one thing in Plett, hike the Robberg Trail.  The whole hike will take you five hours, but it's fabulous.  You'll be walking on cliffs, 100 feet above the water, and see seal colonies, whales, and maybe even great whites.
Have you been to Cape Town?  If so, what are your favorite places to eat?  What activities are "can't miss"?  Let us know in the comments below?