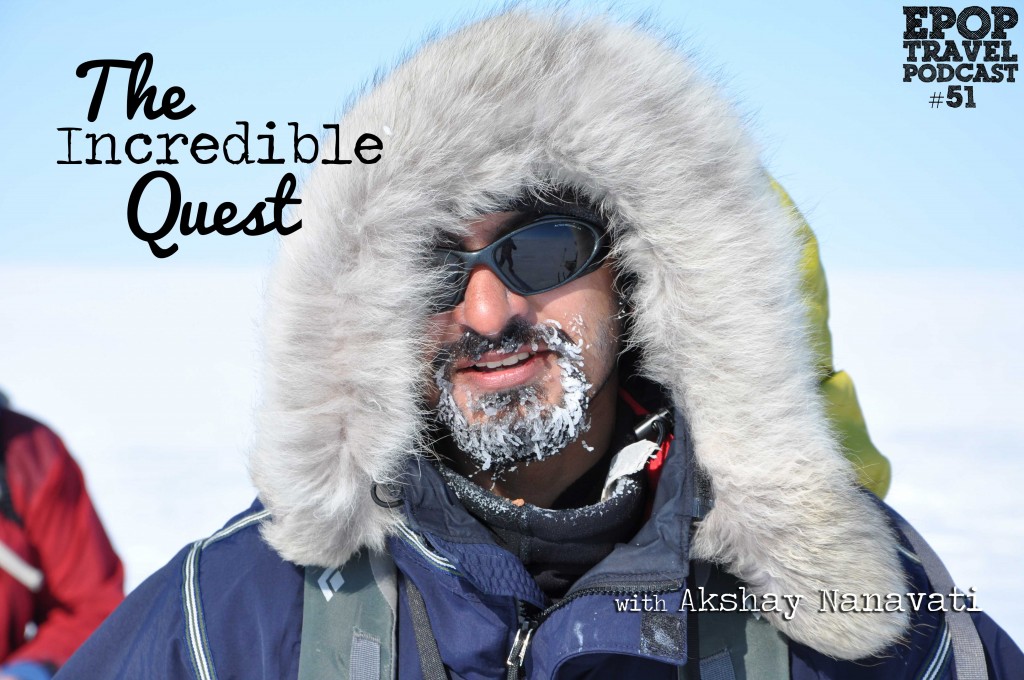 The other side of fear leads us to the most exciting and memorable moments in our lives.
After hearing Akshay Nanavati speak onstage at the World Domination Summit 2014 for just a couple of minutes, I knew I had to find a way to get him on the podcast.
Luckily enough I ran into him shortly afterward in the men's restroom, and despite the unorthodox location of the request, he agreed to come on as a guest.
This week Akshay joins us to continue our theme of adventure in travel by sharing his awesome lifelong quest.
It's one of the most amazing ones I've ever heard in my life, and so crazy that you'll just have to listen to find out what it is!
We discuss how fear affects our travels, the logistics of his great adventure, the parts that seem the most exciting, and of course those that are the scariest.
We also talk about how Akshay deals with people who hate on his quest and the benefits of traveling with local companies and how it can save you a ton of money!
What's one terrifying thing you've done that leads to a great experience or memory?
Right-click to download this episode directly
Check out the entire library of EPoP Travel Podcasts on iTunes
In This Episode:
What his lifelong adventure is and what's so appealing about it.
How he deals with the hate he receives from other people when they hear about his quest.
The three values of his great adventure.
The logistical necessary behind the actual doing of the quest.
The countries he finds scary & the ones he's the most excited about.
How adversity creates camaraderie and an invitation to join him on his journey.
Why traveling with local companies can be so much cheaper and so much more interesting.
and much more!
Links Discussed in This Episode:
I Need Your Help
Click "Tweet This" below to thank Leon for joining us and sharing his adventures:
Thanks @existing2living for coming on the @PackofPeanuts podcast and sharing his incredible adventure #travel quest. http://bit.ly/1pCej7v
Tweet This!
Help Us Catch Tim Ferriss on iTunes!
We just hit our original goal of 100 reviews on iTunes, which means we are the top-rated travel podcast (and which means I'm giving out $100)!
Now, we're gunning to catch Tim Ferris's new podcast and I have a surprise in store if we do. Help out and leave a review on iTunes:
Click this link: Leave a review on iTunes
Hit "View in iTunes" on the left-hand side under the picture.
Leave an honest review.
You're awesome!