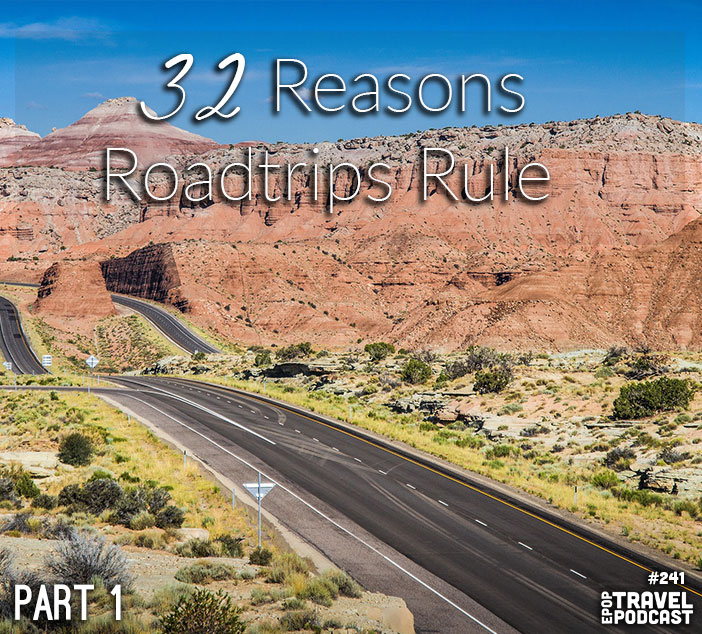 As you may have noticed from the number of podcasts we do about them, we love road trips!
Turns out Jason from Zero to Travel does too, so I've invited him to join me today to discuss 32 reasons why road trips are awesome. From just messing around at rest-stops or pulling doing ridiculous stuff just because you can, to ridiculous road games, we chat about a lot of those little things that you love about being on the open road.
But what about you? What do YOU love about road trips? Tweet Jason at @ZerotoTravel or tag us on Instagram @ExtraPackofPeanuts and share your favorite thing about road-tripping!
Click here to download this episode directly
Today's episode has been sponsored by our friends at Tortuga Backpacks!
Check out the entire library of EPoP Travel Podcasts on iTunes
In This Episode
06:00 Sleeping on a road trip is usually a lot different than any other trip
15:00 Stopping just to stop
19:00 Be anyone you want to be
24:00 The first in!
30:00 Nothing better than having dessert in hand!
32:00 Local foods, breweries, coffee shops, and wineries!
45:00 Windows down? or up?
Want More?
Leave a Review!
iTunes reviews are one of THE most important factors for podcasts. If you enjoy the show please take a second to leave the show a review on iTunes!
Click this link: Leave a review on iTunes
Hit "View in iTunes" on the left-hand side under the picture.
Leave an honest review.
You're awesome!