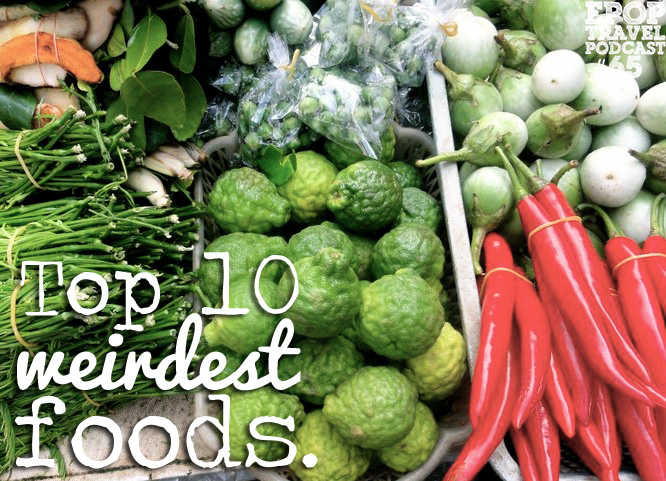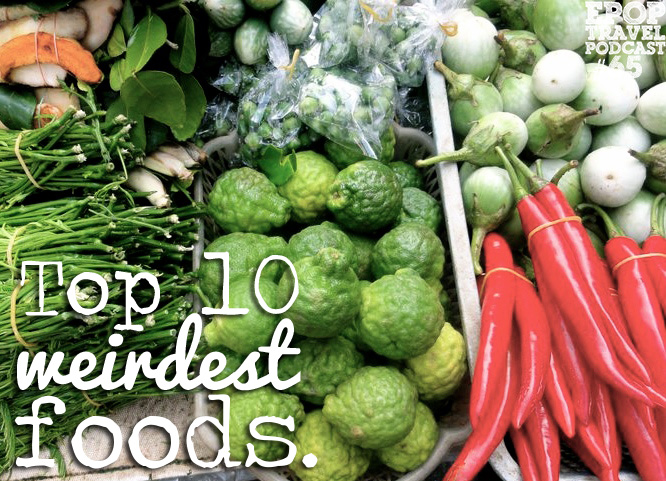 We're halfway through Podcast Gluttony, so what better way to celebrate than to record an episode about food?
Today Jason joins me as we discuss the 10 weirdest foods that we've eaten, both in our travels and strangely enough, in our own homes!
We start off right with some hilarious honorable mentions before jumping into the foods from Cambodia, Norway, Oklahoma, Montenegro, Japan, and more that amount to some of the weirdest (and the most stomach-turning) experiences we've had so far.
No matter where you are, we urge you to go out this week and try something new and weird! Let us know what you find in the comments below, and of course, let us know what the weirdest foods you've ever eaten are.
If I am ever in the place that you mention (and it won't make me deathly ill) then I promise to try whatever you mention in the comments and record my reaction!
Right click to download this episode directly
Check out the entire library of EPoP Travel Podcasts on iTunes
In This Episode:
Can you describe something as tasting "Grassy"?
The food that, when mentioned, will make the Japanese chuckle every time.
How coffee and fish really just don't mesh.
A one-room cottage full of cheese and moonshine.
The unknown aspect of meat while traveling.
How my Dad managed to make me one of the weirdest foods I'd ever had!
and much more!
Links Discussed in This Episode:
I Need Your Help
Find out what weird foods your friends have eaten and share our episode by clicking "Tweet This" below:
The reason people #travel is for the #food. What weird food have you eaten on your journeys? Listen to find out ours!- http://bit.ly/1pgazIu
Help Us Catch Tim Ferriss on iTunes!
We just hit our original goal of 100 reviews on iTunes, which means we are the top-rated travel podcast (and which means I'm giving out $100)!
Now, we're gunning to catch Tim Ferris's new podcast and I have a surprise in store if we do. Help out and leave a review on iTunes:
Click this link: Leave a review on iTunes
Hit "View in iTunes" on the left-hand side under the picture.
Leave an honest review.
You're awesome!