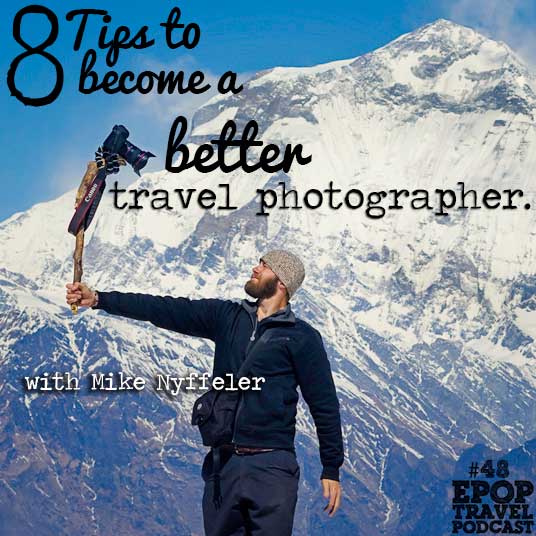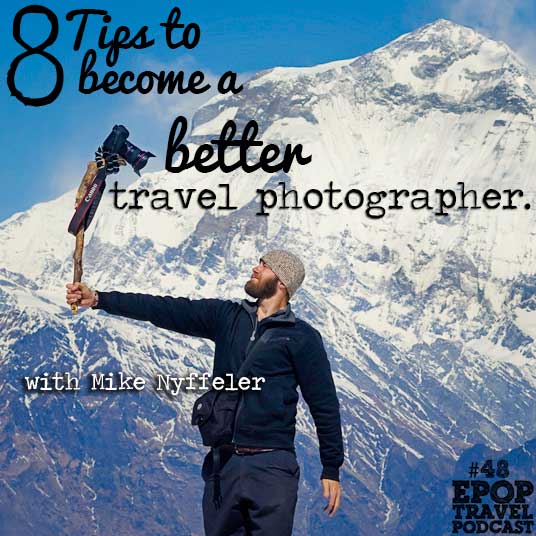 "Take lots of pictures!!"
One of the last things our friends and families say to us as we embark on journeys to exotic destinations.
We all want to come home with National Geographicesq shots, to really capture the beauty of the places we visit, but do we know how?
Today Michael Nyffeler joins us to give us 8 great tips for any travel photographer from newbie to amateur to professional alike. He'll also speak about his experiences as a freelance photographer when the best times to take photos actually are, and share some of his expertise about camera equipment.
No matter how far along you are in your travel photography journey, today's podcast has some tips and tricks to help you improve your skills.

Michael has also graciously agreed to answer all of our questions, so if you have a burning question about photography, equipment, or travel, leave them in the comments below!!
Right-click to download this episode directly
Check out the entire library of EPoP Travel Podcasts on iTunes
In This Episode:
How getting robbed was the beginning of his career as a photographer.
Getting your foot in the door as a freelance photographer & making a name for yourself.
8 great tips for any travel photographer.
The best time of day to take photos.
How Michael gets to some of the cool places he goes to take photos.
The 70/30 rule for a DSLR purchase. It's probably not what you think!
How he spent 2 weeks in a country and didn't spend a dime.
The results of an interrogation at London Heathrow.
and much more!
Links Discussed in This Episode:
I Need Your Help
Click "Tweet This" below to thank Michael for sharing some awesome travel photography tips:
Thanks @MichaelNyffeler for 8 tips to improve our #travel #photography on the @PackofPeanuts podcast –>http://bit.ly/1nxpYTo
Help Us Catch Tim Ferriss on iTunes!
We just hit our original goal of 100 reviews on iTunes, which means we are the top-rated travel podcast (and which means I'm giving out $100)!
Now, we're gunning to catch Tim Ferris's new podcast and I have a surprise in store if we do. Help out and leave a review on iTunes:
Click this link: Leave a review on iTunes
Hit "View in iTunes" on the left-hand side under the picture.
Leave an honest review.
You're awesome!