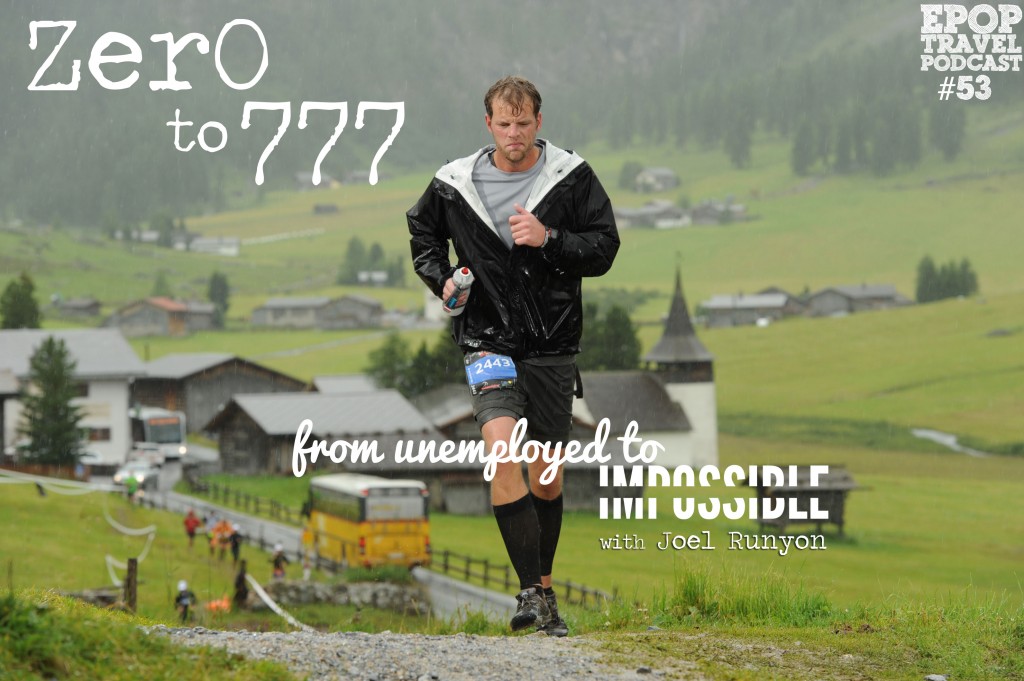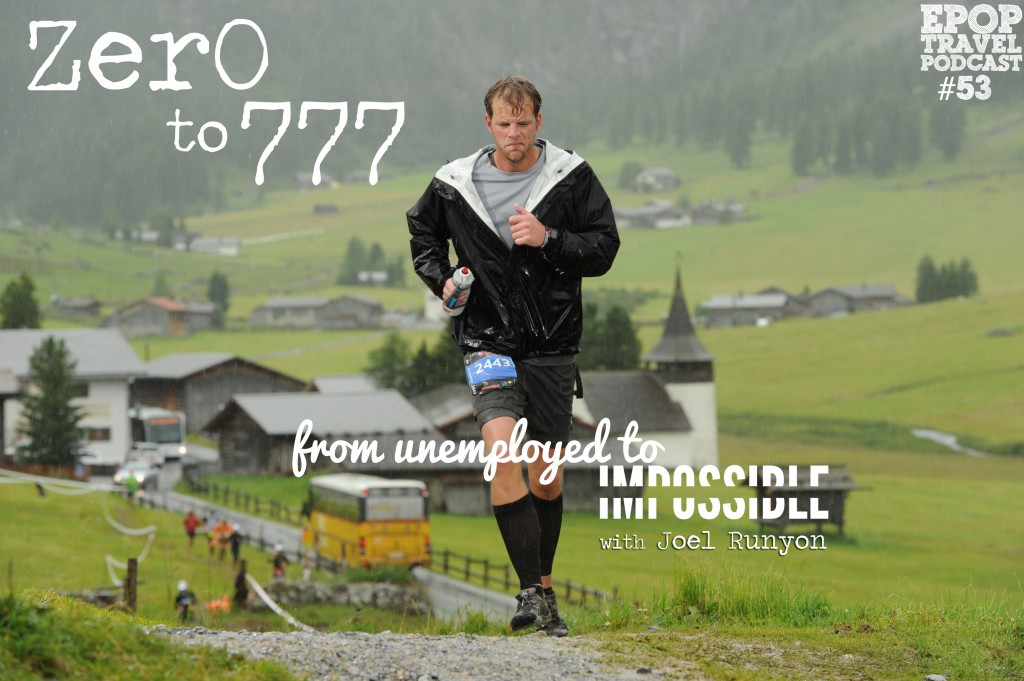 4 ½ years ago, Joel Runyon was in a rut.
He had just graduated from college and couldn't find a job.
Not just a fancy job based on his degree, but any job at all. After exhausting his search on job boards he started applying to Starbucks and Target, with no results.
He couldn't get a job anywhere.
And yet now, he's flourishing.
He runs ImpossibleHQ.com, a site focused around doing the impossible, both in the long term and every single day.
He runs a successful 6 figure consulting business.
He runs…literally, having finished ultramarathons.
He's even spoken at Target's global headquarters!
And today, he's launching his biggest project yet, the 777 project.
We talk about doing the impossible, the 777 project, cold shower therapy, renting your place on AirBnB, and how becoming rich in non-monetary currencies can help you travel more while spending less.
Right-click to download this episode directly
Check out the entire library of EPoP Travel Podcasts on iTunes
In This Episode:
How he couldn't get a job ANYWHERE, even Target.
Some of the "impossible" things he's managed to cross off his list so far.
Getting started with impossible tasks
Why being comfortable is a sneaky poison.
The idea for the 777 project, and how it couldn't be ignored.
Where cold shower therapy came from and why it's such a great idea.(I even did it once for a whole week!)
AirBnb from the other side – renting your place when you go on vacation.
The non-monetary currencies that help you get a lot more, for a lot less.
and much more!
Links Discussed in This Episode:
Don't Forget About the Survey!
This podcast is all about YOU!!
And because of that, I want to make sure that the podcast is everything you want!
The right length, the right topics, the right everything!
So please, click here to fill out a survey about the podcast.
I promise that it'll only take you 5 minutes!
I'll take every single response into account, and…
I'm also giving away a $50 Amazon gift card to one of you lucky folk who fills out the survey, so make sure to enter your name into the drawing and fill out the survey here!
I Need Your Help
Click "Tweet This" below to thank Joel for talking about the impossible with us:
Thanks @JoelRunyon for joining the @PackofPeanuts #travel podcast to tell us nothing is impossible. Not even the 777!  http://bit.ly/1thsrXp
Help Us Catch Tim Ferriss on iTunes!
We just hit our original goal of 100 reviews on iTunes, which means we are the top-rated travel podcast (and which means I'm giving out $100)!
Now, we're gunning to catch Tim Ferris's new podcast and I have a surprise in store if we do. Help out and leave a review on iTunes:
Click this link: Leave a review on iTunes
Hit "View in iTunes" on the left-hand side under the picture.
Leave an honest review.
You're awesome!