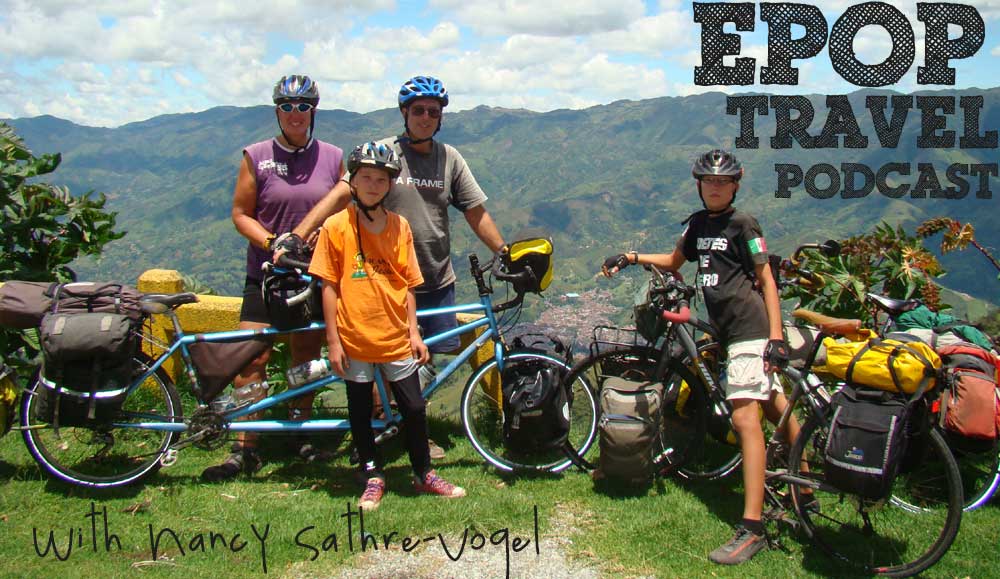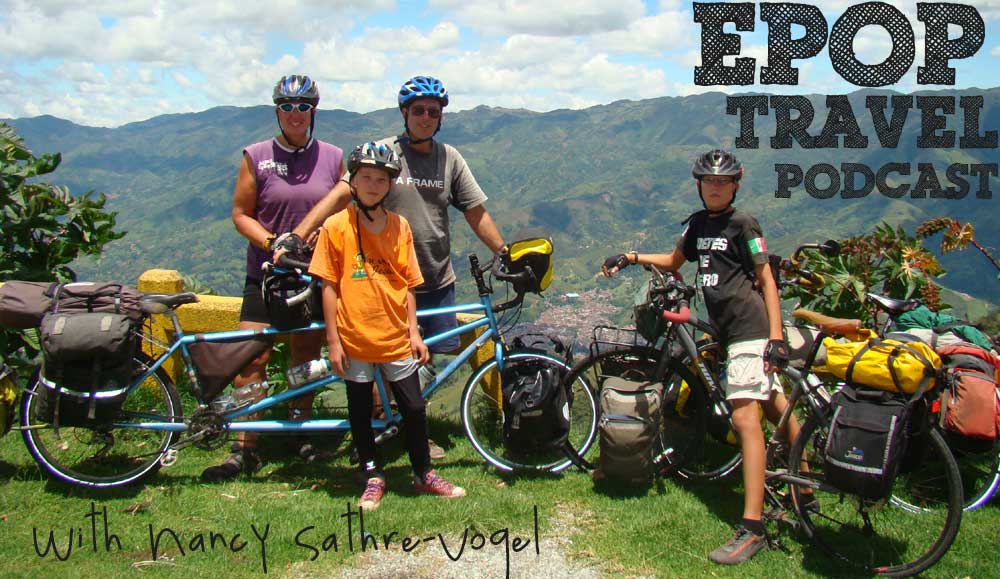 Imagine deciding to take your twin 10-year-old boys on a trip from the very top of Alaska to the southernmost town in the world, Ushuaia in Argentina.
That's a lot of fighting in the backseat, bathroom breaks, and "are we there yet's?".
Now imagine doing that same trip…on bikes!
Nancy Sathre-Vogel never believed in the oft-repeated statement "once you have kids, your travel life is over" and so she and her family set off on an epic bike trip to shatter that fallacy.
3 years and 17,285 miles later, they did just that.
Nancy recounts their amazing trek in great detail and also gives some incredibly practical advice on the intricacies of traveling with a family, including how to know what's right for your specific children.
If you're someone who isn't interested in family travel, don't worry, because Nancy also shares some amazing tips on how to stick to a budget when traveling and also prepare your life back home for a long term expedition.
Whether you're a solo traveler, a couple, or a family, you're going to want to tune in and hear this amazing story and insanely useful advice.
Right-click to download this episode directly
Check out the entire library of EPoP Travel Podcasts on iTunes (and leave a rating)!
Win $100!
I'm giving away $100 once we hit 100 ratings on iTunes.  Come on people, let's do this…the money is burning a hole in my pocket!
Leave a Rating for the Podcast, Win $100! (now fixed so it works).
In This Episode:
The logistics of putting your life on hold and how to push through it.
The two hardest parts of the 3-year journey (the answer will stun you!).
The normalcy of day to day life on the road.
How the wise words of a 12-year-old changed the course of the trip.
The #1 thing you can do for successful family travel.
Tips for building your trip around your budget, not the other way around.
Vulnerability and the only time safety was a concern.
"Jumping back in the box"
And much more!
Links Discussed in This Episode:
I Need Your Help
Nancy and her family's story is truly amazing, and I'm so glad she came on to debunk the myths of family travel.  Show them some love by clicking "Tweet This" below:
@familyonbikes Thanks for shattering #familytravel myths and sharing your #budgettravel tips on the EPoP #Podcast w/@packofpeanuts