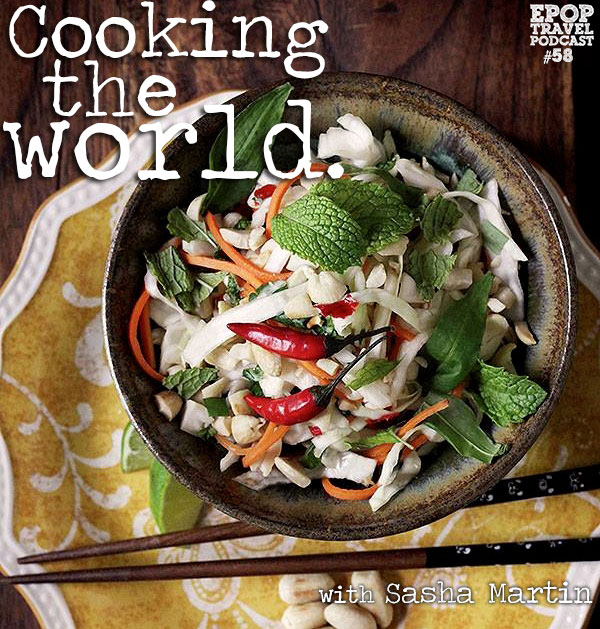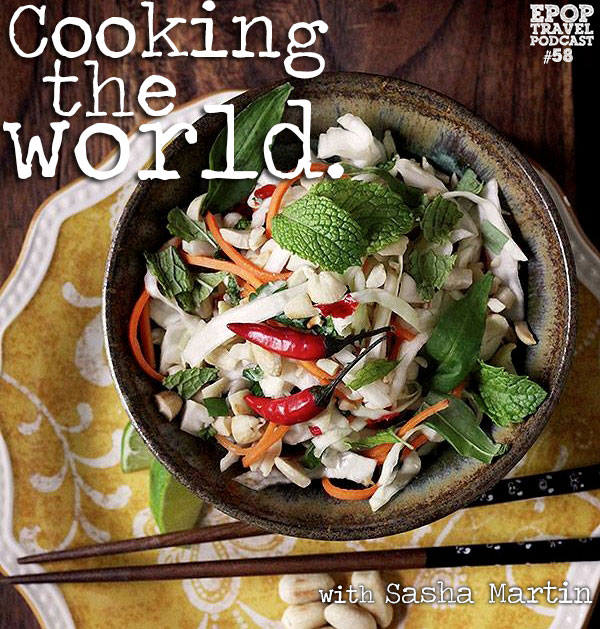 How many countries have you traveled to?
A pretty common question in a group of travelers.
But for Sasha Martin, there is a much better question.
How many countries have you tasted?
Her answer: All of them!

Driven by a need to show her (then 6-month-old) daughter the world in a way that would be meaningful, but without the means to travel, Sasha came up with a different solution.
To cook the world.
Three and a half years later she's finally completed her journey, only to find that it's just the beginning.
Today we'll talk with Sasha about how she came up with the idea to cook the world, why she started the website, and what the plan is now that she's completed the journey.
She shares with us the importance of achievable goals, her favorite countries, and of course some of her delicious recipes!
We even came up with a listener challenge right on the spot called EPoPCooks.
Check out the recipe below to join us in cooking an Argentinian dinner salad and an Irish dessert cake that is sure to make your mouth water (mine was, and she was just talking about it!)
Right click to download this episode directly
Check out the entire library of EPoP Travel Podcasts on iTunes
In This Episode:
Why Sasha started cooking the world.
How it's all about the journey, not the ending.
Why making attainable goals is the key to big dreams.
How Sasha found her recipes.
A great reader challenge that's sure to make your mouth water!
Some of Sasha's kitchen mishaps.
and much more!
Listener Challenge: #EPoPCooks
Join me this week in thanking Sasha for coming on the podcast in an unconventional manner.
Cooking!
Now I'm the first to say that I'm no chef in the kitchen, but Sasha has provided us with two easy to make recipes from her cooking journey and wouldn't it be awesome for us all to share in her adventure?!
Here's what to do:
1. Follow one (or both for extra credit!) recipes below before September 12th.
Recipes:
Pumpkin (or squash) Salad from Argetina
Guinness Cake from Ireland
2.  Take a photo or shoot a video of your creations and get them to us one of four ways:
Post them to the Extra Pack of Peanuts Facebook page
Tweet to @PackofPeanuts and @Global Table, including #EPoPCooks
Post to Instagram, tag @PackofPeanuts and @GlobalTable and use #EPoPCooks
Email trav@extrapackofpeanuts.com and include EPoPCooks in subject line
3.  I'll compile them all and post them to the site!
Links Discussed in This Episode:
I Need Your Help
Click "Tweet This" below to thank Sasha for sharing her journey to cook the world:
Thanks to @GlobalTable for sharing some #recipes on the @packofpeanuts #travel podcast. We even have a listener challenge #EPoPCooks http://bit.ly/Yd59IS
Help Us Catch Tim Ferriss on iTunes!
We just hit our original goal of 100 reviews on iTunes, which means we are the top rated travel podcast (and which means I'm giving out $100)!
Now, we're gunning to catch Tim Ferris's new podcast and I have a surprise in store if we do. Help out and leave a review on iTunes:
Click this link: Leave a review on iTunes
Hit "View in iTunes" on the left-hand side under the picture.
Leave an honest review.
You're awesome!