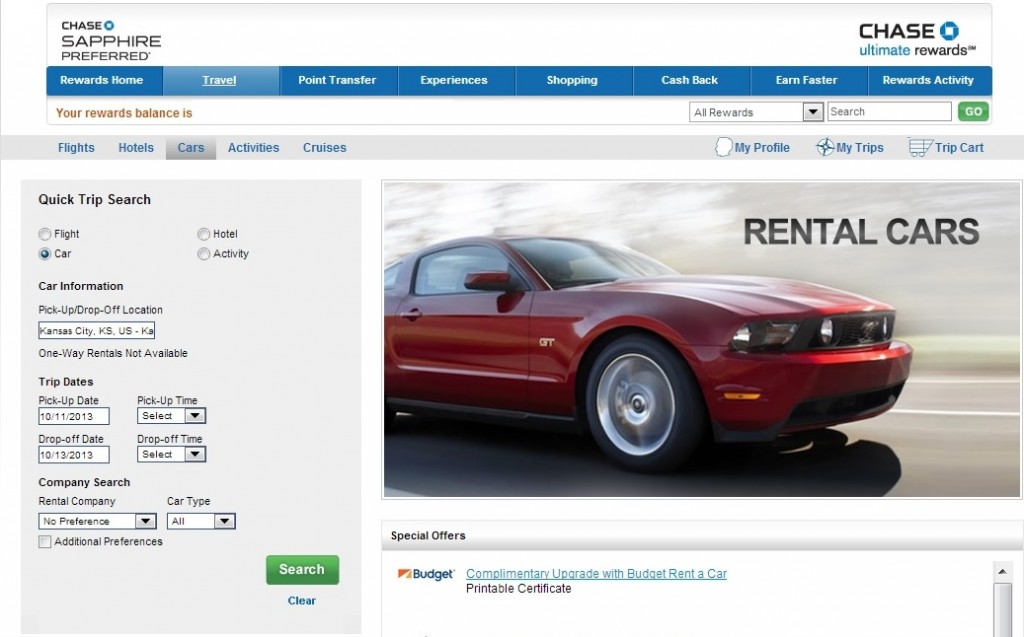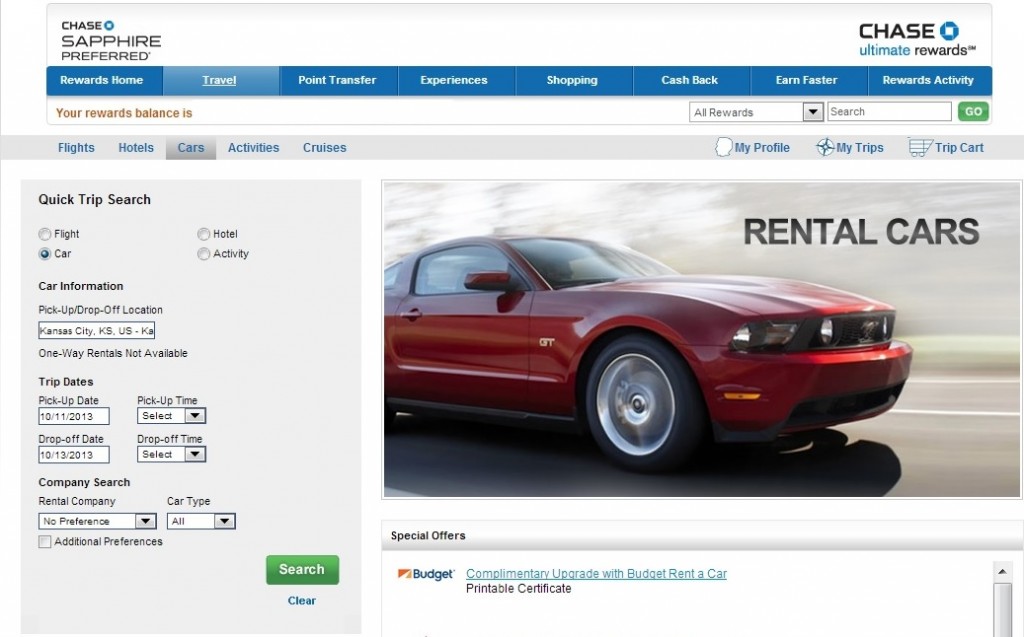 You guys all remember Wayne, right?
He's the guy who wrote the epic "How to Circumnavigate the Globe for Less Than $500" here on EPoP that just got published in the brand new Travel Beyond Excuses Magazine.
Exclusive bonus just for EPoP Readers: Because both Wayne and I were featured in the latest issue, you can get a free 3 month subscription to the magazine. 
Well, now he's back, and he's here to teach you how to use orphaned Chase points to save money on car rentals.
Have at it, Wayne!
_____________________________________________________________________
I consider myself The Practical Traveler. I do what I can to save money while also maximizing convenience and fun.
I have had a few extra expenses as of late which led me to try and save money on a recent trip.
That is when I realized how AMAZING and flexible the Chase Ultimate Rewards system is for travel whether you're booking Flights, Hotels, Cars, Activities, or Cruises.
A few weeks ago I went on a trip to Kansas City for the lovely wedding of a couple friends.
I didn't know anybody there, so I'd have to get a rental car.
Using Points for Getting a Rental Car
Since I was trying to save money, I decided to try to use my points to snag a rental car.
I'm sitting on a stash of Amex and Chase points, so I decided to do a little digging and see which offered the best value.
I bet you can guess which one won out!
Using Amex Points- A Major Hassle
With AMEX MR the booking process is a bit odd as you get an electronic certificate to redeem.
5,000 points will land you a $50 certificate, 7,500 for a $75 certificate and so on.
All point levels are a 1 cent per point value.
Not great.
You are instructed to search for the vehicle you want (Avis, Enterprise, and National are the only three options) and you have to search on the actual rental car site.
Once you find what you are looking for, return to the MR site to buy the proper e-certificate with points, then go back to the rental car site and make your purchase entering in the proper number from the certificate on checkout for your credit.
Sound like a hassle?
That's because it is.
Using Chase UR Points- A Treat
I decided to check out the Chase Ultimate Rewards portal to see what they had to offer and boy, am I glad I did.
First, with Chase UR everything is done through one website.
No searching rental car sites, no certificates.
Second, no rigid point tiers.
You only use the amount of points required for the booking or less if you choose!
The process is simple.
Log into the Chase UR website.
Mouse-over the Travel menu.
Select Flights, Hotels, and Car Rentals from the drop down.
Perform your search for a car.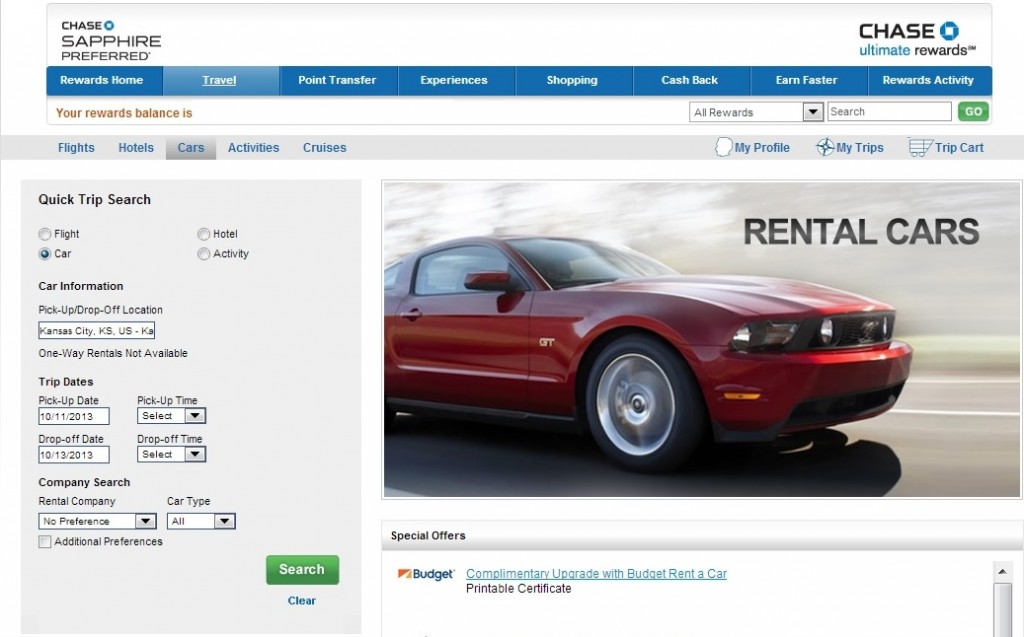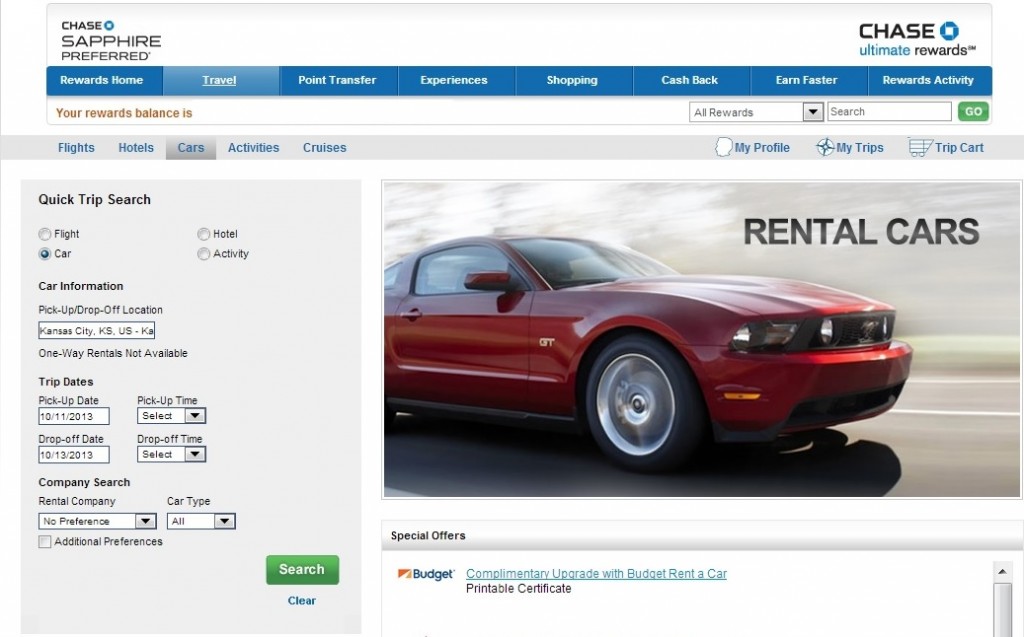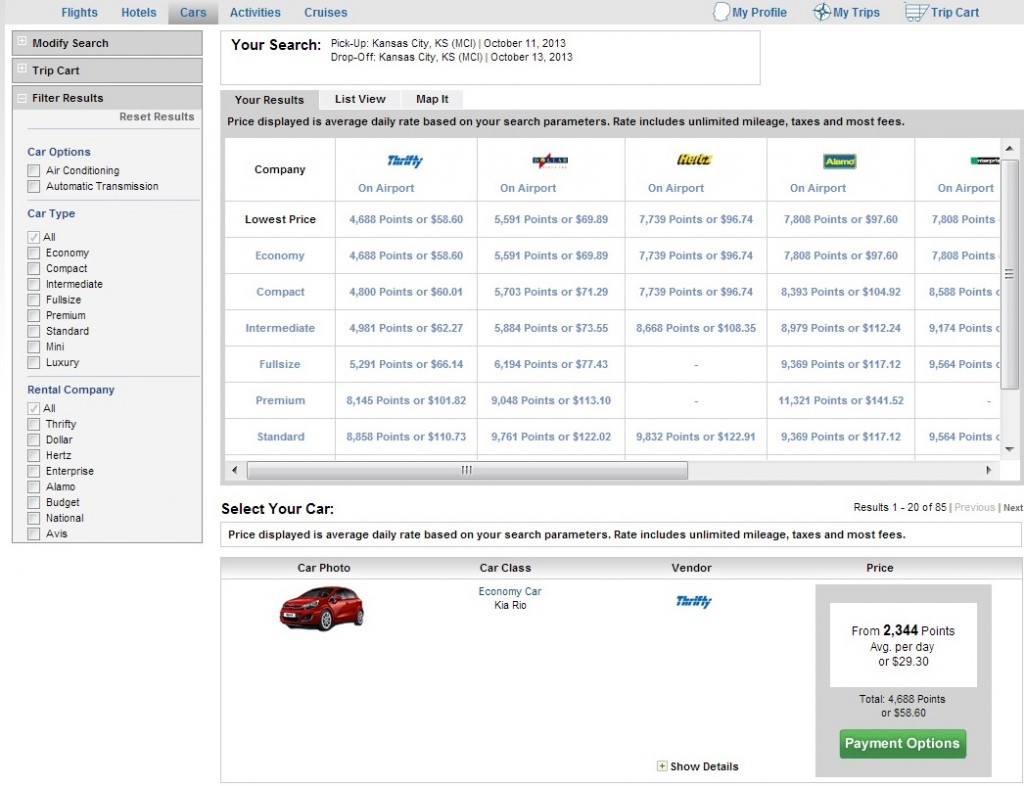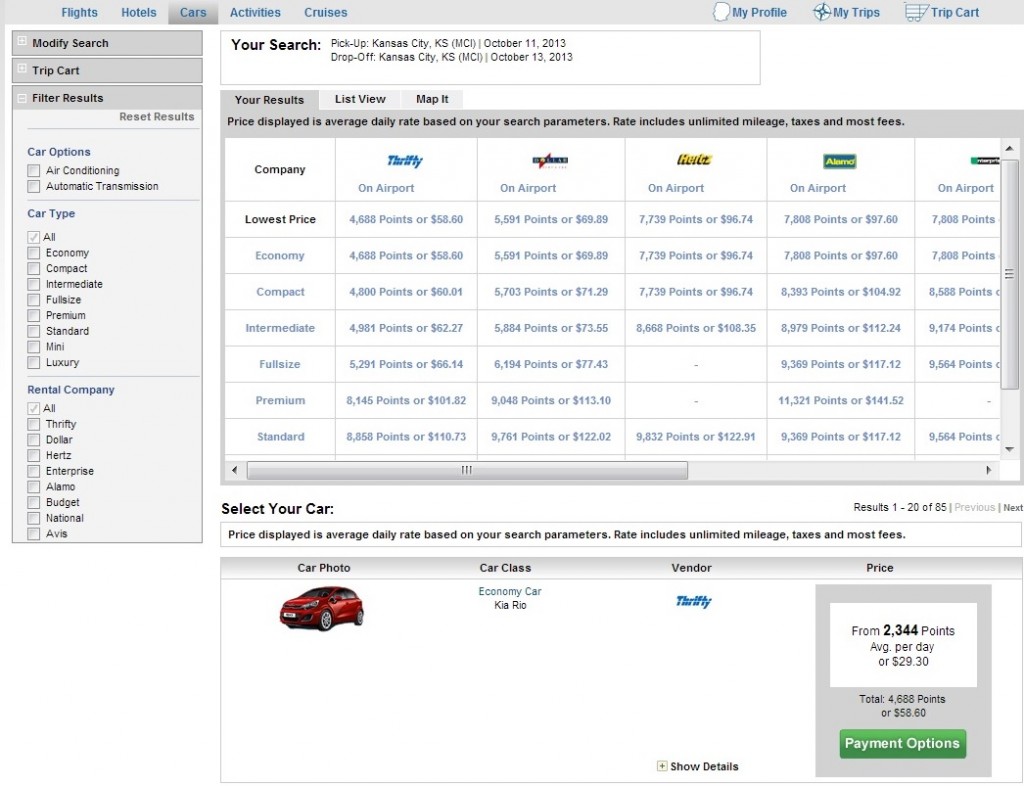 On the Chase UR site you get the ultimate selection. You can choose from Thirfty, Dollar, Hertz, Alamo, Enterprise, Budget, National, and Avis.
As you can see, the information is posted in a nice grid letting you know how many points or how much cash it will cost you for each vehicle tier under each company.
This is where the magic of Chase UR really shines.
When you find the vehicle you would like to rent and select Payment Options you see a new section open.
This section contain your option for car redemption.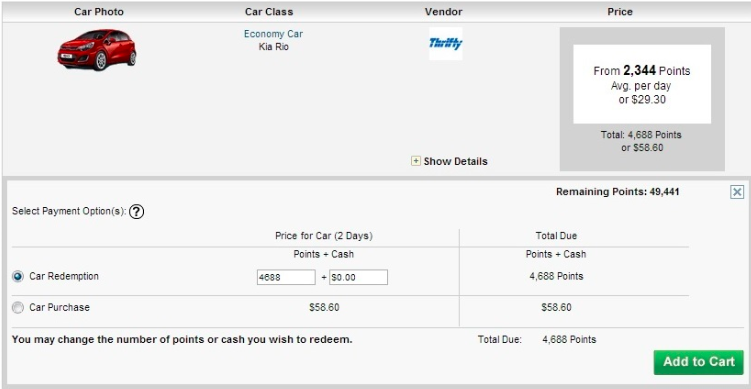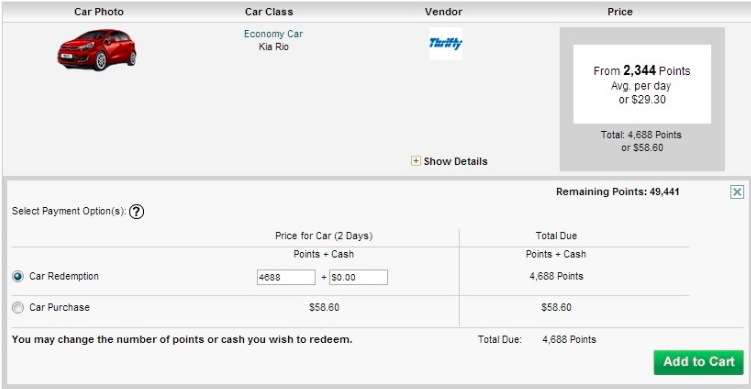 You're given 3 options:
using all points,
all cash
or points + cash!
Start adjusting the amount of points in the left box and the cash in the box on the right automatically adjusts.
The great thing about this is you can use any amount of points between zero and the full amount needed for your purchase!
Any person who has ever joined the points/miles game knows that orphan point totals are common.
"How am I ever going to use 2,374 points?"
If they are Ultimate Rewards points, Chase handles that issue masterfully.
Since you can use any amounts of points you want, you're never left with stray points!
The points are also worth a fixed value of 1.25 cents per point, which 25% more valuable that AMEX MR in this situation.
Once you decide on the points you want to use, simply select Add to Cart and checkout when you're ready.
Just like that, I was able to achieve my two goals:
Use my orphan Chase points.
Save $58 on my car rental.
Bonus: Quick Tip for Getting a Hotel
I also needed to find a hotel in Kansas City, so I checked out a few options for booking hotels with reward points.
In the end I thought they weren't worth the cost in points, so I opted to use Priceline to book the hotel.
If you go the Priceline route, you should definitely use a really helpful site called Bidding Traveler, which will show you the lowest prices that get accepted for cities around the world.

Accepted bids on Priceline can be over 50% off the regular rate, saving you a huge chunk of money.
Final Word(s)
Using your Chase Ultimate Rewards points for a car rental is the ultimate way to save a few bucks, use orphan points and book with the complete ease.
The $58 I saved on a car rental?
I was able to use that money for dining and drinks over the weekend with my friends, which took a lot of strain off my weekend budget.
It was a wedding trip, after all, and weddings are about celebration.
Who wants to spend that kind of trip thinking about expenses?
Have you ever used your Chase UR points for something other than a transfer to a partner?  If so, what did you find to be the best use?
PS- Don't forget to get your free 3 month subscription to Travel Beyond Excuses!