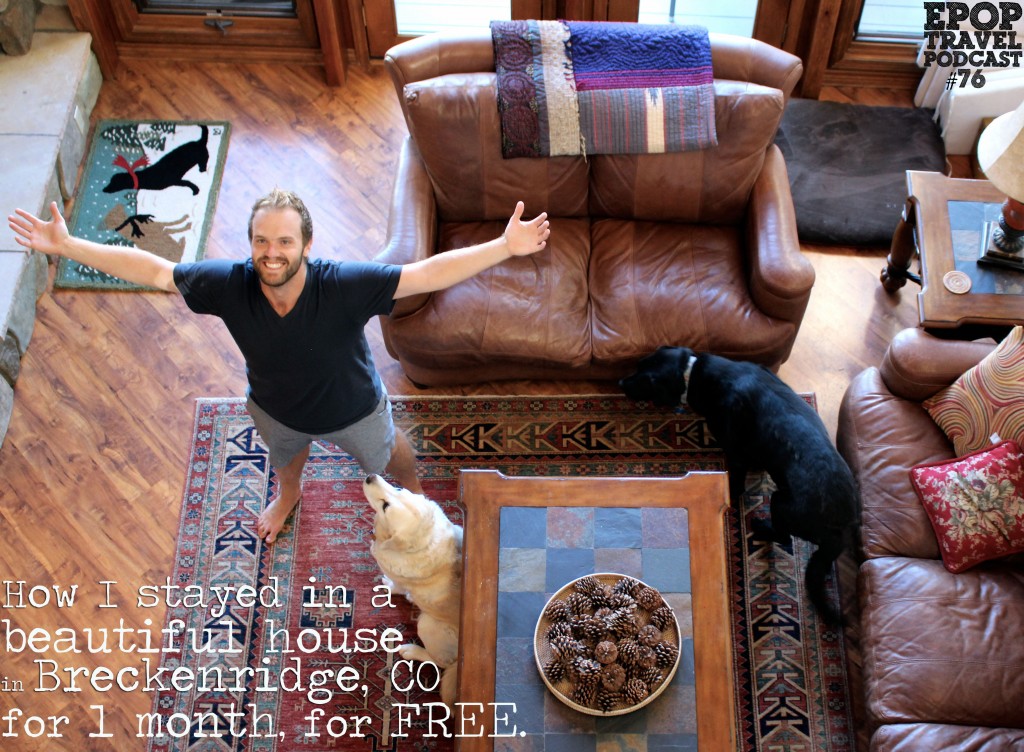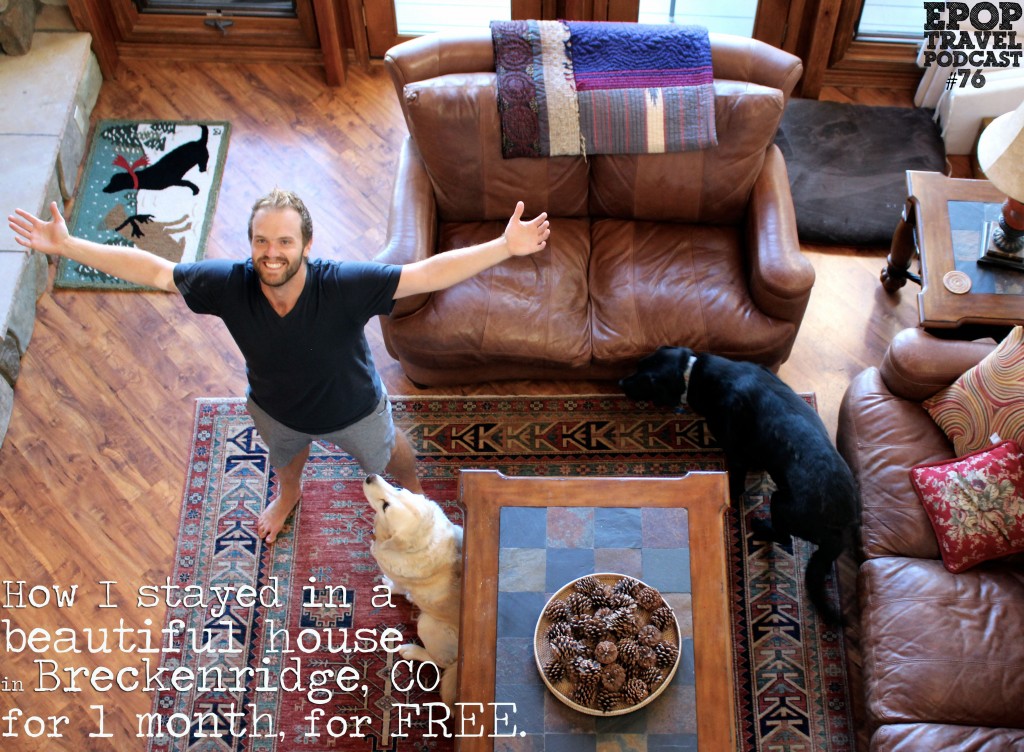 What's better than having all the conveniences of home while you're away?
Getting them for free.
We're all about traveling more while spending less, and getting free accommodations is THE way to spend less. So what is it we did?

Housesitting
An ever-growing community of people who opens their homes to people in exchange for the knowledge that their property and sometimes pets will be well cared for in their absence.
Today Heather joins me as we run through some of the best tips and tricks on how to find your first housesit and once you get it, what to do next.
We had a great time housesitting in beautiful Breckenridge, Colorado and we want you to be able to get your own awesome housesitting gigs all over the world. Let us know where you'll be applying to housesit in the comments below!
Right-click to download this episode directly
Check out the entire library of EPoP Travel Podcasts on iTunes
In This Episode:
The site we use the most when looking for housesitting gigs.
Why a profile picture is imperative
Tips on how to make your profile more awesome.
Discussions to have with the homeowner before you arrive.
A discount code for our EPoP listeners!
and much more!
How to Sign Up for Trusted Housesitters (and 3 months free!)
Here's how to sign up and make sure you get the extra free months:
Click this link to be taken to the Trusted Housesitters website.
Hit "Join Now" in the top right-hand corner.
Click on "Housesitter Membership and Pricing Plans" on the right-hand side.
Scroll to the bottom and enter EPOP where it says "Have a Promotional Code?".
Hit Apply Code.  Scroll back down to bottom and you should see a message that says "Promo code applied" as well as a check mark.
Now, pick your plan.
Enter your info and create your account.
When you get to the confirmation page, you will see that the length of your membership has been extended.  Yeah!
Links Discussed in This Episode:
I Need Your Help
Help spread the word about housesitting. The more people who know about it, the more places there will be to go! Click "Tweet This" below.
Did you know you can stay around the world for free with #housesitting? What better way to #travel more & spend less.→ http://bit.ly/1vrjXhj
Help Us Catch Tim Ferriss on iTunes!
We just hit our original goal of 100 reviews on iTunes, which means we are the top-rated travel podcast (and which means I'm giving out $100)!
Now, we're gunning to catch Tim Ferris's new podcast and I have a surprise in store if we do. Help out and leave a review on iTunes:
Click this link: Leave a review on iTunes
Hit "View in iTunes" on the left-hand side under the picture.
Leave an honest review.
You're awesome!