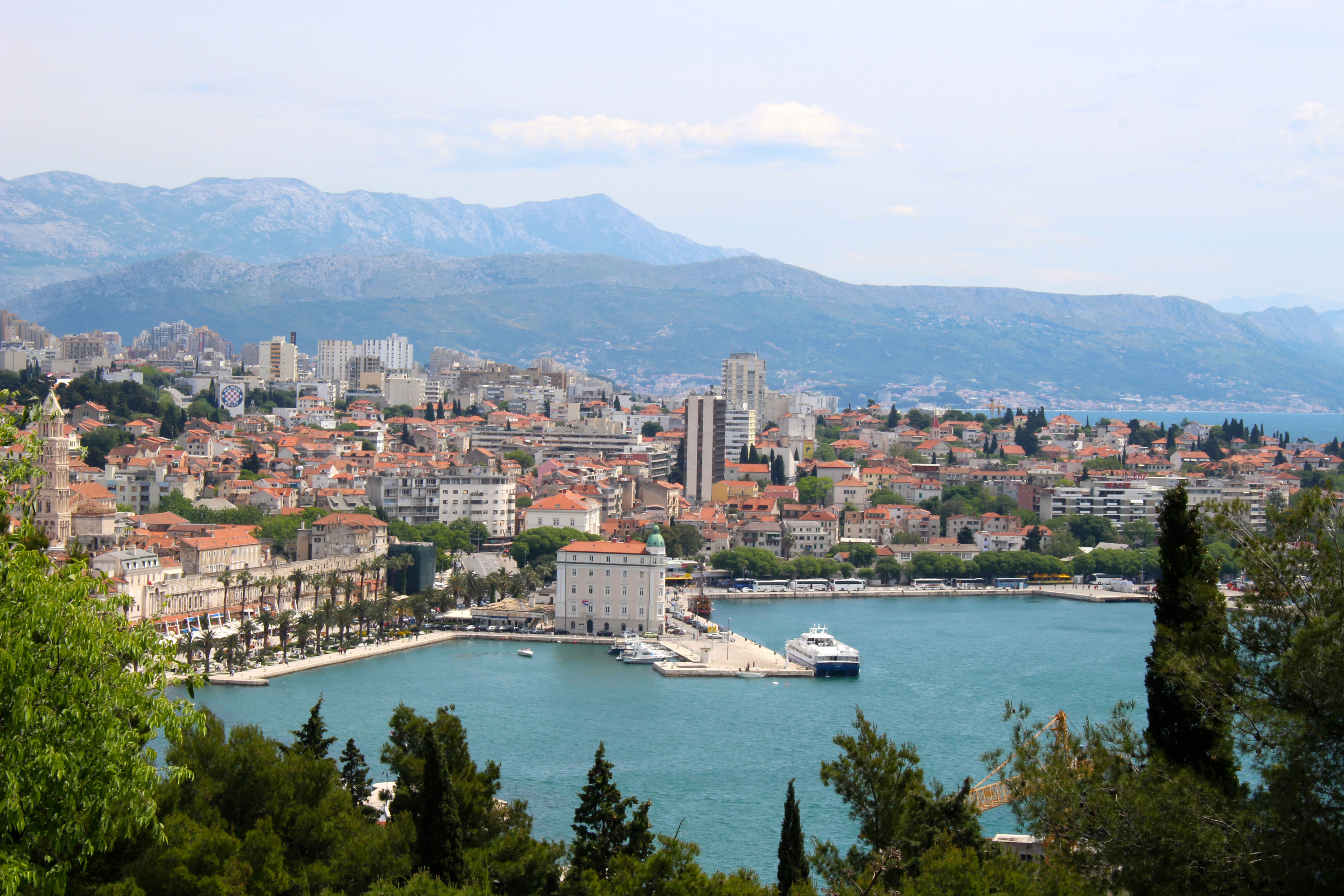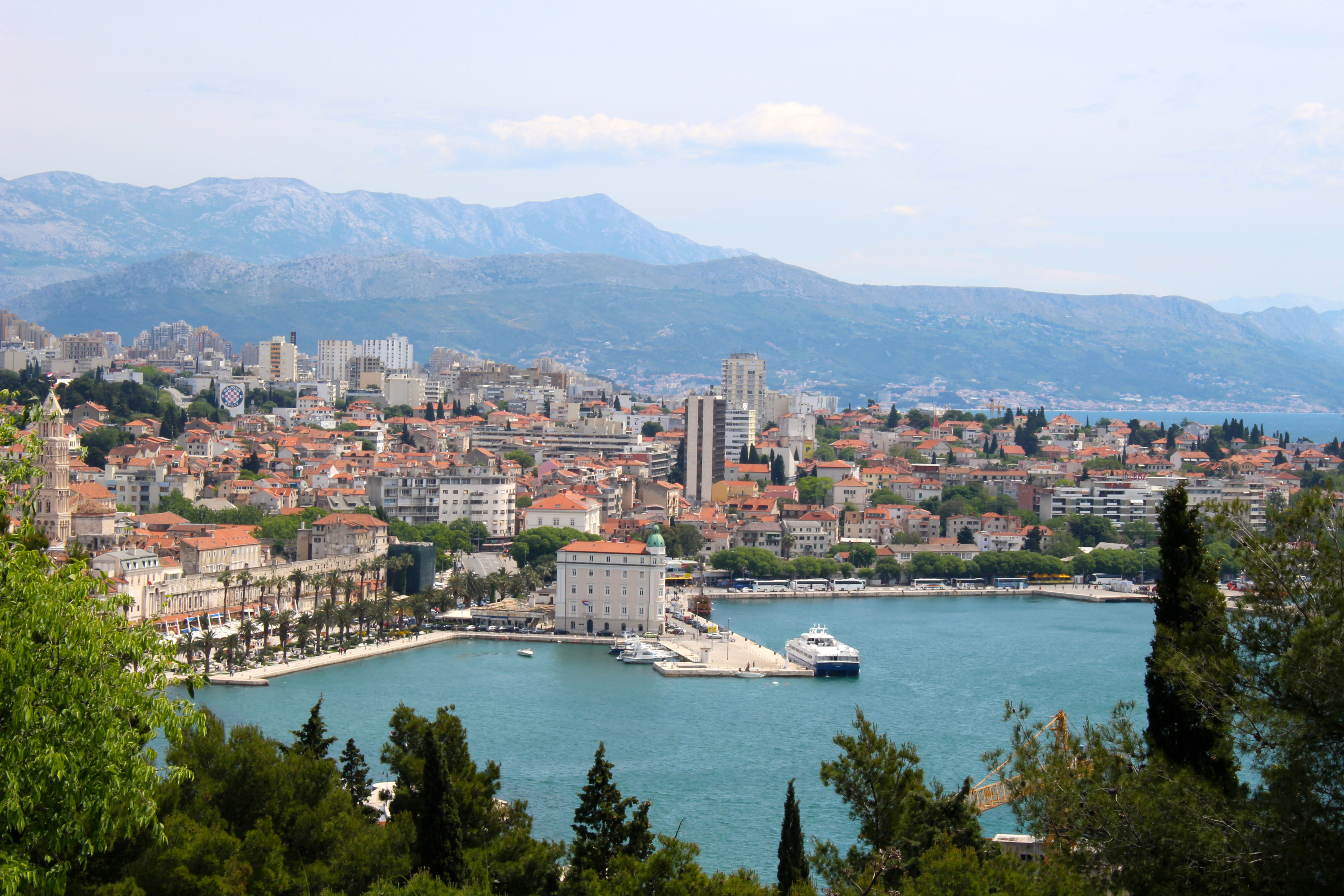 FYI- A standard conversion rate is 6 kuna to a 1 USD.
Eat
Popaj- A Split institution, this little food stand is always busy, serves huge portions, and is open late.  Since it was located directly across from our awesome apartment, we ate there everyday (sometimes more than once).  20kn (about $3) for a huge grilled chicken sandwich, 10kn ($1.75) for a small pizzetta make Popaj's the the best deal in Split.
Buffet Fife- Locals and tourists alike pack this place, and when we asked where to eat in Split, this was recommended each and every time. Cheap bear (13 kuna for .5L) and huge portions of food.  The fried calamari is to die for and costs 55 kn for a massive plate and side order of veggies, which Heather and I shared and were still stuffed.
Konoba Korta- Homemade beers (red, dark, and light) are the calling cards for this restaurant tucked away inside the walls of the Palace. Beers are good, but a touch pricey at 25-30kn ($4-5) for .5L.  The meat plate for two is 240kn ($40) but is absolutely massive and delicious if you're up for some gluttony.
Pumparela (located in Bol)- This restaurant is in Bol, a town located on the island of Brac, which is off the coast of Split.  If you make the day trip to Bol, this is the place to eat.  Beautiful location right on the water and has the best calamari in the world for 95kn ($15), which also comes with great fries.  The squid risotto, at 80 kn ($13) is also fantastic.
Stay
There are plenty of places to stay inside the Palace, but we preferred a location outside of the Palace because it was much quieter and had less tourists coming through.
Natasa's Apartment in Split– (read full review here)- This 2 bedroom, 1 bathroom apartment was perfectly located, a 3 minute walk from Bacvice Beach and only 6 minutes from the Palace (and right across from Popaj's).  We loved Natasa's apartment – it was comfortable, decorated nicely, had great wifi, and best off all, an absolutely amazing hostess.  Natasa went out of her way to make our 3 week stay perfect, and it was.  Highly recommended!
Do
Soak up rays at Bacvice Beach– Crystal clear blue waters and easy accessibility make this the most popular beach in Split, and one o the few with sand.  Swim, sunbathe, and watch locals play picigin, a netless handball game played only around Split (better yet, ask to join in).
Hang out at the beachfront bars and restaurants- The food is only decent at most places along Bacvice, but the beers are fairly cheap and the views are incredible (especially at sunset).
Picnic on the beach– Or, instead of spending extra money on beers and average food, grab some food from Popaj's, some beer from the grocery store across the street, and walk the 3 minutes to Bacvice and have your own picnic.
Wander through Diocletian's Palace- The best preserved Roman palace in the world is incredible to see from the outside while walking along the promenade.  And it's even more fun when you go inside, get lost, and meander through the small alleyways.
Take a day (or three) trip to the islands- One of the best things about Split is that it's the central hub for heading to some of the best Croatian islands.  You can easily go to Brac or Hvar for the day.  We rented a car, took it on the ferry to Brac, and then drove it down to Bol and it's great beach, Zlatni Rat, which was much easier than figuring out the buses.
Drive down the coast- The drive between Split and Dubrovnik is an awesome one.  Make sure to stop in the picturesque town of Mekarska on the way!
Go to a Hajduk Split game…and sit in the fan section- Not for the faint of heart, this was the craziest sporting event I've ever been to.  The Hajduk Split fan club is the oldest in Europe, and they love nothing more than supporting their team through 2 hours of standing, chanting, and setting off fireworks.  It's 40kn ($7) for a ticket, and it's well worth it, even if the actual soccer isn't up to par with the big leagues in Europe.
Climb Marjan Hill- It's not that difficult, and you'll be rewarded with the best views of downtown Split.  If you continue past the cafe, there are churches and buildings from the 14th century further up the hill.
Buy wine off a drunk old lady in the market-  If you don't care about the taste and only the price (like me), grab a 2L bottle of wine which was "crushed by her own bare feet" for about 20 kn ($3).
Miscellaneous Tips
Car Rental- We rented a car from Enterprise and paid roughly $20 a day.  After asking around to multiple car rental agencies, this was the cheapest we found.