[bluebox]To read more about traveling cheap in Italy, check out these posts:
The Top 10 Ways to Save Money in Italy
[/bluebox]
Italy is one of the most popular tourist destinations in the world, and for good reason.
Amazing sites, incredible history, and tremendous food.
And if you know what you're doing, Italy can also be pretty cheap.
Unfortunately, if you aren't prepared, Italy can also lighten your wallet considerably.
Before you go, enlighten yourself with these 10 tips.
You'll not only enjoy your vacation to Italy but also come home with some extra Euros in your pocket…for next time!
1. Book your train tickets ahead of time
The train network in Italy is extensive, fast, and well maintained, which makes traveling by train the best way to see Italy.
It can also be much cheaper if you book early.
Train tickets can be booked up to 120 days in advance, and if you do book early and grab "saver" tickets, they'll be up to 70% less than regular tickets.
For example, a ticket from Venice to Rome can be as cheap as $56, whereas if you book the regular ticket, it'll run you $114.
ItaliaRail and Trenitalia are the two best sites to buy Frecciargento tickets, the original high speed train line in Italy.
There is also a new high speed train competitor, Italotreno, which can be cheaper at times and operates between all the major cities.
For both, you simply purchase your ticket online, get a PNR number, and hop right on the train.
No check in, no ticket, no hassle.  Just tell the train conductor your PNR when they come around and you're all set.
2. Stand, don't sit
Sitting down at a bar or cafe can easily cost twice as much, even for a cup of coffee or a slice of pizza.
When entering a new place, always ask if it costs more to sit at a table ("tavolo").
If so, do like the Italians do and stand at the counter/bar.  You'll pay half the price for the exact same food or drink.
3. Stay in apartments vs. hotels
Hotels in Italy, especially ones in the historic center of cities, can be expensive!
Instead, rent an apartment if you're going to be staying in a place for longer than a day.
Apartments can be half the price, twice as nice, and provide you a chance to stay in really neat neighborhoods downtown.
Plus, each one is quirky and unique, and you are supporting local people and smaller companies.
I highly recommend using GoWithOh, which has 2,800 apartments across 17 European cities, including Milan, Rome, Florence, Venice and Pisa.
4. Use your feet to walk around
The best part of Italian cities is getting lost amidst the alleyways and back streets.
You'll discover all types of incredible views, restaurants, and see the city for what it really is.
The best part: it won't cost you a dime!
So lace up those shoes, grab a free map, and get going.
5. Don't buy water at a restaurant
Buying "acqua" at a restaurant with your meal will usually cost 3-4 euros, about the same as a glass of wine.
Instead, buy a cheap water bottle at a corner store for 0.70€ or at a grocery store for 0.20€.
Even better, bring your own bottle with you and fill it up throughout the day for free at the water fountains located around the cities.
6. Apertivo
Think of Apertivo as an American Happy Hour, simply better!
Restaurants all over Italy will offer a free buffet if you buy a drink, usually between 6pm-9pm.
And these buffets aren't just finger foods, but sometimes all out spreads of different pastas, pizzas, salads, dips, and veggies.
For the price of one drink, usually about 6€, you can eat as much as you want.
And stuffing your face isn't looked down upon, it's actually encouraged!
A few of my favorite apertivos include Freni e Frizioni in Rome and Bhangra Bar in Milan.
7.  Take local, slow trains
If you're short on money and long on time, or if you simply enjoy taking the scenic route, take local trains as opposed to the high speed ones.
A good rule of thumb is that local trains will be about half the price of the cheapest high speed train tickets but will take about twice as long.
Unlike the high speed train, which gives better deals if you book early, local train tickets are always the same price.
So if you want to save some money, have more flexibility, and see Italy at a slower pace, the local train is the way to go.
8.  Book your museum and attraction tickets ahead of time
Technically, this won't save you any money, but it can save you hours and hours of misery.
And time is money, especially when there is so much to see!
Many of the major attractions, such as the Uffizi and Accademia in Florence as well as the Vatican in Rome, allow you to reserve your tickets online ahead of time.
By doing this you can skip the entire line that is waiting to buy tickets, which can be up to 3 hours long at times.
For a few of these, there will be a minimal surcharge ($3-4) but others will be free.
Even if you do pay a few extra dollars, it will most likely be the best money you spend in Italy.
9.  Go to Italy in the off-season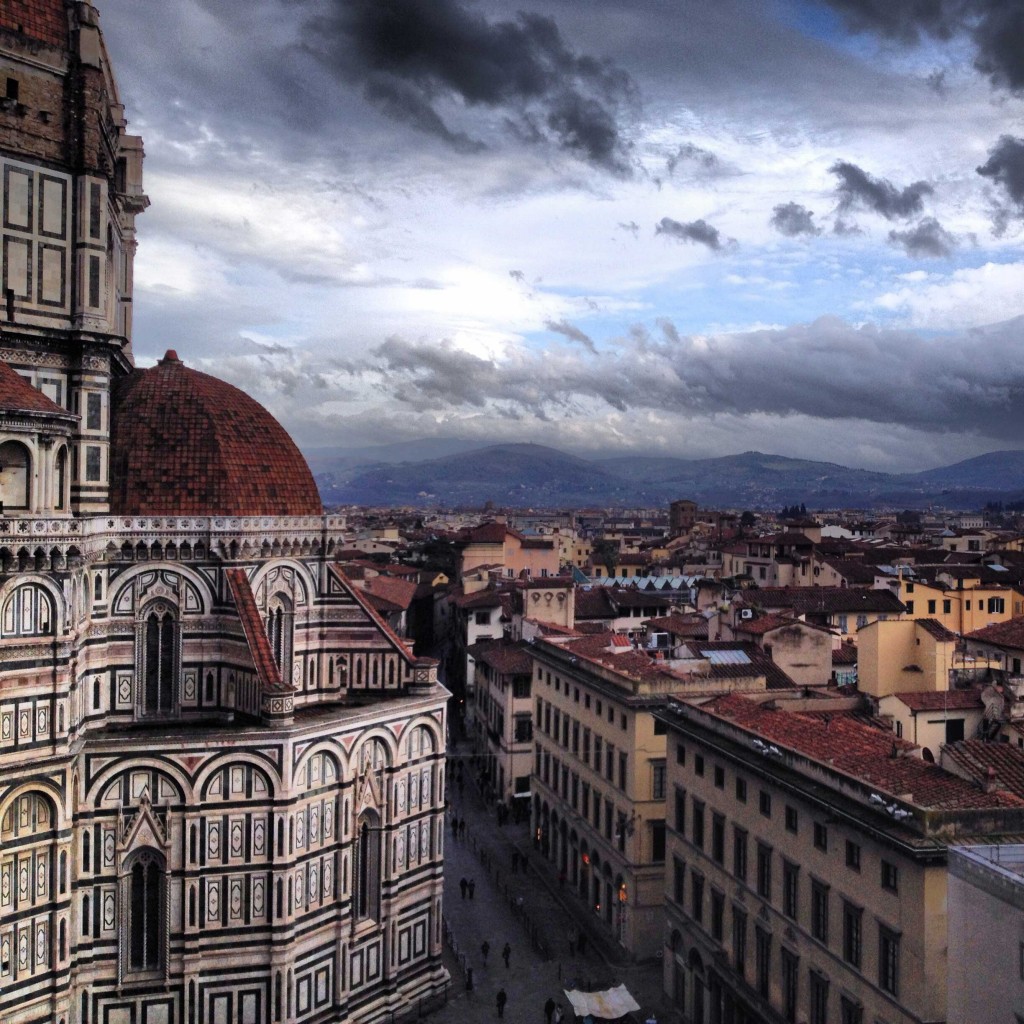 The majority of people who come to Italy are coming to do two things:
See incredible monuments like the Colosseum, Vatican,  and Michaelangelo's David.
Eat and drink their heart's content.
For both of these, you don't need warm weather, which is why I highly suggest heading to Italy during the off-season, which runs from about October through March.
You'll save a bunch of money.
Hotels and apartments will be less than half the price.
There will be many more saver tickets for trains.
And plane tickets, if you're still paying for them, will be much cheaper to and from Italy.
Also, there will be literally 10x less tourists, meaning you won't feel like a herd of cattle when visiting all the things you want to see.
To me, that's just as important as saving the money…but if I can do both, then I'm even happier!
10.  Buy a pre-paid SIM card when you arrive in Italy
One of the most common mistakes people make when traveling is racking up a huge bill by using their cellphone abroad.
If you've got a smartphone, this is very easy to avoid.
Simply unlock your phone, and when you arrive in Italy, head to an electronics or phone store and purchase a pre-paid SIM card.
For 15 euros, you can get a Vodafone SIM card with 200 minutes, 200 texts, and 2 gigs of data, which is more than enough for 2 weeks in Italy.
And since it's pre-paid, there will be no surprises.  Once you hit your limit, your phone will stop, and you can buy another SIM card.
Final Word(s)
Italy is an amazing country to visit, but just because it's amazing doesn't mean it should cost you a fortune.
Use these tips to save yourself some money…and use that money for some extra gelato!
What are your favorite tips for saving money while traveling in Italy?  Share in the comments below!