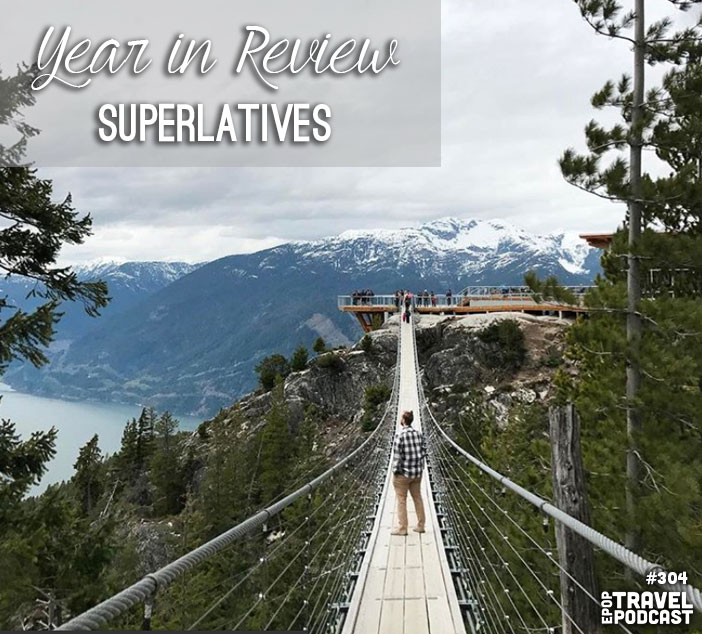 We return with Part 2 of 6 in our Year in Review Series
Check out Part 1: Travel Stats
In this episode, we go into the Superlatives of our 2017 travel year. Best of, worst of, best value, and a host of other things.
We'll be covering flights, drives, accommodations, and some experiences, but food and drink have their own episodes coming later this month.
It's us, did you really think we could fit all our favorite foods and drinks into one podcast? Let alone with all these other awesome things?
Let us know what some of your best/worsts were in 2017 @ExtraPackofPeanuts!
Check out the entire library of EPoP Travel Podcasts on iTunes
In This Episode
06:34 Most Expensive Accommodations
08:12 Cheapest Accommodations
09:09 The Best Value
13:49 The Worst Value
16:12 Favorite Accommodations
19:55 Least Favorite Accommodations
21:07 Best/Worst Flights
29:26 The Craziest Thing
37:14 Best Thing We Bought
41:18 Biggest Travel Change
43:48 Most Unexpected Good Thing
48:04 Most Underwhelming Thing
49:33 Neatest Person We Met
52:11 Biggest Travel Mishap
Links
Most Expensive Accomodations:
The Best Value:
Worst Value:
Pierson Hotel & Conference Center, Toronto, Canada
Favorite Accomodations:
Least Favorite Accomodations:
Pierson Hotel & Conference Center, Toronto, Canada
HK Austin
Want More?
Leave a Review!
iTunes reviews are one of THE most important factors for podcasts. If you enjoy the show please take a second to leave the show a review on iTunes!
Click this link: Leave a review on iTunes
Hit "View in iTunes" on the left-hand side under the picture.
Leave an honest review.
You're awesome!