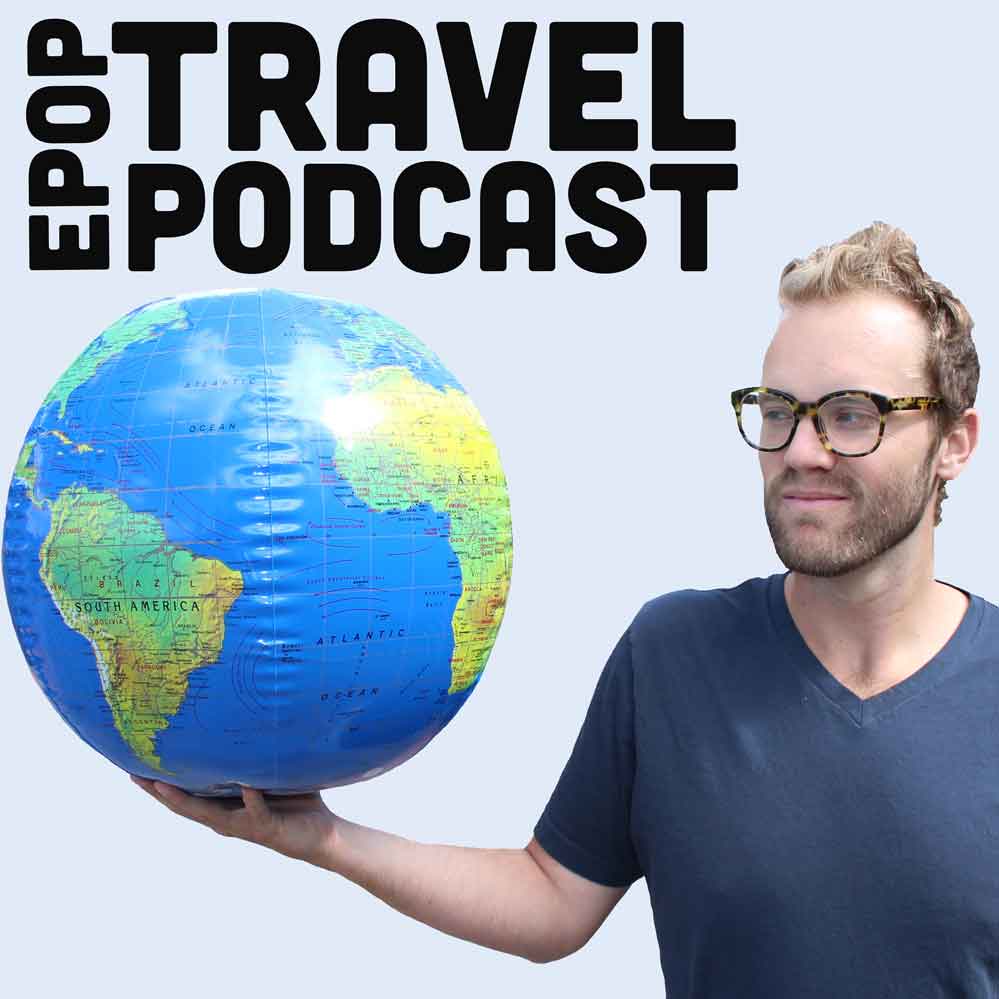 After one year and three months, the time has come for me to expand the reach of Extra Pack of Peanuts and I'm super excited that this will come in the form of a podcast!
Does this mean that I'll stop writing on the blog?
Of course not!
What it does mean is that now you will have yet another way to get the best travel tips, tricks, frequent flyer news, and travel inspiration that EPoP currently offers.
The podcast will be a supplement for the blog, not a replacement for it.  The material in the podcast will be distinct from what is on the blog, not a rehashing of it.
But I don't want to talk too much about the structure of the podcast and the reasons behind it because, you guessed it, it is all discussed in the first episode!
For anyone who already knows about podcasts and wants to start listening to it right now, just click on the player at the top of this post or download Episode 1 below.
EPoP 001:  The Story Behind EPoP and Why I'm Starting a Podcast  <— right-click to download
It would also be a huge help if you would rate the podcast on iTunes, as this will really help the show's growth.
Rate the Extra Pack of Peanuts Podcast on iTunes
If you're unfamiliar to podcasts, or still have some questions about what they are, keep reading.  I'll answer some of the most frequently asked questions below.
What is a Podcast and Other Questions…Answered!
1.  What the heck is a podcast?
A podcast is just a fancy word for a pre-recorded audio segment that you can listen to at any time, in a variety of ways, such as your computer, iPod, or iPhone.
I record myself talking and discussing various topics, I post it to my blog and to iTunes, and then you listen to it whenever you want.
Another easy way to think of it is that a podcast is to a live concert as a movie is to live tv.  You can choose when to listen to it, you can start and stop it and you have complete control over it.
2.  How can I listen to a podcast?
You can listen to a podcast a variety of ways:
Play it through my website- In each post, there will be a media player at the top of the post.  You simply hit play and begin listening.
Download it through my website- In each post, there will be a link to download it.  If you click on the link, you can save the file to your computer.  Then, you can listen to it anytime on your computer, even if you aren't on my site.
Download it through iTunes- You can also download it through iTunes, and it is completely free.  To download it directly to your iPod or iPhone, you first have to download the Podcast App.  Then search for the Extra Pack of Peanuts Travel Podcast and hit the "free" button all the way to the right.
It may take up to 2 days for this podcast to be available on iTunes.  I'll post a link here as soon as it is available.
3.  Is it free?
Yes, it will always be free, no matter how you decide to listen to it.
4.  What does "subscribing to a podcast" mean?
Subscribing to a podcast is a really easy way to get all the new episodes, automatically when they are released.  If you have an iTunes account, you simply sign in, find my podcast, and hit subscribe.
Then, each time a new episode is realized, it will automatically download without you having to remember to do it.
I love the subscribe function because each time I hop in the car, I always have new episodes of my favorite podcasts to listen to, without ever having to give it any thought.
5.  Does rating the Extra Pack of Peanuts Travel Podcast help?
Yes, immensely.  The more good ratings my podcast has, the higher it will rank in iTunes.  The higher it ranks, the more people who will see it when they go to iTunes, which means more listeners.
If you like the podcast and want to help support it, I'd really appreciate it if you rated it on iTunes.  Simply search for the podcast in iTunes, go to "Reviews and Ratings" and either give it a star rating or, if you're really nice, write a review!
6.  How often will you release a podcast?
I'm planning on releasing a podcast every week or two.  I'm going to let the opinions of the EPoP community help determine how often I do a podcast vs. a written post.
7.  Why does your voice sound so good?
Lots and lots of time spent in a room alone, recording myself speaking nonsense into a microphone.
8.  Why does your voice sound so bad?
Not enough time spent in a room alone, recording myself speaking nonsense into a microphone.
9.  Do you do any other podcasts?
Actually, yes.  I just started a fantasy sports podcast as well, so if you play fantasy baseball, you may enjoy it.  The EveryMan's Fantasy Podcast can be found here.
10.  If I have any questions about the podcast, where can I find answers?
If I haven't answered your question above, feel free to email me at Trav at extrapackofpeanuts dot com.  I'd be more than happy to answer them, and then use them in an FAQ at a later date.
Do you currently listen to podcasts?  If so, which ones do you like?  Are you excited to start listening to the EPoP Travel Podcast?
I'd absolutely love your feedback on how I can make the podcast better, so please, leave any comments or suggestions below.
*************
A Tremendously Huge Thank You
I just wanted to thank each and every person who I received emails, Facebook messages, and comments from yesterday's Boston Marathon post.  I was completely blown away with the amount of support and love I felt from this community.
I had real reservations about posting it, seeing as it's a little more personal than my normal posts and I didn't even know if my thoughts made any sense.
I left them almost completely uncensored and unedited, which is hard for someone like me who is such a perfectionist, and so I'm so glad that it was able to help so many of you.
I really, really appreciate all the kind words and the outpouring of compassion and love from the EPoP community.  It is because of this response that I'm going to do something I've been thinking a lot about recently but scared to do, and that is to get more personal on my blog.
Of course, you can still expect the normal free travel advice and frequent flyer knowledge, but I want to really start connecting, to build bonds, to make it a community that talks about why we travel, why it's important, and how it impacts our lives as opposed to just how.
So once again, thank you all so much for taking something I was scared to post and turning it into an incredibly positive experience.  I really, truly appreciate it.
Cheers,
Trav