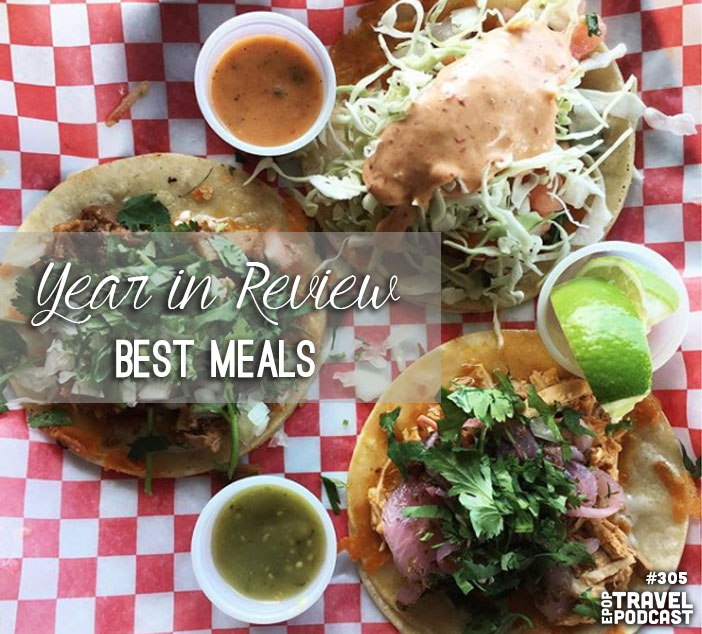 We return with Part 3 of 6 in our Year in Review Series
Check out
If you know anything about us, it's that we love to eat. And boy did we eat a lot in 2017!
Today Heather and I are going to go through our top 13 meals of the year (each) for a total of 26 awesome places around the world that you should definitely check out if you're going to be in the neighborhood!
From Barcelona and Slovenia to Philadelphia and Portland, we truly span the globe with today's episode!
What was your favorite meal of 2017? Let us know @ExtraPackofPeanuts!
Check out the entire library of EPoP Travel Podcasts on iTunes
In This Episode
08:23 Honorable Mentions
12:00 The list begins with #13
14:56 Tacos first appearance on the list
18:12 Sometimes it's about more than the food itself
23:51 Loving the local recommendations!
27:00 The same place at the same number – our favorite
32:59 Twice in one episode?!
38:45 First post-birth meal
43:57 Some serious Philly love in this episode
48:48 The two types of Tacos in Austin
58:44 Tie #3
Links
Austin
Barcelona
Ireland
Philadelphia
Portland
San Diego
Slovenia
Vancouver
Want More?
Leave a Review!
iTunes reviews are one of THE most important factors for podcasts. If you enjoy the show please take a second to leave the show a review on iTunes!
Click this link: Leave a review on iTunes
Hit "View in iTunes" on the left-hand side under the picture.
Leave an honest review.
You're awesome!