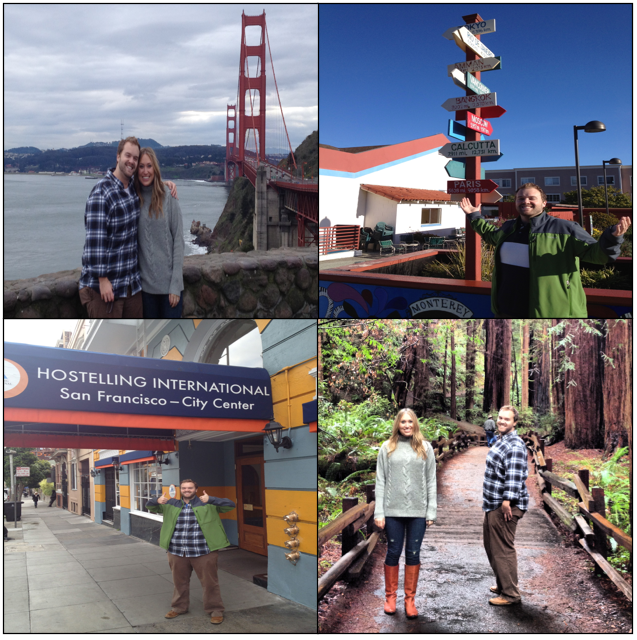 It's no secret that I prefer hostels and local guesthouses over chain hotels, and what better way to highlight why than the world's first hostel crawl!
My trip to San Fran provided the perfect setting, with a number of great hostel options in and around the city.  During my seven day stay I was able to hit up three different hostels, two in the city itself and one two hours south in Monterey.
All three of the hostels were members of Hostelling International, which, with over 4,000 hostels in 90 countries, is one of the world's largest accommodation providers.
Since Hostelling International regularly monitors every member hostel to ensure it maintains a certain standard in both safety and comfort, you'll always have some peach of mind when selecting a hostel or guesthouse that is affiliated with HI!
The Hostelling International website also features reviews from other travelers for each of their properties, so it's a great place to start if you're new to the hosteling experience.
Come relive the fun of the world's first hostel crawl, complete with video walk throughs of my rooms at each place!
HI-San Francisco Downtown Hostel
HI-San Francisco Downtown Hostel website
Usually when a place advertises "location, location, location" it's to hide some of the other flaws.  With the SF Downtown Hostel this is NOT the case.
Yes, the location is absolutely top-notch,  smack dab in the middle of downtown.  You are a few short blocks from the Powell Street transportation hub, where you can catch the BART, Metro, or trolley, the rental car companies are literally right across the street, there are tons of restaurants around, and much to Heather's delight, there is a Starbucks within spitting distance.
But the location isn't the only thing that the SF Downtown Hostel has going for it.  Not in the least.
I knew immediately when I walked in that we had a winner:  the receptionist's first few words to me were
"would you like to join the free wine and cheese tasting at 5?"
Now that's a welcoming!
We had some time to kill before five, so we retired to our room.  Heather, usually a tougher critic than I, was clearly impressed when we walked in.  The room was big, clean, and most importantly, the bed was super comfortable.
Having stayed at well over 50 hostels, I can say that one thing that isn't normal is a super comfortable bed.  Most times the beds aren't bad, just average.
This, though, wasn't average.  It was superb, nicer than my expensive mattress at home.
The room even included a luggage rack, another Heather favorite!  We'd been there less than 5 minutes and had our second pleasant surprise!
Have a look for yourself:
The rooms definitely passed the test, but the thing that made the SF Downtown Hostel a really tremendous experience was the activities and atmosphere.  Each day, the hostel offered at least one activity.  And while the wine and cheese tasting was great (who doesn't like free wine?) and allowed us to meet some of the 300 people who were staying at the hostel, the Mission District Walking Tour hosted by the absolutely hilarious Jesse is a must-do.
In fact, this free walking tour, which started at a bar, winded us around all the Mission District hot spots and took about 4 hours, was one of the highlights of our entire trip.
Jesse's knowledge of the history of San Fran, combined with his amazing wit and delivery, made him a natural tour guide.  Plus, who else can point out such landmarks as the kink.com headquarters?
In addition to the free activities, the hostel also provided a free breakfast for all guests, which included a nice selection of bagels, breads, and fruits.  The kitchen was very well kept and had plenty of facilities to cook your own meals and refrigerators to store your food.
The other common areas, such as the lobby and the movie theater, were also accessible to any guests, and were complete with comfortable couches, bean bag chairs, and free wifi.
As with any good hostel, they were usually full of people socializing and building friendships, something the SF-Downtown excelled at.
The only minor annoyances with the SF Downtown Hostel was the noise from the street, which could be easily heard from our room, and the sporadic wifi connection in our room.
To combat the noise, the hostel does offer complimentary ear plugs upon arrival (a nice gesture, for sure), and in the common areas, the wifi is as fast as can be, so these were not a major issue.
Overall, our stay at the SF Downtown Hostel was awesome.  To find a room at that price, in one of the world's most expensive city, that provides free breakfast, great activities, and a really neat, social vibe, is an absolute steal.  The SF Downtown Hostel is exactly what every hostel should be, and I'd highly recommend it to anyone traveling to San Fran.
SF Downtown Hostel Snapshot:
Location:  312 Mason Street, San Francisco, CA
Price:  Dorms- $30 per night, Private Rooms- $79-$110 per night
Pros:
Comfortable beds
Great common areas (kitchen, lounge, movie theater)
Awesome daily activities
Friendly and helpful staff
Located right in the heart of the city
Neat building
Cons:
The street noise is loud during the night
Wifi in the rooms is sporadic
HI-Monterey Hostel
After a day spent driving down the Pacific Coast Highway, and stopping every 3 minutes to take pictures, Heather and I were pretty weary when we arrived at the HI Monterey Hostel.  The last thing we wanted to do was have to find a parking spot.
Turns out we were in luck, as one of the major perks of the property is that it includes a free parking lot directly behind the hostel.
The first thing that we noticed upon arriving was how much smaller the Monterey hostel was than the SF Downtown Hostel.  Whereas the SF Downtown Hostel could fit over 300 people, the Monterey hostel's max is under 40.
This meant a more intimate setting, although, as far as I could tell, most of the people who stayed at the Monterey Hostel were only there for a day or two, usually as a stopover on their way either up to San Fran or down to Southern California.
The smaller population coupled with the transient nature meant that there were less activities offered than at the bigger hostels, although they did advertise monthly potlucks and a few other sporadic activities.
Unfortunately, since Heather and I were only there for a night, we weren't able to take advantage of them.
The other major difference was that the Monterey Hostel was much more barebones.  Don't get me wrong, it was certainly clean and well kept, but it was more of a youth hostel than a boutique hotel.
Most of the rooms were dormitories with bunk beds, although Heather and I stayed in the "family room", which consisted of 6 beds in total.
The best part:  All had different linens, so I had my choice of the plain flannel sheets or ones adorned with various sports equipment!
All of the rooms shared a common bathroom, which were very clean, and there was 2 showers each for both guys and girls.
The kitchen, like all the HI Hostels I've been to, was well equipped with everything you could want to do your cooking.  They also offered a free breakfast each morning, including Nutella (another Heth fave) and a do-it-yourself pancake set up with already made pancake batter.
After 3 days straight days of bagels, this was a nice change!
The best part of the Monterey Hostel was the large lounge on the first floor.  It was very relaxed and quiet, both during the day and at night, outfitted with plenty of couches to chill out on, tables to eat on, and possibly the world's first computers.
Overall, the Monterey Hostel is a great option for people who want a relaxed, laid back atmosphere at a really cheap price, especially relative to the other (overpriced) options in Monterey.
You won't get the Ritz-Carlton, but you'll get a clean hostel in a good location…and don't forget the free pancakes!
HI Monterey Hostel Snapshot
Location: 778 Hawthorne Street, Monterey, CA
Price: Dorms- $23 per night, Private Rooms- starting at $59 a night
Pros:
Free parking
Cheap prices
Good location (walking distance to Cannery Row)
Free  breakfast
Cons:
No private bathrooms
Not many activities
If you're looking for luxury, you won't find it
HI- San Francisco City Center Hostel
HI-San Francisco City Center Hostel website
Not to be confused with HI-SF Downtown Hostel, the HI-SF City Center Hostel is located a few blocks west, on the outskirts of the Tenderloin district.  The SF City Center is located in an absolutely stunning building, built in the 1920's and former home of the Athena Hotel.
From the moment you walk in, you can hear people buzzing around the mezzanine above the lobby, and especially if it's happy hour, voices full of merryment spilling out of the pub that's located right off the lobby.
Immediately I thought "This is one fun place to be."
The other thing that struck me was the presentation of our room.  This wasn't your typical hostel.  This was a boutique hotel, complete with free water and JellyBelly's!  Check out the video for yourself:
The SF City Center Hostel also offers up a variety of activities during the week, some of which, like the Missions Walking Tour, they combine with the SF Downtown Hostel.  And of course, the SF City Center Hostel offers the mother of all activities:  daily happy hour specials at Ivy's Place, the Prohibition era speakeasy on the first floor.  You can enjoy all of San Fran's best beers without ever taking off your slippers!
Ivy's Place also serves as the place to get your free breakfast of bagels, juice, and coffee every morning.  And if you didn't blow your budget the night before at happy hour and are feeling a bit flush with cash, you can indulge yourself in the scrumptious $1 all you can eat pancakes and eggs!
For anyone wishing to do their own cooking, the kitchen was fully equipped with nice stuff and plenty of space.  The lounges were plenty comfortable and accessible, and the wifi was nice and quick, both in the common areas as well as in the room.
Just like at the other HI Hostels, the staff was super friendly and knowledgeable, pointing us towards good restaurants and activities while telling us which areas to avoid (basically, don't turn right out of hostel).
The only complaint was the street noise, which could easily be heard through our bedroom windows.  Our room looked out over the street, and at night, Heather was forced to sleep with earplugs in to drown out the sounds of the crazies from the street below.
All told, the SF City Center Hostel provided us with a really neat and comfortable place to stay.  While not as centrally located as the SF Downtown Hostel (although it is closer to Brendas, my top choice of places to eat in San Fran), the City Center Hostel is definitely recommended if you're looking for a unique place to stay (and a bar to grab cheap drinks in).
 SF City Center Hostel Snapshot
Location: 685 Ellis Street, San Francisco, CA
Price: Dorms- $26 per night, Private Rooms- $89 per night
Pros:
Really cool building
Bar located inside with good happy hour specials
Fun daily activities
Free breakfast plus $1 all you can eat eggs and pancakes
Helpful staff
Cons:
Street noise was loud all night long
Room got cold throughout the day (in January)
Location is a little sketchy if you walk east
What great hostels or boutique hotels do you recommend worldwide?  Or have you have been to San Fran and stayed somewhere nice?  Let us know in the comments below!
Many thanks to Hostelling International who provided the accommodations for this hostel crawl.  All views expressed are my own honest opinion and do not reflect the views of Hostelling International.