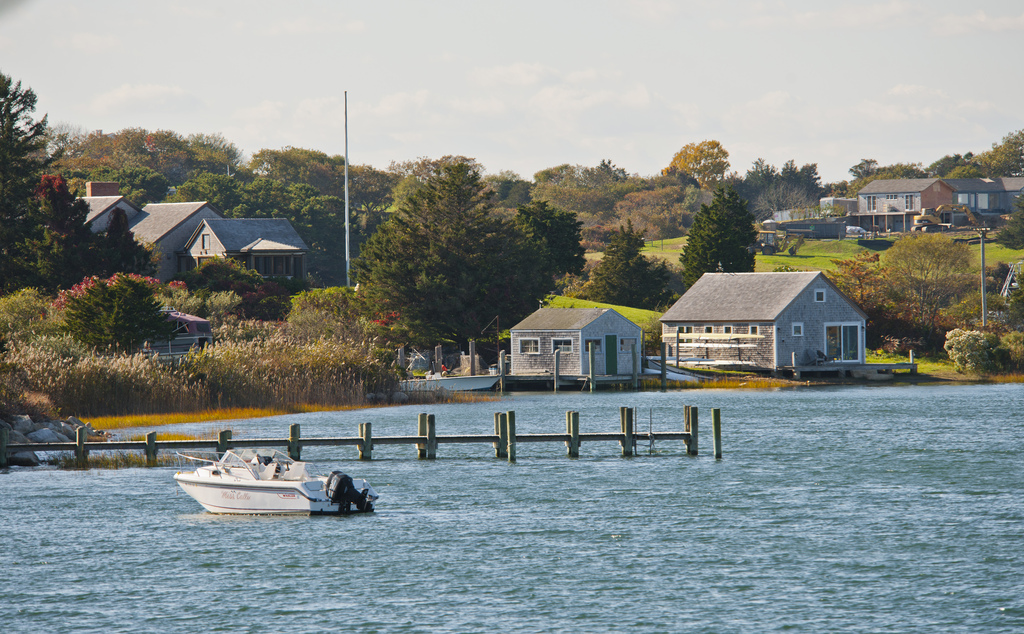 Nantucket.  Martha's Vineyard.
The names conjure up images of grandeur.
These are the playgrounds of multi-millionaires.  Of billionaires.  Of US Presidents.  And of me.
So how did someone like me escape to these two exclusive enclaves, one of the most elite and richest areas of the United States, this summer?
On a budget, of course!
The most expensive part of going on vacation is finding accommodations (you aren't still paying for airfare, right?), and going to the Vineyard or Nantucket is no exception.
In fact, it's magnified.
Getting a small hotel room on either of the islands will easily set you back a minimum of $200 per night, and if you are looking for something nicer or bigger, be prepared to open up that checkbook.
Houses can run $10,000 a week and no one blinks an eye.
But there's a secret weapon for the budget traveler wishing to visit these two places:
Hostels.
Each island has just one hostel, and both are operated by Hostelling International, one of the world's largest accommodation providers.
HI-Martha's Vineyard
525 Edgartown-West Tisbury Rd.  Vineyard Haven MA 02568
Open from mid-May to mid-October
Prices:  Dorms starting at $35
Pros:
Cheapest price to stay in Martha's Vineyard…by far!

Free pancake breakfast
Friendly staff
Huge, well stocked kitchen
Quiet location
Cons:
No wifi in rooms

Only bunk beds in private rooms
Communal bathrooms
The first thing I noticed about Martha's Vineyard after arriving on the ferry was just how big it was.
In my mind, I envisioned a quaint little island where everything was jam-packed on to a few tiny streets.
Whoops!
The hostel is located in West Tisbury, about a 45 minute bus ride from the ferry port, which can be seen as either a blessing (if you want to get away from the gobs of other tourists) or a curse (it takes some planning and time to get around).
The MV hostel was the first purposefully built hostel in the United States, a really cool distinction, and it felt like a summer camp.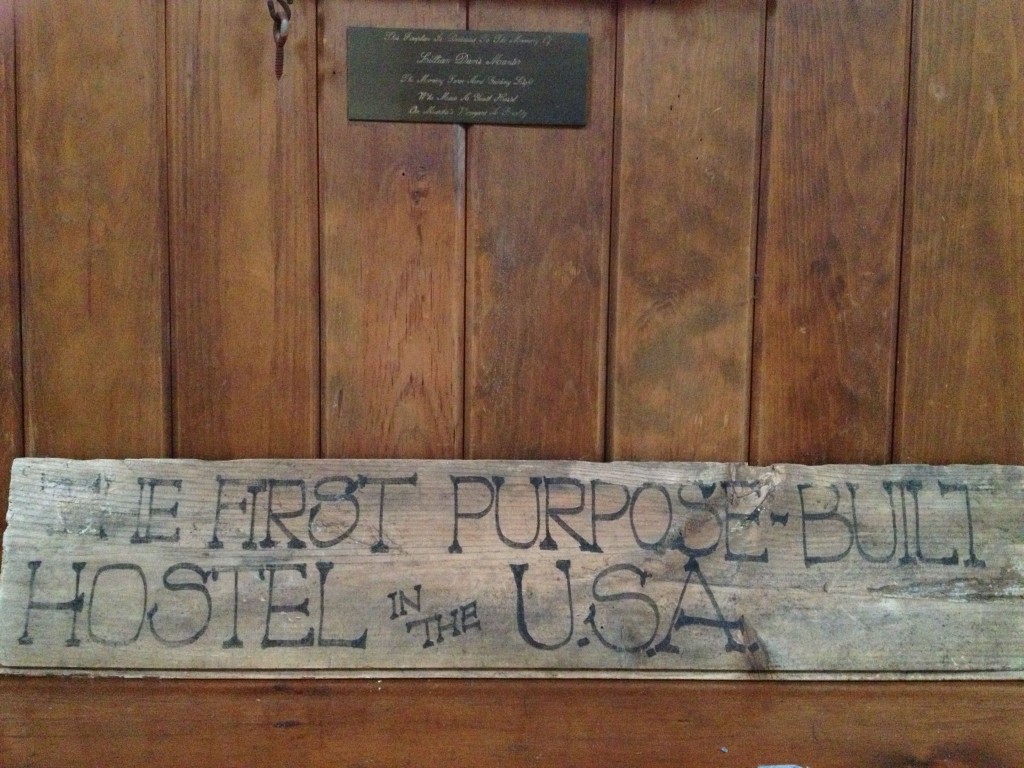 This may have had to do with the fact that a group of Girl Scouts was also staying there at the same time!
While it was certainly rustic, the place was kept impeccably clean.  The kitchen was absolutely massive, and provided plenty of room for groups of people to be cooking at the same time.
There was also a free pancake breakfast provided each morning.  Filling up on this is another budget traveler favorite, as restaurants on MV, as I'm sure you can imagine, are way overpriced.
We had a private room, which had bunk beds instead of one larger bed, and it didn't have its own bathroom.
The females had two bathrooms, one on each floor, while the men had just one, on the second floor.
The main common lounge was also gigantic, with plenty of books to read, games to play, and couches to lounge on.  The internet didn't work in the rooms, which lead to many people hanging out in the lounge together.
The staff was incredibly helpful and friendly, and one of the best perks of staying at the hostel was that the bike rental company will deliver bikes to the hostel for you.
This saves you having to take a trip in to Oaks Bluff or Edgartown to pick up and drop off the bikes.
While the quietness and remoteness of the hostel's location first threw us for a loop, we quickly learned to embrace it.
The bus came once an hour in each direction, which was convenient enough, and it also dropped you and picked you up right outside the hostel.
Also, the town of West Tisbury was only a 15 minute walk away, and is an absolute must when staying at the hostel.
While Oaks Bluff and Edgartown may be the "happening spots" on the island, visiting West Tisbury is like stepping back in to time.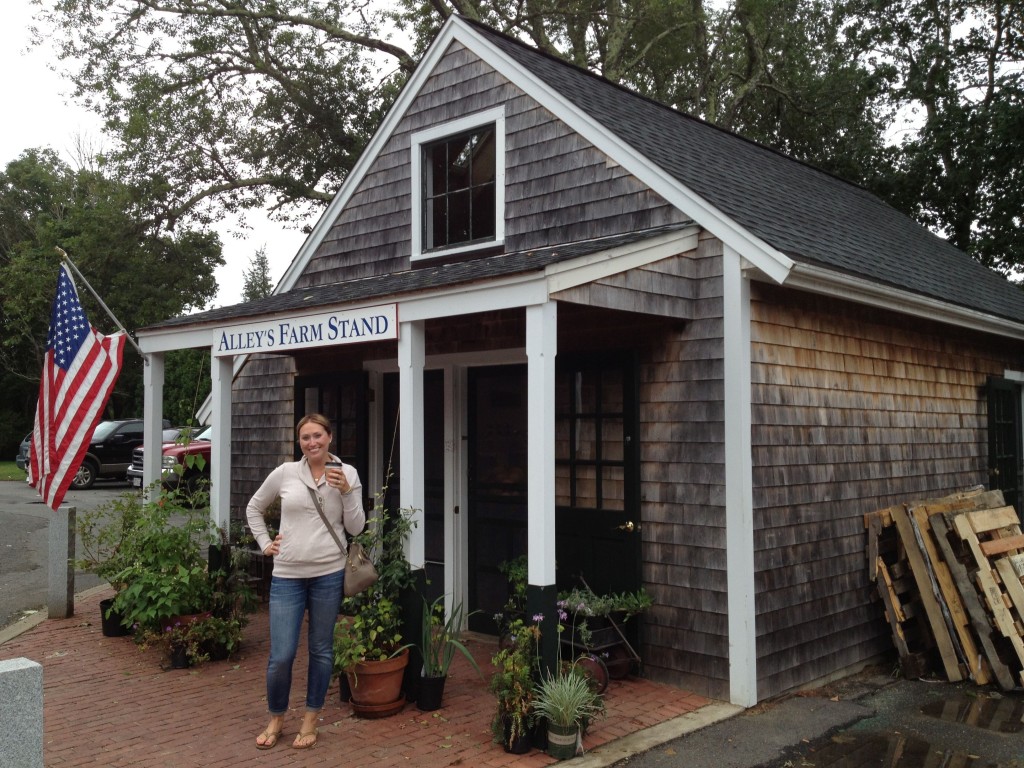 One general store, one restaurant, one fruit stand, and one heck of a cute town!
HI-Nantucket
31 Western Avenue, Nantucket, MA 02554
Open from mid-May to mid-September
Prices:  Dorms starting at $35
Pros:
Cheapest price to stay in Nantucket…by far
Located ON THE BEACH
Awesome architecture and building
Free beach towels, chairs, and umbrellas
Free breakfast
Great staff
Cons:
No wifi in rooms
Only dorm rooms, separated by gender
Communal bathrooms
After two days on Martha's Vineyard, we were happy to head to Nantucket to compare the two.
Nantucket, being much smaller than MV, was much more what we expected when we first came on the trip.
The fact that the HI-Nantucket hostel is one of the coolest I've ever stayed in certainly helps!
So what makes the HI-Nantucket hostel so great?
Where do I start…?
The location is literally RIGHT ON THE BEACH.  In fact, the hostel has it's own walkway directly to the beach.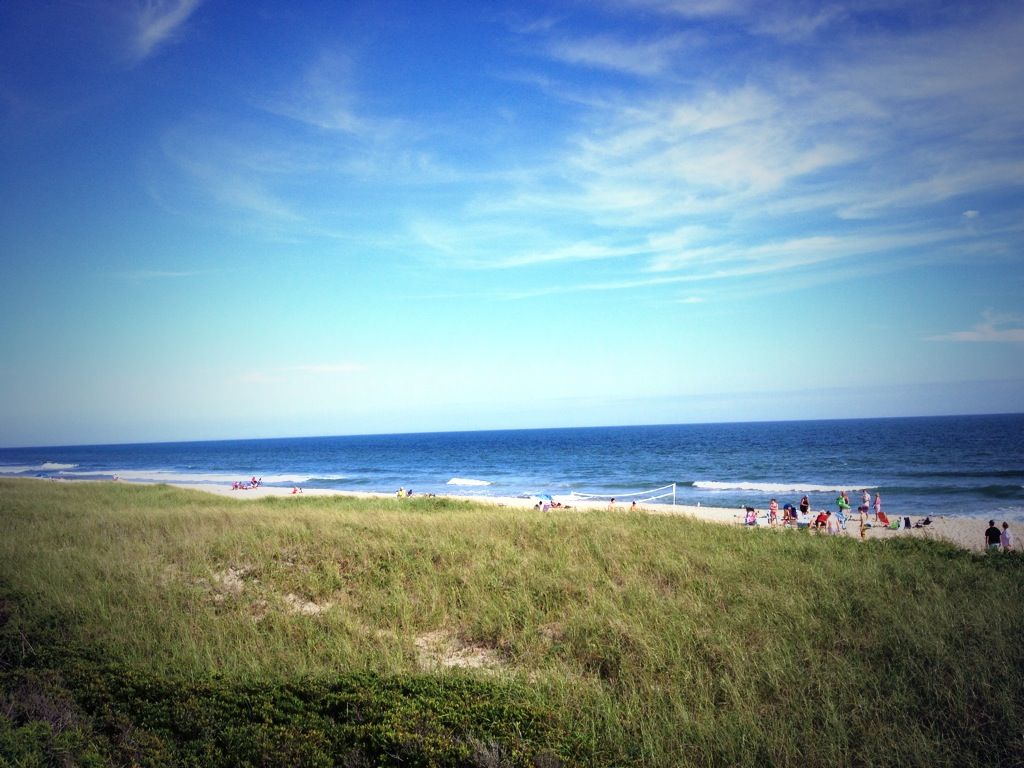 And the beach, even in the middle of July, was a far cry from the crowded beaches of New Jersey that I'm accustomed to.
We had the beach almost entirely to ourselves, with only a handful of people populating the beach further down, closer to the food stand.
In addition to the location, the building itself is the old Nantucket lifesaving station and chockful of character.
They have done a fabulous job maintaining the quirks of an old building while outfitting it with modern amenities, such as a large kitchen with refrigerators and freezers to store your food.
Like the MV Hostel, the Nantucket Hostel also provided a free breakfast each morning, with a large dining room to seat all the guests.  This lead to plenty of interaction and recommendations between travelers.
One of the coolest perks of the Nantucket hostel was that they also provided free beach towels, beach chairs, and beach umbrellas.
Awesome!
With the exception of one private room, everyone else is split up in to gender specific dorms of 25 beds each.
While it was a little strange to be split up from Heather for the night, the beds themselves were comfortable, and the dorms and bathrooms were clean.
The manager of the HI-Nantucket Hostel has 20+ years running and operating hostels, and it shows with all the small touches around the hostel that make it a joy to stay at.
Discounts on bike rentals, plenty of recommendations on great places to eat, and free beach equipment were just the icing on the cake.
Did I mention…it's located right on the beach?
And that it costs $35 per night?
Can't beat that!
Final Word(s)
If you want to travel to Martha's Vineyard or Nantucket (or both!) and aren't blessed with a trust fund, these two hostels are the way to go!
Both are unique and interesting in their own right, and at the price of $35 per night, you'll be saving yourself enough money to actually go buy a meal while you're there!
If you do want to book them, make sure to do it well in advance, as they fill up very quickly (duh, they are only $35/night)!
Also, don't forget that they are only open seasonally, from mid-May to mid-September for Nantucket and mid-October for Martha's Vineyard.
Many thanks to Hostelling International, who provided accommodation throughout our stay.  All views expressed are my own honest opinion and do not reflect the views of Hostelling International.
(lead photo courtesy of moserati2008)