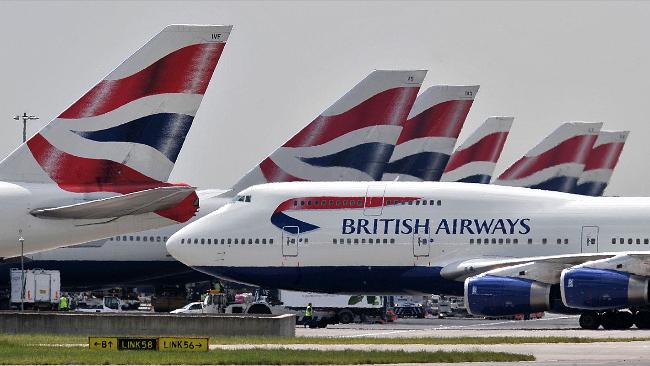 Since March 31, 2014, you've been able to use any Oneworld airline partner's points to book on USAirways.
This is a nice perk for using AA miles, but an absolutely major score for anyone using British Airways Avios points.
In today's post, I'll hit on a few main points:
Why the Value of BA Avios Points Has Skyrocketed
Who Benefits the Most (hello, Philadelphians!)
How to Book USAirways Flights on BA.com
Why This Makes American Express Points Much More Valuable.
Why the Value of BA Avios Points Has Skyrocketed
Since their devaluation a couple years back, BA Avios points have been a conundrum for most people.
They can have offer great value, but overall, they are very confusing to use.
[bluebox]In fact, they are so confusing that two of EPoP's top posts are about BA Avios points.  These should help clear up the confusion:
To sum up why USAirways joining Oneworld is so important, there are two things that you need to know.
1.  On MOST flights, using BA Avios points will incur a massive fuel surcharge.  
[bluebox] If you have no clue what a fuel surcharge is, make sure to check out my series on fuel surcharges.  It's one of the major keys to using frequent flyer miles effectively [/bluebox]
When I say massive, think between $400-600 per person.
That's insane, considering that you can sometimes purchase a ticket for almost the same amount!
So in order to use BA Avios points in a way that makes sense, you have to find flights that you can take that don't hit you with a fuel surcharge.
One of these flights is flying domestically in the US (and here are the other 4 options that won't hit you with a fuel surcharge).
2.  British Airways award chart is distance-based, meaning you pay for how many miles you fly.

Check out the Avios award chart above.  If you fly 0-649 miles, you'll only pay 4,500 BA Avios points for an economy ticket.
This is huge, because you'd pay 12,500 for a one-way domestic ticket with other carriers.
So if you're taking short to medium haul domestic US flights, BA Avios are the way to go!
The downside is that you have to pay for each segment separately.
For example, if you fly Philadelphia to Columbus with a layover in La Guardia, you have to pay for two separate flights.
Philadelphia to La Guardia is a distance of 95 miles, which would cost 4,500 Avios points.
La Guardia to Columbus is a distance of 479 miles, which would cost 4,500 Avios points.
With the layover at La Guardia, you'll pay 9,000 Avios points total to go one-way from Philadelphia to Columbus.
Ugh!
However, a direct flight from Philadelphia to Columbus is a distance of 406 miles.
With a direct flight from Philadelphia to Columbus, you'll pay 4,500 Avios points to go one-way.
Obviously, you are MUCH better off finding direct flights.
This is easier said than done, since before the merger, your only option was to look for AA flights.
Not only did direct flights get scooped up quickly, but you also needed to live near an AA hub to get direct flights to most places.
Now, however, you can book any USAirways flight with your BA Avios points.
This opens up a world of options, and many, many more direct flights.
More options and more direct flights = many more chances to book good flights with no fuel surcharges!
Who Benefits the Most?
Anyone who travels domestically is going to benefit, since USAirways operates 3,031 flights a day, with a majority of them being domestic within the US.
But the big winners?  
People who live near USAirways hub cities!
The current USAirways hub cities are:
Charlotte (613 flights per day)
Philadelphia (429 flights per day)
Phoenix (255 flights per day)
Washington DC National Airport (222 flights per day)
Under the merger agreement, USAirways is required to continue to use Charlotte, Philadelphia, and Phoenix as a hub for at least a period of 5 years.
If you're someone who uses these airports regularly, you should be jumping for joy right now!
[bluebox]To check out all the routes you can fly with Oneworld, use the Oneworld interactive map.  This shows you all the flights you can take.  Just be careful: you can get lost for hours planning dream trips![/bluebox]
A Real-Life Example of Why This Rocks
As someone who has his home base in Philadelphia, I'm ecstatic.
Here's a real-life example of why this rocks:
The Philadelphia to Columbus example I gave above was one that I actually just booked for my parents.
Previously, if AA was my only option, I'd need to do the following route: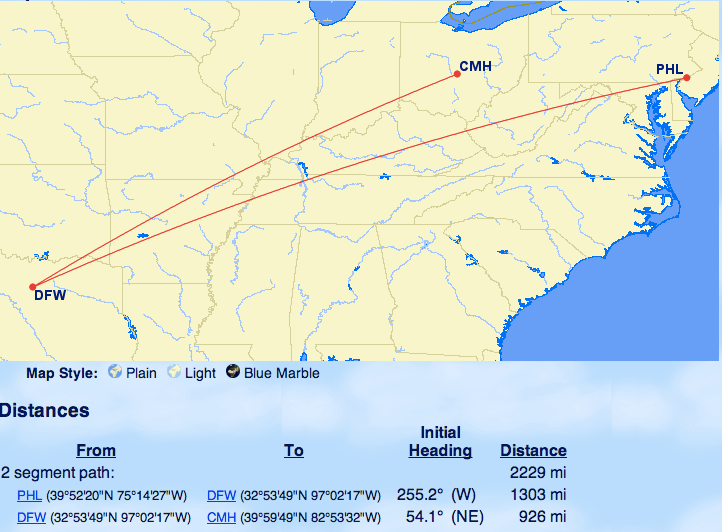 Philadelphia-Dallas/Fort Worth-Columbus
Ummmm….no thanks!
On top of being way out of the way, I'd also have to pay a whopping 17,500 Avios points for a one-way trip (10k to go PHL-DFW, 7.5k for DFW-CMH).
Looks like I'd be staying home or making the 8 hour drive.
Now that USAirways is a Oneworld partner, I can do the following route:
Philadelphia-Columbus direct.
The flight is 1 hour, and it costs only 4,500 Avios points one-way.
Score!
How to Book USAirways Flights on BA.com in 6 Easy Steps
Ok, so you get why this all sounds great in theory.
But anyone who has tried to use frequent flyer miles knows that theory is one thing, and actually booking tickets is another.
The two major hang-ups with booking tickets with miles are:
Finding availability
Not being able to book the tickets online
Thankfully, using BA Avios points on USAirways has neither of these two problems!
There is TONS of availability on USAirways flights to almost any destination I checked.
And you can EASILY book USAirways flights on BA.com!
Here's how:
1.  Go to BA.com to Book Online
Head to BA.com—>click on Executive Club tab—>Spending Avios—>Book Flights with Avios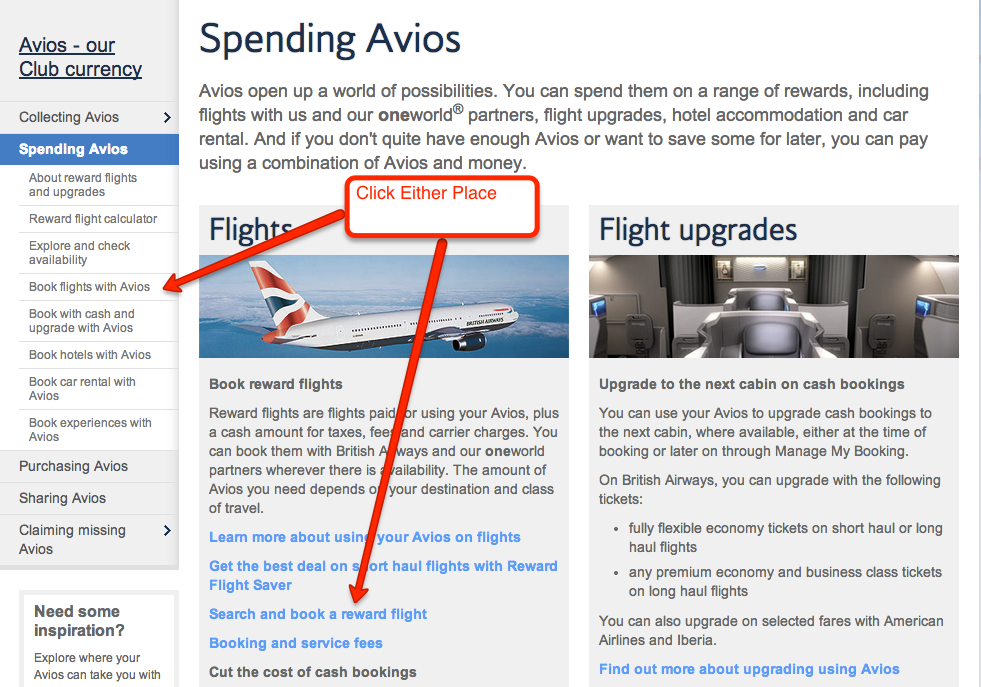 2.  Enter your preferred itinerary and dates
3.  Select the Flight You Want
Two cool things to note:
You can easily toggle between the dates at the top to check for availability.
It shows exactly how many seats are left on that flight, an awesome function.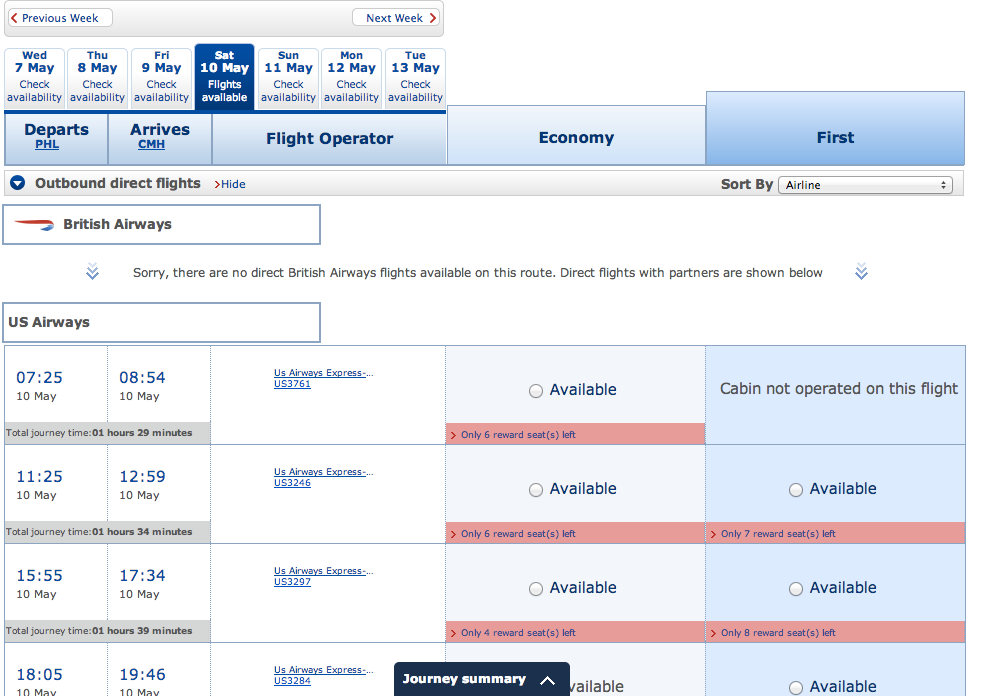 As you can see, there is plenty of availability on all the USAirways flights operated that day!
4.  Decide How Many Points and Dollars You Want to Spend
BA allows you to do a neat thing where you can choose to use less points and pay more cash if you want.
Normally, using more points and less cash is the best way to go, but it's nice to have the option.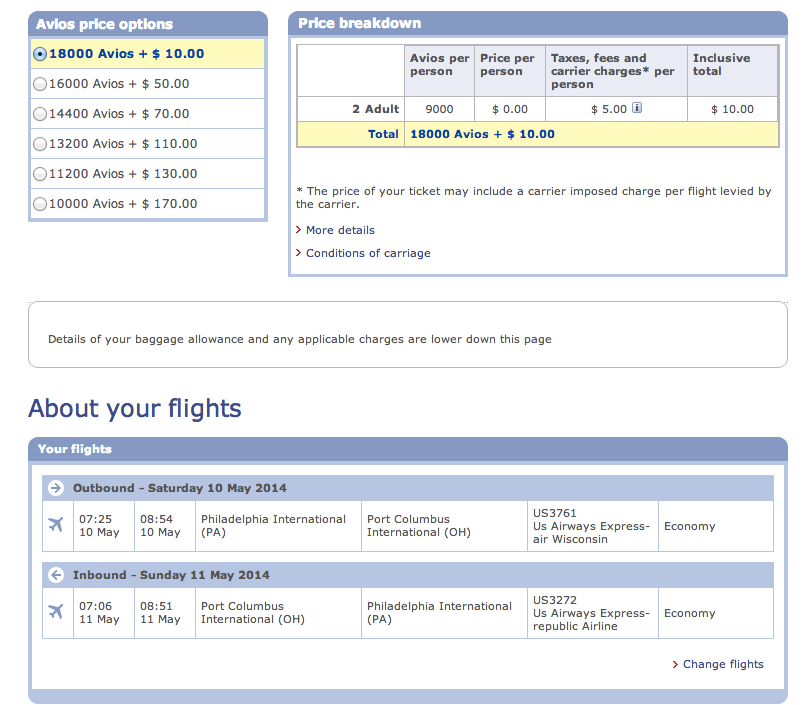 5.  Pay for the Ticket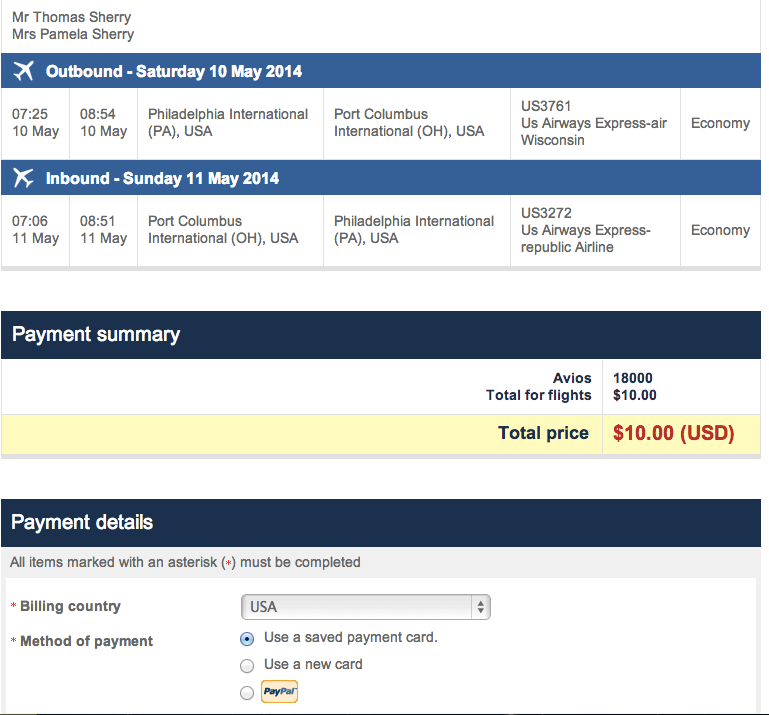 18,000 Avios points and $10 for 2 roundtrip tickets?  Amazing!
6.  Receive Your Confirmation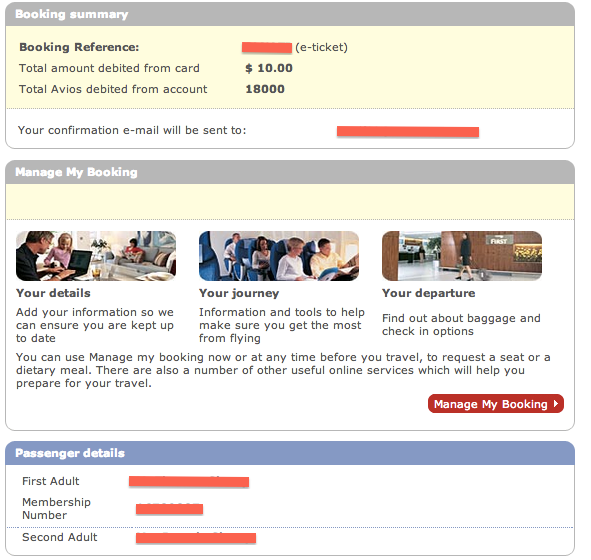 Just in case you forgot how little you paid…yep, it's still only 18k Avios and $10 for 2 roundtrip tickets!
Why This Makes American Express Points Much More Valuable
When ranking the best frequent flyer miles and points, I gave American Express points a 5 out of 10 and ranked them #7.
I still consider them worse than Chase Ultimate Rewards and some others, but they are now substantially more valuable.
Why?
Because British Airways is a transfer partner of American Express, and so it stands to reason that if BA Avios points increase in value, so would American Express points.
The problem with American Express points is that while they have a lot of transfer partners, they don't have a lot of quality partners, and there is no real "best" partner.
Who you should transfer your Amex points to depends on what type of trip you take.
BA Avios has always been one of the better transfer partners, and now that they are are so many more options for direct flight domestic U.S. travel, they have become even better.
Also, Amex usually runs a few bonus promotions for transferring to BA each year, sometimes offering up to 50% (100k Amex would net you 150k BA Avios).
If you're sitting on a stash of Amex points and plan on doing some domestic traveling in the future, especially if you live near an AA or USAirways hub, then transferring to BA will probably be your best bet.
You could have lots of free travel in your future!
Final Word(s)
Since Philadelphia is my home airport, I'm super excited.  I'm also really pleased with how easy it is to book USAirways flights with BA points.
Overall, this opens up a lot of good options for domestic travel, regardless of where you live, because there are so many more flights with the combined AA/USAirways network.
And we finally have some good news for Amex points, which are now more valuable thanks to the strengthening of BA as a transfer partner!
What trips are you planning to use your BA Avios points on?  What new routes are you most excited about?  And what are your favorite Amex transfer partners?  Let me know in the comments below!