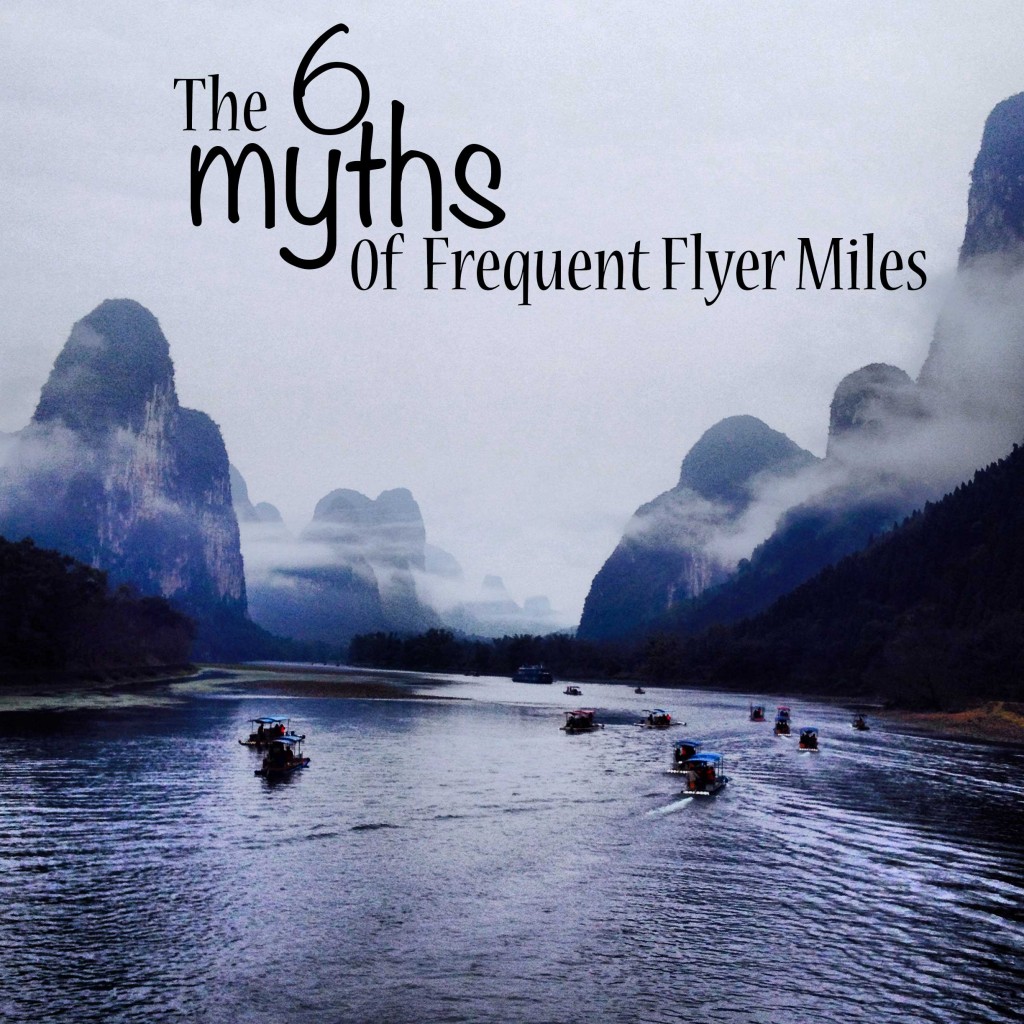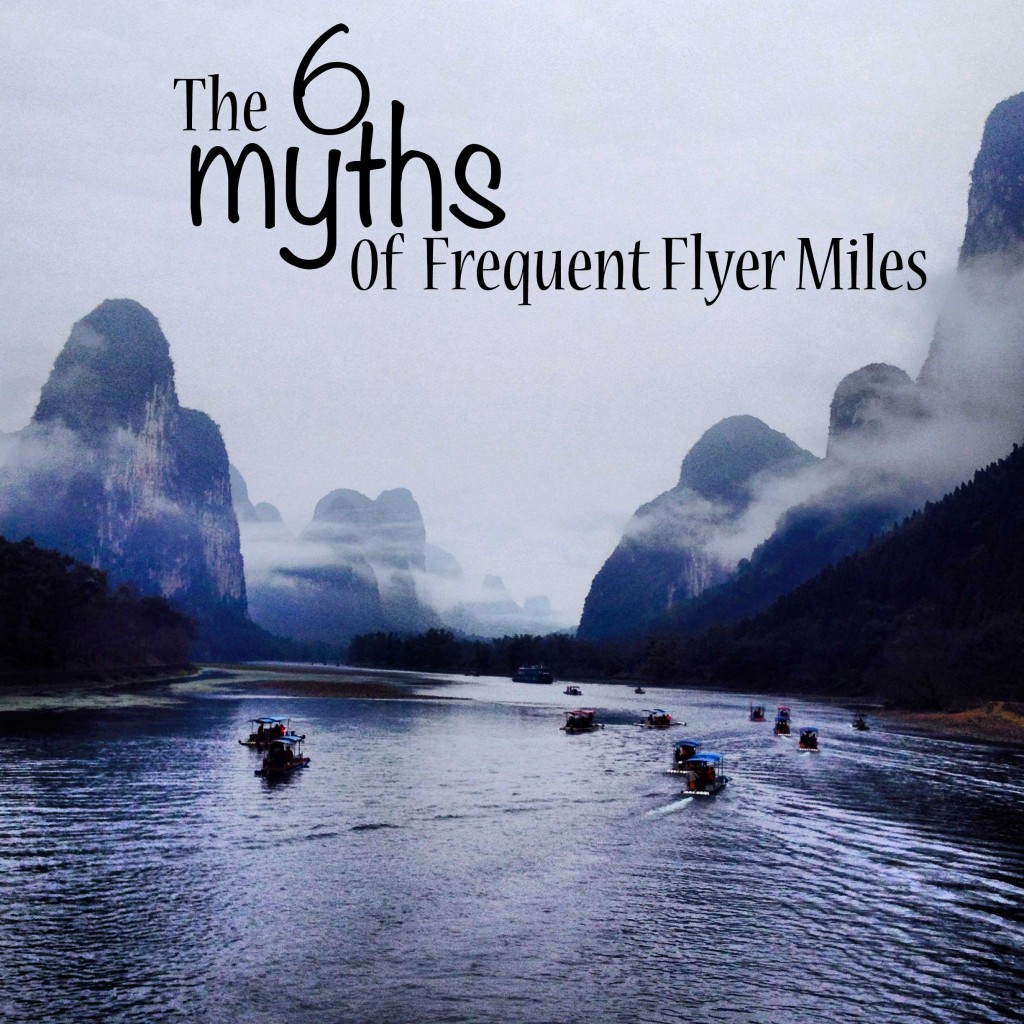 Frequent flyer miles have the ability to turn ordinary people into travel superheroes, allowing them to jet set around the world to their favorite destinations for almost free.
Paris, Sydney, Rome…take your pick.
Unfortunately, they are also one of the most misunderstood topics out there.  Most of society wrongly believes the myths that surround frequent flyer miles.
But now, it's time to debunk those myths and pull the veil of secrecy off frequent flyer miles so that more people can start traveling more and spending less!
#1.  Frequent Flyer Miles Can Only be Earned Through Flying
This may seem ludicrous to anyone who has started earning frequent flyer miles, but this is exactly what I thought for the first 28 years of my life, and was the reason I never paid any attention to them before 3 years ago.
It's also the #1 reason that 90% of people don't take advantage of these wonderful opportunities.
They believe that large amounts of frequent flyer miles can only be accrued by people who travel all the time, and since they don't travel all the time, there is no point in figuring them out.
WRONG, WRONG, WRONG, WRONG, WRONG!
In the last two years, I've accumulated over 2 million frequent flyer miles, and only 8,000 have come from flying.  That's right, less than 0.5%.
So how did I earn all these miles?  There are many ways:
Credit Card Sign Up Bonuses
Credit card signup bonuses are far and away fastest way to earn large chunks of frequent flyer miles.  The best cards will offer you 50,000 miles or more as a sign up, which is already enough for 2 roundtrip ticket in the US and almost enough to fly to Europe.
As long as you keep your credit score high, you'll be able to take advantage of these opportunities over and over again.
Everyday Spending
You can also earn miles by using your credit card instead of paying cash or debit.  Standard cards offer you 1 mile for every $1 you spend, but some of the better cards, like the Barclays Arriva card, offer 2x points per $1 spent.
Online Shopping
By using an online shopping portal, you can often earn huge bonuses for purchases from all types of brands.
For example, I was able to earn 10x points per $1 spent from Nike the other day.
Instead of going to the store and earning 100 points for $10o worth of Nike apparel, I went through the Chase Ultimate Reward Mall shopping portal and earned 1,000 points for the same $100.
Why run out to the store when you can sit in your pajamas and with one mouse click, order what you need.
And if you're worried about the process being difficult, don't be.  I've created a 3 minute video tutorial to show you just how easy it is.
Promotions
Throughout the year, there will be various promotions that pop up, both big and small.
Usually, they only take a few minutes to complete, like a survey or a game, and can net you between a few hundred to a thousand miles a piece.
This is a nice, easy way to supplement the large chunks you get from credit card bonuses, spending, and online shopping.
Flying
And while flying obviously isn't the ONLY way to earn frequent flyer miles, you should make sure that you are earning them if you do fly.
All you need to do is sign up for a free frequent flyer account with whatever airline you are flying with and give them your number when buying the ticket or when checking in.
#2.  Every Mile You Earn Means That is a Mile You Can Fly
Another common mistake people make is thinking that if they earn 50,000 miles then they can fly 50,000 miles.
Unfortunately, it's not quite as lucrative as that (but it's still pretty good).  Most airline's frequent flyer programs operate on a zone-based award chart with fixed pricing.
For example, if you are flying from North America to Europe on American Airlines, you'll pay 60,000 miles for a roundtrip ticket.
It doesn't matter whether you are flying a relatively short flight like New York to London or a much lengthier one like San Francisco to Istanbul.
Because they both are going from the North American zone to the Europe zone, they will both cost 60k roundtrip in economy.
A zone based award chart allows you to get some tremendous value from your frequent flyer miles by using them for flights that normally would cost a lot to purchase, such as flights to obscure cities or flights that are longer in length.
#3. Frequent Flyer Miles Earn You a Completely Free Ticket
They say that nothing in life is free, and while this is true with frequent flyer miles, it can certainly come close.
When you use frequent flyer miles to get a ticket, you don't pay the "price" of the ticket, but you are still responsible for paying the taxes and fees.
The amount of taxes and fees can vary wildly depending on what airline's miles you are using and what airlines you are flying on.
This is why it's imperative that you learn how to avoid the fuel surcharge that some airlines tack on, which can cost you up to $700.
But once you learn to avoid the fuel surcharge, you can book tickets like one of my most recent trips, a $2.50 ticket to Rio for the World Cup!
No, it's not free…but I'll take it!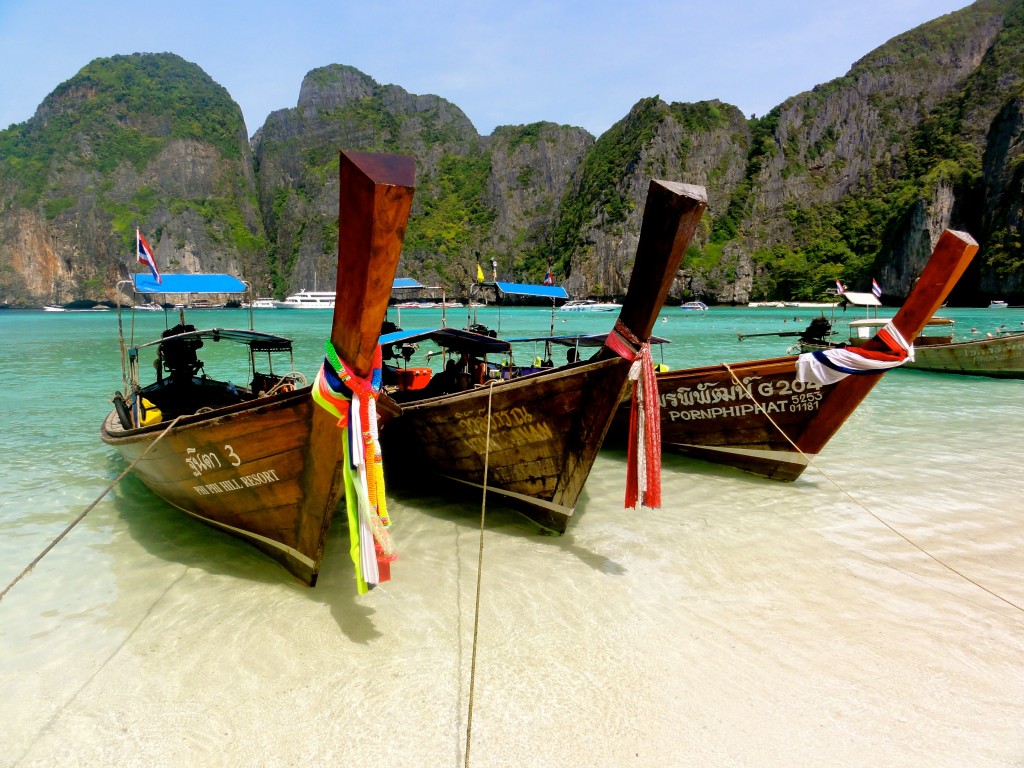 #4.  Frequent Flyer Miles Are Hard To Use
I absolutely love hearing this because it couldn't be more untrue.
If you've met me, you know I'm not a genius, and if you haven't, take my word for it.
Three years ago, I knew absolutely nothing about frequent flyer miles.
I had zero frequent flyer miles to my name.
And now, I've been able to not only earn 2 million miles for myself, but also help others earn well over 100 million miles!
That equates to a lot of travel!
But just because they aren't hard, doesn't mean that they are super easy at first glance.
Airlines make frequent flyer miles seem complicated and difficult because it's in their best interest for people NOT to redeem them.
The less miles people actually redeem, the less money the airline pays out.
Luckily, there are plenty of resources out there that pull the veil of the world of frequent flyer miles and help people to get started immediately.
If you're looking for all the information you need, jam packed in to one concise and convenient place, you'll want to check out the Ultimate Guide to Frequent Flyer Miles, which is specifically designed to give you the tools you need to start earning and using frequent flyer miles in less than 3 hours.
That's a really small price to pay for a lifetime of free travel!
#5.  It's Impossible To Find an Available Seat With Frequent Flyer Miles
While many people have never given frequent flyer miles a chance, there are a number of people who have tried to use frequent flyer miles before and then given up.
And the most common excuse I hear is that they can never find availability.
The simple reason:  They can't find availability because they are looking in the wrong spot!
Admittedly, finding award ticket availability is the hardest part of the whole process, and is the reason that courses such as Frequent Flyer Bootcamp exist.
Frequent Flyer Bootcamp is geared toward people who know how to earn frequent flyer miles, but don't know the best ways to use them.
And one of the most integral parts of this is figuring out where to look for award ticket availability.
Most people assume that whatever airline they have miles with, they can go to that airline's website and search for availability.
I have American Airlines miles, so I go to AA.com and search.  If nothing shows up, then there's nothing available.
But they are missing the crucial element of partner airlines, which allows you to fly on many more airlines than just the airline whose miles you have.
For example, if you have AA miles, you're able to fly on any of the 13 members of the OneWorld alliance because AA is a member of that alliance.  And you won't find all of the partner availability showing up if you simply search on AA.com.
Instead, to see all partner availability for OneWorld, you'll have to search on Qantas.com.
If you want to find availability on Star Alliance, you can use United.com or ANA.com.
For even more convenience and searching power, you can consider using a paid service like Award Nexus.
#6.  All Frequent Flyer Miles Are Created Equal
Simply put, frequent flyer miles are a currency.  Just like other currencies out there, some are more valuable than others.
If someone offered you 1,000 US Dollars or 1,000 Japanese Yen, you'd check to see which one is worth more (Hint:  It's the US dollars by a 100:1 ratio).
The same theory holds true with frequent flyer miles.  Just because one credit card offers 50,000 Amex points doesn't mean it has the same value as another credit card that offers 50,000 Chase points.
Or 50,000 American Airlines miles.
Or 50,000 United miles.
In fact, the differences between how much they are worth can vary greatly.
This is because each airline has their own set of rules, which determines a number of things.
You want to check for:
So when you first start earning frequent flyer miles, don't just look at how many you are earning.
Look at what type you are earning, and make sure to focus your efforts on the best ones.
In order to help you do this, I've created a list of the best frequent flyer miles to earn.
After you know what you want to earn, look for the credit cards that will allow you to earn those miles.
Final Word(s)
Frequent flyer miles are an absolutely wonderful tool that will allow you to literally travel the world for almost free.
Don't be scared of figuring them out, because with just a few hours of "studying", you'll be given a pay off that lasts a life time.
If you're ready to start (and why wouldn't you be?), the first step is to figure out the best miles for you to earn. Then use all the tools at your disposal, from credit card sign ups to online shopping.
You'll be rolling in frequent flyer miles in no time, and you'll never pay for a flight again!